Fabian Brunnstrom's National Hockey League career can, at best, be described as a flash in the pan.
One of the greatest one-hit wonders in NHL history, Brunnstrom entered, and subsequently exited the League after an eventful, yet ultimately highly unsuccessful career which spanned a little over two seasons.
So, this begs two prominent questions: What went wrong for Brunnstrom in North America, and where is he now?
Fabian Brunnstrom, A Sought After Star
Despite failing to be selected in the NHL Entry Draft, Brunnstrom gained the vast interest of multiple NHL teams and their scouting staffs due to his stellar play in his native country of Sweden.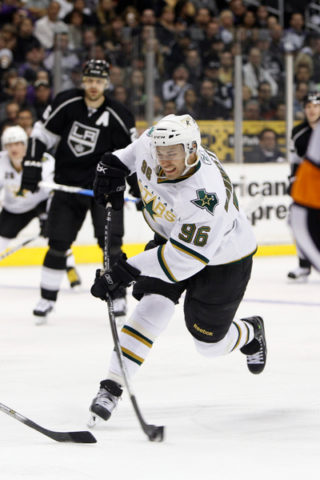 In 2006-07 as a 21-year-old, Brunnstrom was an offensive force while playing for Boras HC, a team within the Swedish Hockey League's Third Division. In 49 games, Brunnstrom recorded an impressive 38 goals and 41 assists, for a total of 79 points.
Then, in 2007-08, Brunnstrom skated in 54 games with Farjestads BK Karlstad of the Swedish Hockey League. In those games, Brunnstrom further captured the eye of numerous NHL scouts, scoring nine goals and 28 assists for 37 points as a 22-year-old rookie.
Due to his stellar play, multiple NHL teams came calling, all of which were highly interested in securing the services of the incredibly talented Swede. Hopeful teams were plentiful, including Montreal, Toronto, Detroit, Vancouver, Anaheim and Dallas.
However, after a thorough thought process, Brunnstrom decided in was in his best interest to sign with the Stars, who quickly inked the free agent to a two-year entry level contract.
Gone in 60 Minutes
Brunnstrom's first taste of NHL hockey came in the 2008-09 season.
In fact, it was during his first NHL game in which Brunnstrom's career reached it climax.
That's right. In case you don't remember, Brunnstrom had the best game of his NHL career, in his first game.
He scored three goals against the Nashville Predators on the 15th of October, 2008, his first game at the NHL level, and became the third player to do so in NHL history. However, Brunnstrom failed to come close to his perceived level of stardom in the remainder of his short NHL career.
Despite a decent rookie season, in which he scored 17 goals and 29 points over 55 games, Brunnstrom missed a considerable amount of time due to various injuries incurred throughout the year.
In the following NHL season, 2009-10, Brunnstrom once again battled to remain healthy, as a shoulder injury resulted in him being placed on the injured reserve.
Fabian Brunnstrom to the AHL
In total, Brunnstrom was able to score just two goals and 11 total points over 44 games with the Stars in his second season, one goal less than he scored in his first career game. As a result, Brunnstrom was placed on waivers before being assigned to the AHL's Texas Stars, where he remained for the remainder of the season.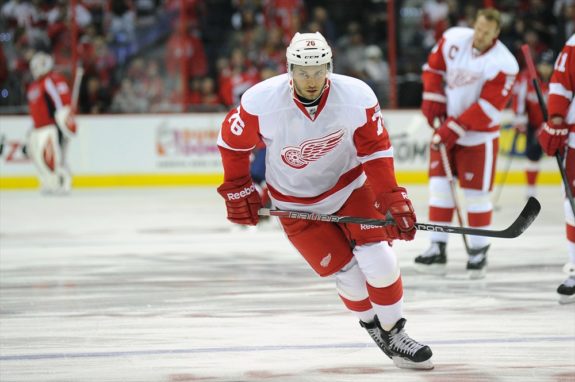 In 2010-11, after beginning the year with the Texas Stars, Brunnstrom was traded to the Toronto Maple Leafs, although he failed to play a game in the NHL. In total, Brunnstrom scored 15 goals and 35 points in the AHL between the Stars and the Toronto Marlies over 72 games.
Following an uneventful 2010-11 season, Brunnstrom became a free agent, and eventually signed a one-year contract with the Detroit Red Wings in 2011.
Although his game improved drastically with the Grand Rapids Griffins, scoring 12 goals and 35 points in 45 games, Brunnstrom recorded a mere assist in five games with the Red Wings despite making the NHL roster out of camp on a Professional Tryout Contract (PTO).
Come the conclusion of the 2011-12 season, Brunnstrom's career had come to a sudden and unexpected end. Despite retaining an incredible amount of skill and potential, the 6 foot 1, 205 pound power forward had worn out his welcome in the NHL.
Where is Fabian Brunnstrom Now?
So, where is Brunnstrom now?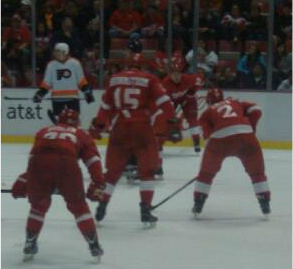 Unable to secure a job with an NHL club a mere three years after attracting the attention of multiple teams, Brunnstrom signed a three-year contract with Frolunda of the Swedish Elite League, returning home with hopes of resuscitating his professional hockey career.
At 27 years old, Brunnstrom scored nine goals and 18 points in 51 games with his new team in 2012-13, yet played in just four games the following season. As a result, Brunnstrom was on the move once again, this time to Leksands IF, where he scored nine goals and 16 points over 46 games.
This past season in 2014-15, Brunnstrom began the season with Leksands IF, scoring eight goals and 18 points in 38 games, before he was once again moved, this time to the Malmo Redhawks, where he recorded two goals and eight points over eight games to round out the season.
What Went Wrong?
There is no decisive factor in determining where Brunnstrom's NHL career took a wrong turn, however, Red Wings General Manager Ken Holland indicated a lack of both leadership and toughness in citing his decision not to re-sign the former Swedish star.
Although Brunnstrom also endured his fair share of injuries throughout his time in the NHL, we can all hope Fabian Brunnstrom not only regains consistent good health, but also finds the game which made him a highly sought after player earlier in his career.