It was all perfect. A new coach and a fresh start for Zack Kassian as the team headed into the 2013-2014 season. He would get an opportunity to play with the Sedin twins and have the chance to play a major role with the Canucks this season.
The problem was that things didn't go according to plan. Kassian was failing to stand out in his preseason audition with the twins before recklessly swinging his stick and breaking the jaw of Oilers forward Sam Gagner.
Kassian is now suspended for five regular season games and that could enable another player to land the coveted gig. Kassian is still an option for sure when he returns but here is a look at all the possibilities.
Possible Candidates:
Alexandre Burrows
He is the most obvious choice considering his previous experience in the role. His 35-goal, 67 point season in 2009-2010 will never be forgotten by the Canuck faithful.  Burrows wouldn't look out of place on the top line but the team is trying to get somebody to play with Ryan Kesler. How are they going to do that with Burrows on the top line? Who knows if David Booth will be healthy and Chris Higgins doesn't bring anything new to the table. The Canucks failed to address their second line issues in the off-season and it may come back and bite them.
Jannik Hansen
Hansen is fast and aggressive but will he really be able to contribute more playing on the top line? Jansen spent the third period of Vancouver's 5-0 preseason loss to the Sharks playing with the twins but just doesn't seem like the right fit. He has never hit 40 points in his career and seems to be the ideal third line player. He hit a career high in points per game last season with 27 in 47 games but why force something that just ain't right?
Zack Kassian
Of course he is suspended for five regular season games but why no give him more of a chance? He will be more determined than ever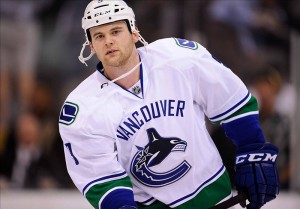 when he comes back and it could be the best thing that has ever happened for him.  He will spend his suspension time conditioning and then be in phenomenal shape when the season starts. You can't judge Kassian's play this season by a few preseason games and a nasty suspension. It is only upwards from here for the young winger.
David Booth
Wouldn't this be a story? At the end of the season all the papers reading "Booth returns to form with a stupendous season alongside Sedin Twins". We can wish but Booth and his health is always a concern. Why is this guy never healthy? Like ever? If he does regain his health though, a shot on the top line could be exactly what he needs to recharge his career.
We could only wish there were more option to play on that top line but all the rookies aren't close to being ready and the depth players, well, they are called depth players for a reason.