With the assignment of Eddie Pasquale to Saint John's of the AHL, the Winnipeg Jets roster is down to 26.  That means Coach Claude Noel and his staff have just three more cuts to make to trim the roster down to 23.  A big name that has – so far at least – avoided being sent to Saint John is defenseman Jacob Trouba.
Trouba is the 19-year old, 6'2″, American born d-man who was Winnipeg's first pick – and the 9th overall – in the 2012 draft.  Trouba shined in the United States' gold medal run in the World Juniors, where he racked up 9 points in route to being named the tournament's best defenseman.  Trouba spent last year at the University of Michigan where he managed 29 points (12 G, 17 A) in just 37 games.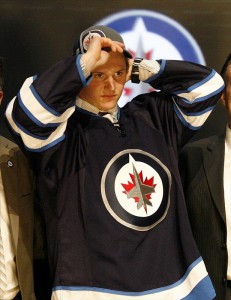 Trouba, along with center Mark Scheifele (the Jets first round pick from 2011) and defenseman Josh Morrissey (the Jets first round pick from 2013), is clearly the future of the Winnipeg franchise – a franchise that has spent much of it's first two years trying to dramatically overhaul a woeful roster and system that was the Atlanta Thrashers.
Scheifele is a lock to make the Jets opening day roster, the only real intrigue left when it comes to Scheifele is whether he or highly-paid but under-performing Olli Jokinen will be tapped to center the team's second line with Evander Kane and Devin Setoguchi.
With only 3 more cuts left to make, is the future now for Jacob Trouba?  I asked some Jets analysts their thoughts on whether Trouba will make the big team and the answers were mixed.
Michael Remis, producer of the Rona Roundtable on TSN1290 in Winnipeg, said he thought Trouba would make the team, saying "they didn't take him out of college to have him start in the AHL."
Drew Mindell of the Illegal Curve Hockey show on 1290, agreed with Remis, saying he thought that he had "done enough" to "at least start with the big club."
Dave Minuk, of IllegalCurve.com, however, wasn't so sure.  Minuk said that Trouba's spot on the opening day roster might come down to a question of the health of defenseman Zach Bogosian.  Minuk added that only Byfuglien, Bogosian, Stuart, Enstrom and Clitsome were locks to make the opening day roster among defenseman.
Whether or not the future is now for Trouba and the Jets is a question we will have an answer to in short order – the Jets season opens on Tuesday October 1st!