Fans are both the best and worst part of sports. When things are going well, their support can propel a team over the top, taking them to new heights and the two sides share a level of happiness that is hard to match. The connection is special and both sides feel as apart of it all as they possibly can.
But when things aren't going well? Things turn quickly. The fan base becomes unruly, unhappy, and irrational. It's easy to understand: fans invest themselves emotionally in these guys wearing familiar laundry and want some sort of payoff for that investment. Which brings me to the Buffalo Sabres.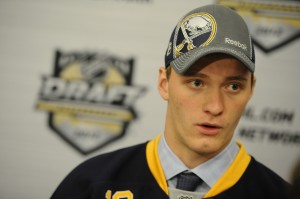 The wheels have come off in the last few years, starting with their missing the playoffs two years ago despite high expectations. It continued last year with the firing of the longest tenured coach in the league, Lindy Ruff. This year? The team may hit new levels of offensive ineptitude.
All that said, it's totally understandable that the fans are upset. But those calling for the head of Darcy Regier, I have this to say to you: firing him right now makes no sense. Not a lick.
With the benefit of hindsight, it's easy to say that Regier should have been fired when Ruff was let go; a complete cleansing of the former regime and a true new start. It was clear that Regier chopped Ruff to save his own neck and it appears to have worked.
But since that point, Darcy has done some good. He got the most out of veterans Jason Pominville, Jordan Leopold, and Robyn Regehr at the trade deadline. He's shown a knack for getting great value out of his trades. Hell, he's the guy that got a first round draft pick for Paul Gaustad (which eventually became Zemgus Girgensons, so that worked out). So there's some hope that, should veterans Ryan Miller and Thomas Vanek be shown the door, Regier will get maximum value for them.
Don't get me wrong: this isn't a defense of Regier. He built the team as it stands and he's responsible for the necessity of the rebuild. He put together a team that wasn't going to win, at least not significantly, and rode high on the three seasons they were actually a good team (2005/06 through 2007/08). He deserves to lose his job.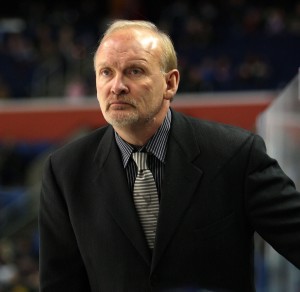 But the fact of the matter is that management gave him a pass and allowed him to spearhead the rebuild. They trust his ability to acquire pieces for the future and build through the draft. So after a bad start, for what was expected to be a bad team, management is ready to cave to fan request and can him ten games in?
What good would an early season firing of a GM do? It's not like firing a coach; that has the potential to spark a stagnant team, get them going in a different direction, and change the culture in the locker room. Firing a GM does NONE of that. None of the players interact with him, see him regularly, or likely even think about him very often. It's not going to change the on-ice product in the short term. If you want to fire him after the season, fine, okay. But doing it now is simply making a move for the sake of making a move.
It's hard to see, but the Sabres are on the right track. They're building from within, giving time and experience to their young players, building with an eye towards the future. But with that path comes many trials, many growing pains, and many losses. It's hard to have patience with a team that has never won a thing, but that's where we are.
So fire Darcy. Don't fire Darcy. Just know that either way, nothing is going to change in the interim if he's shown the door.
Ryan is a lead writer for The Hockey Writers as well as editor for Mile High Sticking and co-owner of The Farm Club. Follow him on Twitter to discuss all things puck, Bills football, or his hatred of all things Philly
A long-time (and long-suffering) Buffalo sports fan. Sometimes optimistic, always weary. I write other stuff for a lot of other people.