Between the collective buzzkill that was opening weekend and the euphoria that is watching Seth Jones destroy everything in his path, here are five of the most important things we've learned through the first ten games of the season:
Roman Josi Has a Concussion
I said in my season preview that the law of averages might swing the other way for Nashville's defense injury-wise, and it took all of two games for that premonition to become reality.  Josi took an ugly hit up high from noted mean person Steve Downie against the Avalanche on October fourth, and three weeks later, still hasn't gotten much closer to returning…
But unlike last year, where an injury this severe, this early would have practically ended Nashville's season, the Preds have the means to stay afloat.  Ryan Ellis has been worked into the lineup as a bottom pairing defenseman and power play specialist in Josi's absence, and is dominating sheltered minutes with Viktor Bartley.  Mattias Ekholm and Kevin Klein are having a much rougher go of it as the second pairing possession-wise, but have managed to keep the puck out of the net even if it stays in the zone.  Much, much more will be said about Seth Jones in this column, but for now, let's just leave it at "he's been really, really, reeeeeeeally good."  The Preds are 5-1-1* since dropping the first two games of the season, and the new looks on the blueline created by Josi's absence have been front-and-center in that success.
*5-2-1 with the loss to the Wild
The NHL regular season schedule was released on Friday. Check out our partners at TiqIQ for the best deals on Nashville Predators tickets for all 2013-14 games.
LEAGUE AVERAGE SPECIAL TEAMS!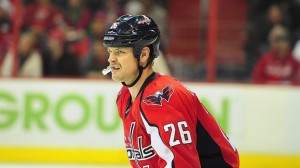 Getting all caps lock-y over the league's 14th ranked PK might be a bit much, but after Nashville killed only 75.5% of penalties faced in 2013, this year's squad must feel like the 2012 Devils.  Dave Poile's free agent feeding frenzy has been instrumental in turning Nashville's shorthanded performance around, with all of Matt Hendricks, Eric Nystrom and Matt Cullen receiving significant shorthanded deployments, and while their performance has been excellent, who isn't PKing might be just as important.  The presence of the three new Predators has kept scorers like David Legwand, Gabe Bourque and whoever you consider Sergei Kostitsyn's replacement off the ice compared to last season, and the results are pretty much self-evident, as the Preds now have the league's 14th most efficient PK.
The power play, on the other hand, is down a spot from last year's 17th place, but has managed its own share of promising moments.  Rookie Flip Forsberg has scored all of his three points with the man advantage and looks to be a key cog there, while Seth Jones (still more to come) brings an electricity to the point the Nashville PP has virtually never enjoyed.  Both Forsberg and Jones should improve as the season wears on, and the return of Josi will add stability to the second unit as well.
Craig Smith Remembers How to Play Hockey
The kid out of Wisconsin spent most of the 2013 season in the doghouse (scoring on only 4.8% of your shots will do that), and a summer getting raked over the coals of the HF Trade Board, but he's been back with a vengeance to start the year, leading the Preds in both points and +/-.  Listed by the NHL as a center, Smith has started the year on Cullen's right wing, and the combination of a less demanding position and role has worked wonders.  The Bourque-Cullen-Smith line has avoided both top scorers and top checkers as the "third" line for Barry Trotz (getting boatloads of offensive zone starts in the process), and has made the most of this open ice.  The trio are 1-3-2 in on-ice goals for, have some of the highest shot differentials among Nashville forwards and average fewer than a goal against per 60 minutes of icetime.  These are tremendous numbers and exactly the type of production AHL fodder like Bobby Butler wasn't providing despite a similarly sheltered role last season, and it's also why…
 The Predators are Good to Slightly Above Average at Puck Possession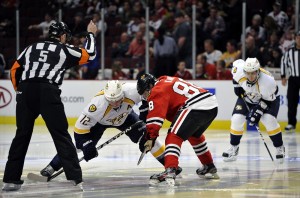 It's amazing what a little depth can do, isn't it?  Nashville was terrible at pretty much everything related to controlling the puck last season, but a bit of health and some pricey new depth forwards have turned all that around.  Most basically, in terms of pure shot differential, the Preds are up from 21st to 14th.  Getting a little fancier with it, Nashville's the 13th best Corsi team in the league (from 27th), and round out the top third in Fenwick (from 24th).  The "secret" to this monumental improvement should be obvious to anyone who can read Behindthenet – division of labor.  Mike Fisher and Paul Gaustad are averaging a 35 and 23 percent offensive to defensive zone start ratio, and seeing tons of scoring lines in the process.  Yeah, they're solidly in the negative possession-wise, but so are most players in that situation, and they (and their linemates) are good enough defensively to prevent goals much more effectively than the average bear, even if they haven't exactly done that yet.  This "sacrifice" of Fisher and Goose means that Legwand and Cullen are receiving a plethora of offensively oriented deployments, and their entire lines are holding onto the puck as a result.
The performance of Nashville's shutdown pairing is the other thing driving their newfound advanced-stat-respectability.  Last season, the Josi-Weber combination had a Corsi percentage of 47.3 and allowed roughly 18 shots per 20 minutes of TOI – decent stats given zone starts, quality of opponents, and a general lack of forward help – but also the type of numbers that get you left off of Norris ballots.  With Jones stepping across from his Captain, the Predators top pair is allowing about a shot less, two more pucks-at-goal for, and are eking out a positive percentage despite almost never starting in the offensive zone.  Unsurprisingly, they've also allowed slightly fewer goals than last season, a number that will only shrink as the ugly opening night loss to the Blues becomes more and more of an outlier.  And you should be equally nonplused to find out the biggest Nashville storyline is…
Note: Only putting up 16 shots against the Wild last night dragged all these rankings down since I researched this, but I'm willing to consider that game an outlier unless the Preds follow it up by falling off the face of the earth.
Seth Jones is Pretty Good at well, Everything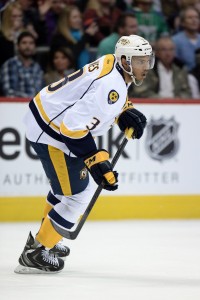 Yeah, he's playing next to Shea Weber, but 19 year old kids with defensive IQ issues and who still have to grow into their bodies are not supposed to be this poised.  They're not supposed to be playing 24 to 27 minutes a night against the league's elite scorers and winning that matchup with aplomb.  They're not supposed to make a fanbase forget about how the league's "second best defenseman" left them for greener pastures in the first ten games of the season.  They're not supposed to make you stand up every time they take the puck at the point, because the next thing you know they just deked the forward out of his skates and are sliding in on goal.  Seth Jones has spent his first ten games ignoring the limitations on his draft profile and becoming one of Nashville's most dynamic players, much less defenseman.
The goal against the Habs – which drove me into a fit of hysterics because of how completely unfair it was – has been the shining example of Jones' skillset so far, but his game is so much more than flashy scoring plays.  Between his passing and skating he can pretty much always clear the zone, and he's so fleet-of-foot that he can be the third or fourth man into a corner scrum without any real worry about whether he can get back to cover if things go horribly wrong.  He makes subtle moves to create passing lanes to his forwards – or set up a Weber howitzer – with alarming frequency, and he's got a smart delivery from the point his own self.  The strength and positioning issues that plague every young defenseman are still there, obviously, but that comes with time, and across from the best defensive defenseman in the league.
At this rate, Jones will be an easy Calder favorite with Sean Monahan and Tomas Hertl, and should win the trophy because he's doubling their TOI on his best days.  He's also far more dynamic than Jonas Brodin, who was relegated to afterthought status last season despite being by-far the best rookie.  Even if the PHWA follows their usual voting procedure and gives another Nashville defenseman the shaft, Poile and Co. wouldn't flip their blueliner for anyone in this rookie class, and if this keeps up, the Predators will stay in the playoff hunt in large part because of their 4th overall pick.
Will Eldredge covers the Nashville Predators for the Hockey Writers. Previously, he's studied the Sabres for Buffalo Sports Daily and SabresFans.com, and his nuanced take on Nashville was honed in by four years at Skidmore College and even longer discussing the sport on HF Boards. Will has plans of someday working in an NHL front office.