He's got 10 points on the season, tied for the team lead. Though still searching for his first NHL goal, Mark Arcobello has come into Edmonton and provided them with a spark, and an unexpected one at that.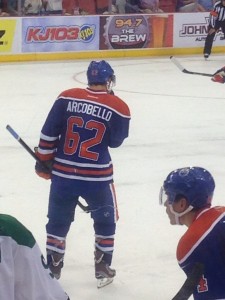 Undrafted coming out of Yale University, the Milford, Connecticut native signed on with the Stockton Thunder of the ECHL in 2010, where he scored seven goals and 20 points in 33 games. He was called up that season to the Oklahoma City Barons of the AHL and promptly improved on his stats, notching 11 goals and 22 points. The following season in OKC he finished with 17 goals and 43  points in 73 games.
Arcobello signed an entry-level contract with the Oilers in 2011, and played his first NHL game in the 2012-2013 season. He registered no points and was sent back down to Oklahoma City after just one game. He had a great year, and saw career highs in goals (22) assists (46) and points (68). He was on the Oilers radar coming into training camp, though his spot on the team was no where near secured.
Sometimes, a player gets his shot based on factors that are totally out of his control. In the case of Arcobello, injuries to centermen Sam Gagner and Ryan Nugent-Hopkins before the season even started meant there was room down the middle for him, and a strong showing in camp earned him that spot. Now, with RNH back, and Gagner on the road to recovery, Arcobello is making it difficult for the Oilers to send him down if it came to that.
At 5 foot 9, Arcobello was seen as likely too small to have any kind of impact in the NHL. His profile over at The Hockey News didn't see much promise for him outside of the AHL.
Flaws: Is significantly below NHL standards in terms of his size (5-9, 165 pounds) and strength, so he faces a constant uphill battle to prove himself at the highest level.

Assets: Is a good playmaker and can rack up impressive point totals at lower levels. Works very hard whenever he's on the ice, and is constantly trying to improve his game.
While his lack of size does appear to present a problem, his assets have come just as advertised. Arcobello is continually one of the hardest workers on the ice, and his tenacity often makes up for his lack of muscle. His 10 assists so far on the season are evidence of that. He makes things happen, and he's making those around him better.
His former coach, Todd Nelson, is not the least bit surprised at the success Arcobello has had so far.
"He's the poster child for developing a National Hockey League player. Mark's playing a simple game and the thing that's really good is he's a plus 4 on a team that's struggled." (Edmonton Journal)
When the team is fully healthy, and recent injuries to Taylor Hall and Ryan Smyth means that may not be for a while still, will there be a place for Mark Arcobello? Whether or not he can keep up this pace in regards to points remains to be seen, but he's also been solid in the playoff circle, and far from a defensive liability. He doesn't deserve to go back down to the AHL. Regardless of what the expectations may have been for the kid, he looks like he belongs in the NHL. His stats thus far have certainly put him in some good company.
Arcobello has joined Crosby and Kane as the only rookies to have at least 10 assists in the first 10 games of their rookie season.

— Dustin Nielson (@nielsonTSN1260) October 23, 2013
Marcy, a former hockey player, is a hockey correspondent on CTV News and TSN radio. She began her career as a Sports Journalist in 2009 and has been part of The Hockey Writers since 2010, where she is currently a senior writer and editor.