The Florida Panthers kicked off a three game road trip at the Air Canada Centre with a 3-2 win over the Toronto Maple Leafs. The Panthers outshot the Leafs 36-25 but had to hang on for a 4-3 victory despite a two goal performance by late-season call-up Rocco Grimaldi.
http://gty.im/498040170
Panthers Win – Lightning Lose
The Panthers' came win came on the same night that their division rival, the Tampa Bay Lightning, dropped a 5-2 decision to the New York Islanders giving the Panthers the hammer heading into the final three games of the regular season for both teams. The Panthers now have a four point lead over the Bolts so winning two out of three will award them a division championship. With non-playoff teams Montreal, Ottawa and Carolina on the menu, the Panthers should be able to click the title.
Florida Panthers Setting Records
The Panthers win over the Leafs gives them a team record 99 points on the season and their 45 wins is also one for the history books. If they can take at least two of the final three games on the season they will obliterate those records. Several Panthers, like Aleksander Barkov, Jonathan Huberdeau and Barkov are all well on their way to setting personal bests and the Cats have clinched home ice for the 1st round of the playoffs.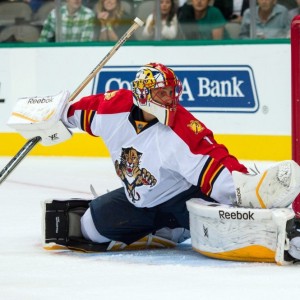 Roberto Luongo Leading the Florida Panthers.
Roberto Luongo is kind of long in the tooth to be leading the Panthers into what is expected to be a long playoff run. But Luongo told ESPN's Pierre LeBrun this week that he is ready to do more to take the Panthers to the next level.
"I wanted to have another crack at it," Luongo said. "I'm happy that things have worked out. And I feel like this team is just beginning to see the potential that we can have. That's exciting for me. Sometimes I wish I was five years younger and had a bit more time. I want to be part of it as long as I can."
The Panthers young guns are certainly doing their part in the Panthers rebirth but there are also some fascinating storylines to keep tabs on down the stretch. The team is being dogged at very stop by the "Travelling Jagrs" who pay tribute to the hockey legend on a nightly basis.
The "Travelling Jagrs", "The Rat Attack" and the potential for the Panthers to clinch a division title are certainly cause for an energized fanbase to stay engaged as the Cats close in on the playoffs and, perhaps, a historical run to glory make the Panthers season one to watch.
My life long passion is hockey…my life long profession is news and sports journalism.