On September 16th the Columbus Blue Jackets open what might be the most anticipated training camp of their brief history.  Along with the seasoned team veterans and talented prospects, Blue Jackets fans will be looking forward to seeing the off-season additions of general manager Scott Howson in Union blue for the first time.  The high-profile forward additions are Jeff Carter and Vinny Prospal, two offensively-gifted players that have had successful playoff runs with previous teams.  Defensemen James Wisniewski and Radek Martinek were also added to help improve one of the worst defensive corps in the NHL.  While there is renewed optimism and reason for hope in Columbus, many questions remain as training camp approaches.
WILL THE GOALTENDING BE GOOD ENOUGH?
While there were higher profile changes made to the forwards and defense, the goaltending situation changed as well.  The Blue Jackets allowed Mathieu Garon to walk in free agency, leaving incumbent starter Steve Mason as the lone returning goaltender.  This is the primary area of concern for the Blue Jackets, as Mason has struggled since his rookie year of 2008-09 in which he won the Calder Memorial Trophy for rookie of the year.  In the two seasons since, Mason has posted a record of 44-47-16 with a save percentage of .901 and a goals-against-average (GAA) of 3.04.  Scott Howson looked outside the organization to add another goaltender signing former Nashville Predators prospect Mark Dekanich to back-up Mason.  The former Colgate Raider spent the majority of the last three seasons playing for the Milwaukee Admirals of the American Hockey League (AHL).  While with Milwaukee, Dekanich posted an impressive record of 65-38-11 with a .920 save percentage and a GAA of 2.06.  Mason has been completely unreliable in net for the Blue Jackets, and it was somewhat surprising that Howson signed a younger player in Dekanich instead of an older mentor-type player like Ray Emery or Marty Turco.  The Blue Jackets had that type of a player in Garon, however, and it did not seem to help Mason develop.  The arrival of a younger, perhaps hungrier player in Dekanich could be what Mason needs to get motivated to prove himself worthy of the two-year $5.8 million contract extension he signed in 2010.  If Mason struggles early I would expect head coach Scott Arniel to be quick to try Dekanich in the starting role and see how he performs.  In their first eleven games the Blue Jackets play the Red Wings twice, the Predators, Canucks, Sabres, and Blackhawks.  The one thing this team does not need is an early hole to crawl out of.  Should Mason or Dekanich be injured the likely call-up from the Springfield Falcons of the AHL would be Curtis Sanford, an experienced goaltender who has a good amount of experience at both the AHL and NHL levels.  Although unlikely to see any time at the NHL level this year, the Blue Jackets do have an intriguing prospect slated to start for Springfield in former RPI standout Allen York.  This season hinges on which Steve Mason shows up, and perhaps whether Mark Dekanich can fare any better if needed.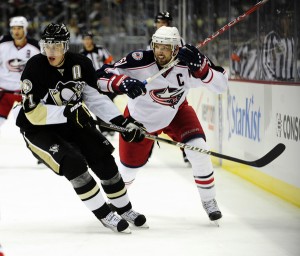 WILL THE FIRST LINE HAVE CHEMISTRY?
Since their inception the Blue Jackets have never fielded a first line that could compete with the top teams in the league.  That should change with the addition of a true first-line center in Jeff Carter.  When Carter was acquired the first line looked to be a combination of himself, All Star Rick Nash, and the talented yet inconsistent Kristian Huselius.  That changed in July when Huselius tore a pectoral muscle while rehabbing from hip surgery.  With Huselius likely out until after Christmas, Howson went out and signed veteran free agent Vinny Prospal to take his place.  Now it comes down to chemistry.  Nash and Carter are both players that enjoy having the puck on their sticks, with the two players combining for 640 shots on goal last season.  Prospal should have plenty of opportunities to be the playmaker he is, but will there be problems with both Carter and Nash playing on the same line?  Nash is a better passer than most realize, in fact his assist total has surpassed his goal total in four of his eight seasons.  The key to their success is that the defense will not be able to concentrate on one of the two of them, as they will have to respect both players abilities to score and pass.  In the past two seasons the Blue Jackets have ranked 29th and 22nd in the NHL at even-strength goals-for/against (GF/A).  To underline the importance of this statistic, last year's number one and two teams in the regular season were Vancouver and Boston, the two teams that played in the Stanley Cup Finals.  The Blue Jackets need their first line to produce at a healthy pace for this statistic to improve.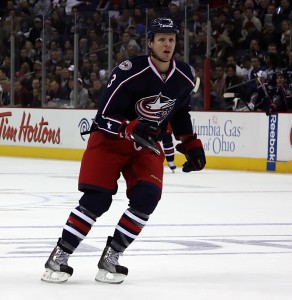 WILL THE DEFENSE HOLD?
While the Blue Jackets struggled defensively last season, statistically they ranked 11th in the NHL in shots against per game.  That statistic is somewhat misleading however, as they do not take into consideration how many of those shots were quality shots.  Despite allowing fewer shots per game than most teams, they gave up 3.05 goals per game, 26th worst in the league.  While the goaltending woes of Steve Mason were a factor in the poor performance of the team, the defense must shoulder a share of the blame as well.  The off-season additions of James Wisniewski and Radek Martinek should help bolster the defense.  They replace the mediocre Anton Stralman, the oft-injured Rusty Klesla, and mid-season acquisitions Craig Rivet and Sami Lepisto, both of whom failed to make an impact.  Joining Wisniewski and Martinek in the top four should be veterans Fedor Tyutin and Marc Methot.  While the top four lacks a true number one (and maybe number two) defenseman, they are a solid group that should produce some points and hold their own defensively against all but the most talented lines.  For now one would have to pencil in Grant Clitsome and Kris Russell to play on the bottom pairing, a duo of undersized players with offensive upside.  While Clitsome will look to improve upon a surprisingly productive rookie season,  this will probably be Russell's last chance to prove he belongs in an NHL lineup after four mostly disappointing seasons.  Outside of the players on one-way contracts the Blue Jackets also have a group of talented prospects in Springfield that include the likes of David Savard, John Moore, and Cody Goloubef that could push for playing time.  Other players that could see time at the big-league level include AHL veterans Nick Holden and Aaron Johnson.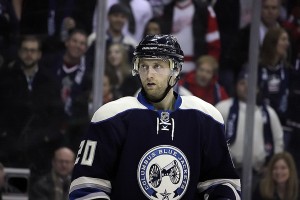 CAN THEY STAY HEALTHY?
Injuries have been an issue for a few of the players on the roster.  After playing in only 39 games last season, Kristian Huselius will miss a large chunk of the season with the aforementioned torn pectoral muscle.  It seems to reason that even when he does return he will not be in game-shape and will be extremely rusty.  Radek Martinek has never played more than 74 games in a season, missing an average of 28 games in his eight full seasons in the league.  While he was extremely healthy early in his career Vinny Prospal missed a significant portion of last year's season with the New York Rangers after knee surgery.  If Martinek misses some time it shouldn't be viewed as a bad thing necessarily, as it will give an opportunity for either Nick Holden or Aaron Johnson to show they belong in the NHL, or for the Blue Jackets to see how one of the rookies like David Savard or John Moore are developing.  If Prospal misses significant time, it could be worse.  The Blue Jackets do not have another winger with Prospal's natural playmaking abilities that would be able to slide into first-line duty with Nash and Carter.  Their best bet might be moving Derick Brassard or Antoine Vermette to the first line, both of whom are natural centers.  Scott Howson did go out and sign some AHL veteran scorers that could see themselves with the big club if injuries do occur, like Alexandre Giroux and Martin St. Pierre.  Despite the trade of Nikita Filatov the Blue Jackets have some nice prospects developing in Springfield that could push for playing time in Columbus like Tomas Kubalik and Cameron Atkinson.  While health could be an issue, the Blue Jackets have more depth than ever that should help compensate.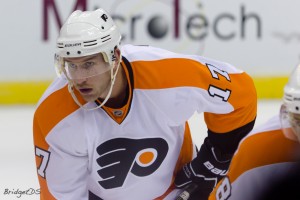 HOW MUCH BETTER WILL THE SPECIAL TEAMS BE?
In 2010/11 the Blue Jackets had the 29th ranked power play and the 22nd ranked penalty kill in the NHL.  Their special teams play must improve if they are to compete for a playoff spot.  Jeff Carter and James Wisniewski combined for 15-31-46 on the power play last season.  The addition of these two players alone should help push the Blue Jackets power play at least into the respectable category.  One of the significant missing pieces on their power play units was a booming shot from the point, and Wisniewski gives them that.  The Blue Jackets have some excellent two-way players in Carter, Antoine Vermette, and R.J Umberger.  The defensive prowess of center Samuel Pahlsson is the primary reason he is employed, but with a constant juggling of linemates he has not had any consistency for the Blue Jackets.  The penalty kill units should be bolstered with Radek Martinek and Marc Methot probably drawing in as the shutdown pairing.  With his long reach and excellent anticipation, one would hope coach Scott Arniel would put Rick Nash back on the penalty kill, as the experiment with keeping him rested never seemed to pay off last season.  Nash was developing into an excellent two-way player, and taking him off the ice short handed means never seeing plays like this:
Alex is a credentialed reporter covering the Columbus Blue Jackets. He is currently attending Western Governors University. He lives in Columbus with his wife and five children.