The NHL seems to be moving, as a whole, in the direction of skill over size. Players like Tyler Johnson, Johnny Gaudreau, and Brendan Gallagher are proving that if you possess elite skill and tenacity, no lack of size will prevent you from making an impact with an NHL club.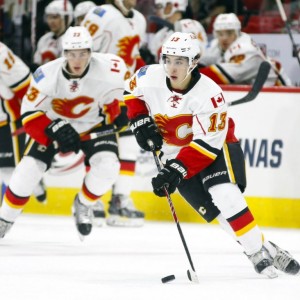 Even in the latest draft (2015), we saw many teams opt for skill-oriented players who are on the small side, hoping to hit a home run with a later pick and find the next diamond in the rough. First round picks such as Mitchell Marner, Anthony Beauvillier, and Nick Merkley all stand 5'11" or under and weigh in well under 200 pounds. The Toronto Maple Leafs, in particular, opted for skill over size, also selecting undersized scoring stars at the junior levels such as Jeremy Bracco and Dmytro Timashov.
However, there is still room in the NHL for a player whose skill set is only bested by his physical ability. Despite the NHL's focus shifting away from size, teams still prize players whose frames are conducive to their elite skill sets. Potential power forwards in the 2015 NHL Draft were abundant in the early rounds, as Pavel Zacha, Lawson Crouse, and Mikko Rantanen were all selected within the top 14 picks.
There will always be NHL interest in a player who possesses a large frame and the skill level needed to excel in today's fast-paced and skill-oriented NHL. Here are five players eligible for the upcoming 2016 Draft that have the potential to develop into power forwards for the lucky teams that draft them.
Jesse Puljujarvi and Patrik Laine, RW, Finland
While this is cheating a bit, these two players have been touted as some of the best Finnish prospects to come around in quite some time, and as a result, will be leading the charge for Finland at the World Juniors hosted in their home country. Jesse Puljujarvi stands 6'3″, and 203 pounds, while Patrik Laine stands 6'4″, and 206 pounds. Both these young men have made an offensive impact for their respective Finnish League clubs this season, chipping in a combined 13 goals in a league where it is notoriously difficult for young players to contribute offensively.
Both could stand to improve the physical sides of their games, but with such projectable frames, adding strength seems like an easy step to become dominant power forwards in the National Hockey League. At this point, Puljujarvi seems to be the higher-touted player, but both men seem poised to become top-five draft selections in June of next year and have the size and strength to become scoring stars with a physical edge.
Julien Gauthier, RW, Val-d'Or (QMJHL)
Julien Gauthier tips the scales standing 6'3″ and nearing 220 pounds, but it isn't just his strong frame that has NHL scouts noticing his game and mentioning him as a potential lottery draft pick. Gauthier has become one of the most dangerous goal scorers in the entire QMJHL, leading to him being named to Team Canada's World Junior summer camp, a rarity for a player as young as Gauthier. Gauthier has opened eyes with 23 goals in his first 27 games for the Val-d'Or Foreurs, leading his team in goals and placing third in the entire league. Following his 38 goal performance with the Foreurs last season, Gauthier was named to Team Canada's summer camp as the youngest player in attendance. Ryan Jankowski, Canada's director of player personnel, had this to say about Gauthier:
"In putting our roster together for summer camp, we kind of had everything out on the table and we felt we don't have a lot of size, especially down the middle," Jankowski told NHL.com. "We want to make sure we have somewhat of a presence with that. Julien has that. He has strength, but he can really skate."
Gauthier's combination of size, physicality, and skill has proven to be invaluable for Val-d'Or this season and could see him blossom into a dominant power forward at the NHL level. If Gauthier can continue his high-scoring ways, he will stand a good chance to make one of the best rosters in the junior hockey world, and in the process, climb the draft rankings for the 2016 NHL Draft.
Logan Brown, C, Windsor (OHL)
Easily one of the most physically imposing forward prospects to come around in a long time, Logan Brown towers over his Windsor Spitfire teammates at 6'6″, and is a load to handle on the ice at 220 pounds. While he offers one of the most unique skill and size combinations available in the draft, Brown is all over the map when it comes to draft rankings. ISS Hockey ranks him the 8th-best player in the draft, while Hockeyprospect.com rates him 28th in the draft.
Brown has improved on his rookie season numbers and now boasts five goals and 24 points in just 19 games. One of the biggest improvements, however, is Brown's physicality, as he has put up 18 penalty minutes in 19 games after tallying just 20 PIM in 56 games last season. He has also improved his two-way game, upping his plus-minus from -8 to +15. Brown's size and skill could make him a dominant physical force at the NHL level, but his rankings seem to vary wildly due to his inconsistency. If he can pull all the facets of his game together on a consistent basis, a team could very well find themselves drafting one of the biggest first-line centres in the NHL.
Max Jones, LW, London (OHL)
Max Jones is, by far, the most physical player on this list. The London Knights winger has posted huge PIM totals at every stop of his career thus far, tallying more than 100 penalty minutes with three different teams before making the jump to the OHL with the Knights this year, where he has posted 45 PIM in just 20 games. Standing at 6'3″, 205 pounds, Jones is physically imposing and possesses a mean streak that is equally formidable. The question with Jones, unlike the others on this list, isn't whether he is physical enough or consistently puts forth his best effort, but rather if he owns a high enough skill level to make an offensive impact in the NHL.
He has shown in the past that he can, without much doubt, make the NHL and become an effective bottom-line player. However, his lofty draft rankings (top-10 player by ISS and Future Considerations) suggest he should post better offensive numbers than he has shown. If he can consistently find his offensive touch, he could develop into a big, physical power forward with a mean streak in a Milan Lucic mold. Playing on a stacked London Knights team should allow Jones to gain experience playing on a scoring line and if he can find another offensive step in his game, he could rise in the draft rankings before season's end.