After being knocked out of the playoffs by their archrivals, Peter Chiarelli and the Boston Bruins will need to re-group and begin preparations for the 2014-2015 season. Despite winning the President's Trophy and making it to the Division Finals, it is hard to look at this season as a success.
Boston looked primed to make their third trip to the Stanley Cup Finals in the last three years. For the first time in years, the team had a potent power play to complement their strong defensive system. The regular season saw the Bruins offense ranked third in the NHL in goals scored, an impressive feat that was outdone by the defense, which ranked second in the league in goals against per game. Boston entered the playoffs with so much promise, and yet, for the third consecutive season, the Bruins allowed their season to end on home ice, falling short of their ultimate goal.
Going forward, the Bruins will be faced with the challenge of improving their roster with a very fixed budget. While Chiarelli has a strong core to build around, the Bruins best bet for re-capturing Lord Stanley's Cup will be cutting ties with some of the players they already have under contract. There will need to be a delicate balance between maintaining the team chemistry and overall skill level and generating valuable salary cap flexibility.
So which players have played their final game with the Boston Bruins? Let's take a look:
Chris Kelly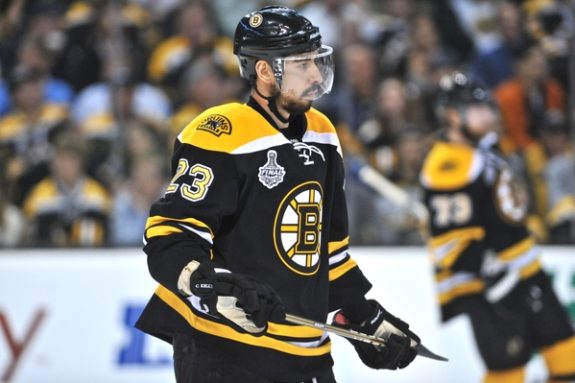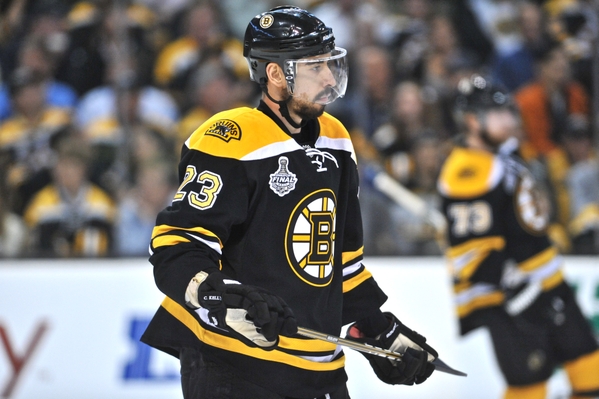 One of the toughest decisions this summer will be whether or not to use the franchise's amnesty buyout on veteran center, and alternate captain, Chris Kelly. The 33-year old has two years remaining on his four year/$12 million contract with an annual cap hit of $3 million. He has contributed valuable leadership and penalty killing abilities over the last four seasons, while locking down a spot on one of the best third lines in hockey. Unfortunately for Kelly, he has struggled to stay healthy over the last two seasons, most notably missing all of the playoffs this year. At the cap hit, it will be tough for Peter Chiarelli to justify retaining Chris Kelly, especially when he possesses the ability to eliminate the cap hit without penalty.
Shawn Thornton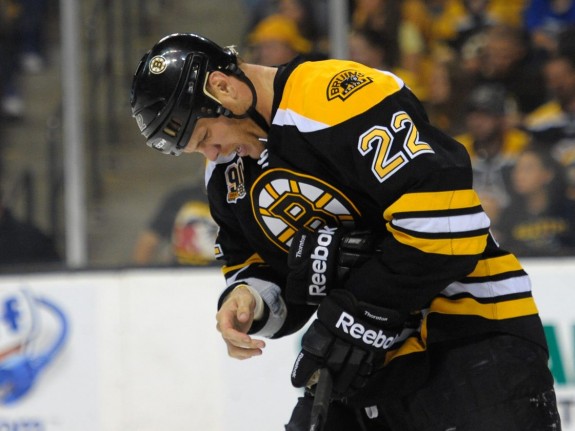 Another veteran leader, Shawn Thornton's current contract expires July 1st. Claude Julien loves to roll four lines and Thornton has certainly earned his trust. Thornton loves playing in Boston and is a strong presence in the locker room. The Bruins, however, could be better served by replacing Thornton with a younger, more versatile fourth line winger. Gregory Campbell and Daniel Paille represent two of the best fourth line players in the NHL, so upgrading the weakest link on their line, could reap major rewards for the Bruins. Will Chiarelli and Julien be willing to sacrifice Thornton's personality and leadership for a talent upgrade on the ice?
Jordan Caron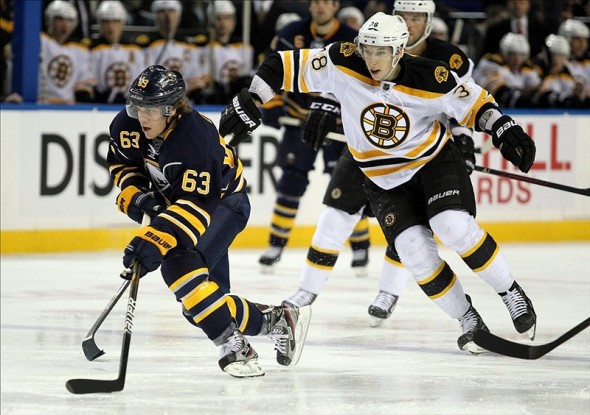 Like Shawn Thornton, Jordan Caron's current deal is up on July 1st. Unlike Thornton, Caron will be a restricted free agent. The team will have the opportunity to tender him an offer or allow Caron to become an unrestricted free agent. Since it is unlikely that Caron will fetch an offer that warrants draft pick compensation, it will really boil down to how valuable he is to the Bruins going forward. Despite having years of experience in the system, Caron struggled to earn a roster spot and was eventually passed over by less experienced players like Justin Florek and Matt Fraser in the postseason. Caron showed signs of promise early on in his career with the Bruins, but has never been able to establish the consistency that is necessary to be a successful player in the NHL. Caron is almost certainly going to be getting a fresh start in a new organization this summer.
Adam McQuaid
Adam McQuaid has become a fan favorite over the last four seasons, between his physical style of play and his ­hairstyle. He has anchored the Bruins bottom pairing since forcing his way into the lineup during the 2011 Stanley Cup run. The problem for McQuaid is that he hasn't been able to stay on the ice, while the Bruins have produced a stable of young defenseman that are now in the NHL to stay.
McQuaid's direct competition is Kevan Miller
, who is younger and cheaper than McQuaid. Miller was a mainstay in Boston's defensive group as a rookie this season,
while McQuaid missed a majority of the year with various injuries
. McQuaid has one year left on his deal with a cap hit of $1.57 million, making him a tradable commodity. Don't be surprised if he is shopped and successfully dealt this summer.
Matt Bartkowski
Matt Bartkowski's name has been
involved in almost every trade rumor over the last two years
. The 25-year old defenseman is set to become a restricted free agent this summer, giving the Bruins the right to match any offer for Bartkowski if they so choose. With Dennis Seidenberg returning and the emergence of Kevan Miller, Bartkowski currently slots in as the team's seventh defenseman. Bartkowski is entering the prime of his career, making it unlikely that he would be satisfied with a minimal role on the team. He absolutely possesses solid trade value, potentially enabling Peter Chiarelli to address the forward group by trading from a position of strength. Bartkowski's salary won't clear a lot of cap space, but he could bring back a cost controlled forward that would allow the GM to re-distribute that money throughout the roster.
Who would you be willing to part ways with this summer? Can the Bruins afford to lose these five players? Let me know what you think in the comments below or on twitter @kirkvance.