Elias Lindholm was hesitant when asked whether he was open to a contract extension with the Calgary Flames. After all that has happened over the past year, I don't blame him. He lost his two elite linemates, likely got tired of Darryl Sutter's antics as head coach, and the team missed the playoffs, looking like they're heading in the wrong direction. Now it seems as though the offseason change that occurred was a switch in general managers, not in coaching.
---
---
With somewhat limited cap space to add big pieces in the offseason to help out Lindholm on the top line and the team in general, we'll see the direction the team chooses to go. We already know he is in line for a big raise on his next contract and would get a lot of interest in the trade market and free agency in 2024. Could the Flames anticipate Lindholm won't re-sign and trade him this offseason? If they do, here are three teams that will have an interest in and a need for him for the final year of his contract.
Colorado Avalanche
The Colorado Avalanche will remain a top team in the NHL for years, but as they are at the very top of their game right now, they should continue to be all-in every year. That wasn't the case this season, as they did very little to address needs at the trade deadline. As they needed a second-line centre, all they acquired was Lars Eller down the middle.
J.T. Compher is set to become an unrestricted free agent (UFA) in the summer, likely in line for a raise, and wasn't the clear-cut second-line centre all season even though the team eventually landed on him in that role. Lindholm's cap hit isn't much higher than Compher's this season and is a big upgrade at both ends of the ice. Lindholm is not only a former Selke Trophy finalist and great two-way player, he is without a doubt a top-line/top-six centerman who could seamlessly even fill in next season if, and more likely when, Nathan MacKinnon misses games.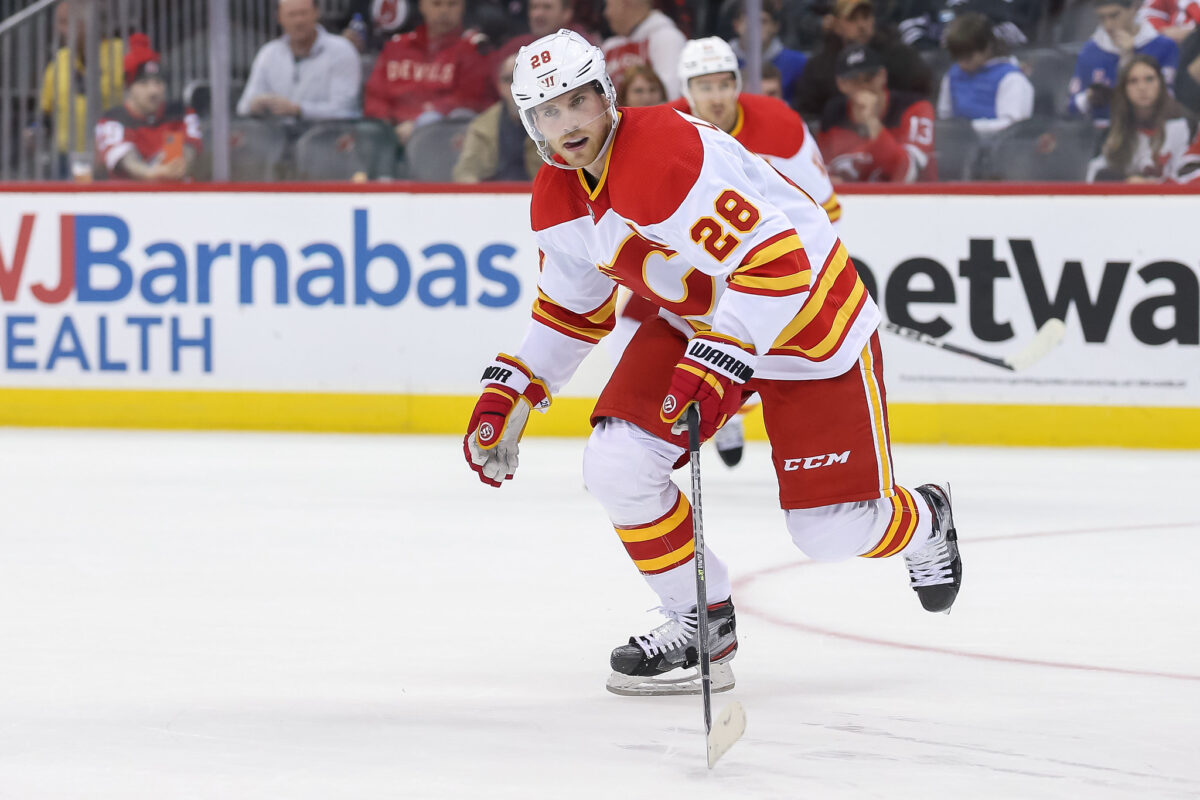 Lindholm would be a short-term commitment for the Avalanche and push them to the top, once again. Sam Girard could be involved as part of a package, since his time in Colorado is likely ending due to a lack of space. That would help shore up the defence as the speedy puck-moving defenceman is under contract for four more years.
Carolina Hurricanes
The Carolina Hurricanes are in a very similar position as the Avalanche. They were in search of a second-line centre all season and failed to address their need at the trade deadline. They settled on Jesperi Kotkaniemi, but know he isn't the answer right now at least. The team is also a Stanley Cup contender and may be hurt by injuries these playoffs, but shouldn't get much worse next season.
Related: Flames: 3 Offseason Trade Destinations for Dan Vladar
---
Latest News & Highlights
---
The Hurricanes drafted Lindholm fifth overall in 2013 and traded him to the Flames a number of years ago. Since that time, he has broken out and become a great top-six player. As the Flames don't appear to be in a place to compete next season and may lose Lindholm in free agency in 2024 if they don't make a significant turnaround or trade him, Carolina is in a place with a hole to fill with Lindholm as one of the best players to fill it. There was interest from the Hurricanes to re-acquire Lindholm at the trade deadline, so I think that will intensify in the offseason.
Minnesota Wild
The Minnesota Wild have been lacking solid centermen since last season. Joel Eriksson Ek is a very good player, but he is best suited for the second line. That means Lindholm would be a fit for the top line in Minnesota and is a very cost-effective player that the team is in desperate need of while they have over $14 million in dead cap on the books.
Lindholm has an annual average value of less than $5 million and could be the answer for at least one year for the Wild, as they have given Bill Guerin every reason to have confidence in them. Ryan Hartman and even Sam Steel have spent time on the top line this season, but I wouldn't compare either of their skill to that of a real top-line centre (from 'State of Wild's forwards at quarter mark: Steel as No. 1 center, Rossi limbo, more,' The Athletic, Nov. 22, 2022).
The Wild once again fought for the division title and will play hard in the postseason with only one real superstar on their team and a fairly big disadvantage. Lindholm is a perfect example of an underpaid player that provides great value. Those don't come around very often, and the Wild have this offseason to take advantage. They have quite a few assets the Flames would be interested in.
If Sutter is remaining as the head coach of the Flames, in my opinion, it may be best to alter the roster to find the players that will play for him and are willing to stick around. I don't think Lindholm is one of them, especially once he asks for a lot of money on his next contract, and the Flames may not be able or willing to pay that. Keep a close eye on Lindholm, as talks might start to pick up closer to the draft.