The flight back to Calgary was likely one filled with a lot of serious questioning from the Calgary Flames' players and personnel about where this team is at. Only 10 games into the season, the club still has yet to engrave its true identity and show the Canadian Division that they're more than just good on paper. One thing we know for certain is that they are in a serious predicament when it comes to playing a complete hockey game. That same storyline has been constantly reiterated this season, and it once again re-wrote itself in Winnipeg last night. (From- 'Second-period lull costly for Flames,' Calgary Sun, 02/05/21)
This time, however, the Flames presented a fairly solid first period against the Jets on Thursday, and lead them 1-0 after the opening frame. It was the Flames' second and third period, though, that cost them the game. 4-1 was the final from Winnipeg, and the Flames returned home after going 2-3 on their five-game road trip, collecting four out of a possible 10 points.
The Flames were out-hit 18-15 against the Jets on Thursday night and were also beat out in the shot department, the faceoff circle, and the blocked shots list. The provincial-rival matchup between the Flames and Edmonton Oilers has seen its intensity levels ramp up over the past few seasons, as both teams have had their way with one another in the wins category when they've met, but the season's first installment of the Battle of Alberta is crucial for Calgary this Saturday. They need to dictate the physical play if they want to find the win column. (From- 'Edmonton Oilers expect Battle of Alberta to be even more intense,' Edmonton Sun, 02/05/21)
Heading Into Battle
It'll be all eyes on the Saddledome's ice this Saturday, as the Oilers look to extend their three-game winning streak, and the Flames desperately seeking to snap their losing skid at two games. Last season, the hatred between Matthew Tkachuk and Zack Kassian grew to an exponential height. Tkachuk is heading into battle this Saturday with some expected antics after his last game against the Jets, where he registered two shots, two hits, and was a minus-3. No doubt in my mind, he'll be fired up for his first taste of Kassian and the Oilers. Tkachuk's younger brother, Brady, already stirred up the pot for him earlier in the week, when Brady and Kassian got physical and tossed a few chirps after the final buzzer between the Senators and Oilers.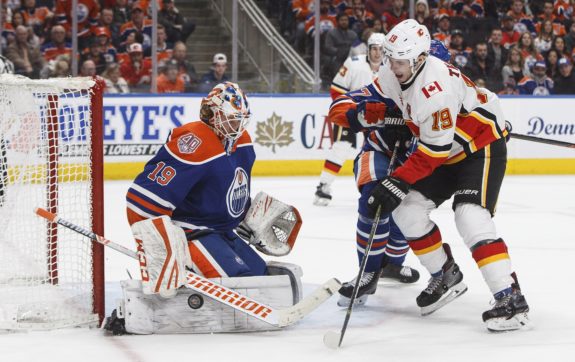 Flames' head coach, Geoff Ward, called for his team to be tougher when the puck drops against the Oilers too, as he knows his team can't afford to give Connor McDavid an inch of ice, or he'll burn them with it. "We gotta get better or we can stay bitter, that's really our choice. It starts with us being harder. I mean right now, we're soft in a lot of areas of the hockey game. So, you know, let's start there. We gotta raise our compete level."
McDavid has shown how lethal he can be against Calgary and as good as Jacob Markstrom has been for the Flames this season, they don't want to be giving him or his teammates any extra room on the ice. Calgary's defense only registered two of their 15 hits on Friday, so they'll need to be a lot better against Edmonton, as the Oilers are known for devastating teams with their offensive weapons.
Not Satisfied
It's been an interesting 10 games so far for the Flames this season, as the team sits second-last in the Canadian Division with a record of 4-5-1, and three points behind the Oilers. It seems as if their ability to be physical has disappeared from the clubs' lineup, and with Sam Bennett out as a healthy scratch on Thursday, it felt as if even more energy had been drained from this team. Whether Bennett plays on Saturday or not is completely up to coach Ward, but his guys sure could use a big hit or a big fight to set the tone. The Flames have yet to engage in a fight this season, and after holding a players-only meeting four games ago, this team has managed two wins since, so it wouldn't surprise me if someone drops the gloves for the Flames next game.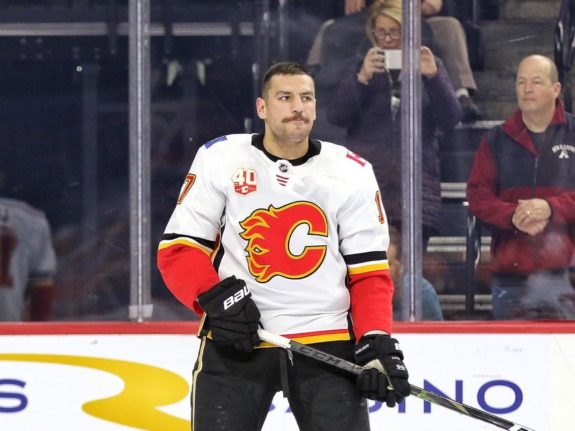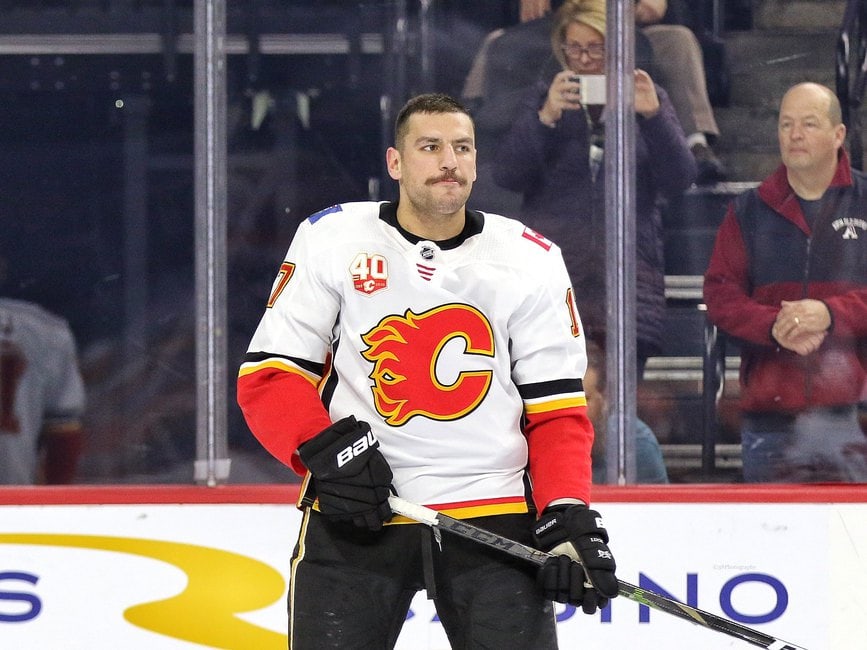 Rasmus Andersson was one of many Flames players who felt the frustrations of repeating the same narrative, as he called out his team in his last post-game presser. "It sounds ridiculous because I think we've said it about a million times, but we gotta play a full 60-minutes. I mean, we start the game good and then the second period is not good at all, and then the third period we're chasing the game. Yeah sure, I hit the post, Nesty (Nikita Nesterov) hit the post, we have some good looks, but I mean, we're chasing the game every third period it feels like, it's not a recipe to win games."
The stage will have already set itself when the puck drops between the Oilers and Flames. The Battle of Alberta needs no introduction, as the last one featured a combined 102 penalty minutes, 11 combined goals, and a goalie fight, so the Flames will certainly need to make some adjustments to their approach for Saturday. This team needs to keep their foot on the gas pedal all game, and set the tone early on the physical side of things, as that should transpire into the Oilers being worn down, which is like blood in the water to a shark for the Flames- A critical time to attack their opponent offensively.
---
---
My job as a writer is a dream come true. I wake up every day and remember, this is the kind of job I've wanted since a very young age. In order for me to continue fulfilling that dream, I need you, the reader, to let me know how I'm doing. Feel free to subscribe to The Hockey Writers, and drop a comment regarding anything Calgary Flames. Thank you!