This season has been the epitome of "up and down" for Calgary Flames fans. At times there have been glimmers of hope, but not consistently. The majority of time has been spent wallowing in missed opportunities. That or wishing for line chemistry to appear after the biggest summer roster overhaul the team has gone through in recent memory. New additions Jonathan Huberdeau and MacKenzie Weegar are not threading the proverbial needle as many had expected them to do. The offense has had a tough time generating high-quality scoring opportunities and the defense has struggled at times in preventing them. The goaltending has also been atrocious for the most part, hardly keeping the team afloat in what has become an ultra-competitive Western Conference.
Related: Flames Should Trade Markstrom if They Can Shed His Full Salary
---
Latest News & Highlights
---
One of the most glaring problems that has not been addressed, however, is how the Flames become relatively diluted after two periods of play. It was made evident after the recent game against the Ottawa Senators. They were up 3-1 after 40 minutes, only to let in two late goals to tie the game in addition to the overtime winner scored by Tim Stützle. This has happened on more than one occasion against the Flames, albeit maybe none as dramatic as this time. Notwithstanding, they have yet to record a comeback win of their own this season. Let's break down the stats associated with this fact as well as what they mean to the team's success.
Negative Third Period Stats For the Flames
As of this writing, the Flames sit at 26-19-11 overall but are 0-12-2 when trailing after two periods. There is no advantage on home ice either, as they are split perfectly going 0-6-1 on the road as well as in the "C of Red" at the Scotiabank Saddledome. Even when they are tied after 40 minutes of hockey, the Flames are just 3-6-5. Essentially, the team needs to be winning going into the third stanza if they are to have any chance of winning the game. In addition to the loss against the Senators, the Flames have also given up third-period leads on four other occasions.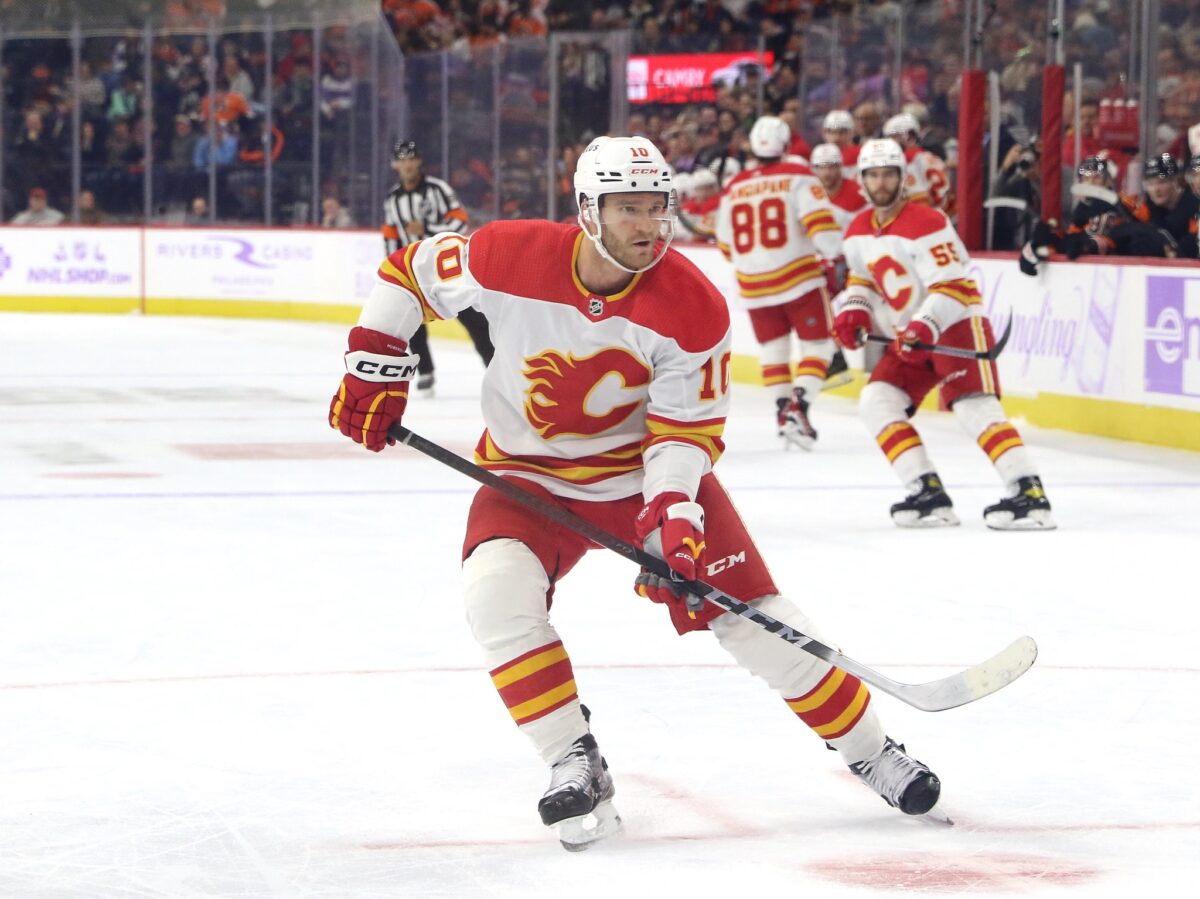 Goalscoring-wise, the Flames have unsurprisingly put up their worst statistics in the third period. They have totaled 51 goals after 40 minutes, compared to 60 and 61 goals in the first and second periods. This amounts to an almost 15 percent drop-off in production during a time when it matters most in a game. They also generate their lowest amount of shots during period three at 623 whereas in the first two periods average out at 668, an approximately seven percent decrease. They have also authoured a minus-8 goal differential as they have allowed 59 goals in the third, their highest total of all periods.
Lost Points, Absent Identities
We can chalk these issues up to an abundance of things, but the fact of the matter is the team dwindles once the second intermission ends. Team statistics aside, the Flames are missing out on valuable points with their lack of third-period efforts. With their 0-12-2 record when trailing after 40 minutes, that is just two out of a possible 28 points available. Now of course we do not expect them to have come back and won every game, but even if they won half of those 14 games they would be in a drastically different situation in the standings. They'd have 75 points instead of their current 63 and would be atop not only the Pacific Division but the entire Western Conference.
You may also like:
Additionally, a comeback win is huge for boosting team morale, something the Flames have seemingly been in need of recently. While establishing a lead early is still key, they will undoubtedly find themselves down in the third period again this year. Digging deep and finding the drive within them can really aid both the team and individual players for the rest of 2022-23. In case some haven't noticed, they have yet to string together a winning streak longer than three games, yet have had losing streaks of seven and five. Constructing a big comeback or two and getting rid of that big, ugly goose egg may be exactly what this team needs to turn this season around.