As the NHL barrels ever closer to the league's trade deadline on March 3, the Colorado Avalanche look set to bolster an injury-riddled roster in anticipation of defending the franchise's most recent Stanley Cup championship.
Recently, injuries to Cale Makar and Erik Johnson combined with Gabriel Landeskog's eventual return could throw a wrench into Colorado's deadline plans. Depending on the length of their absences, the Avalanche can exceed the salary cap limit through the use of long-term injured reserve (LTIR).
Yet, even with the increased flexibility, management may choose to allocate more assets towards the team's biggest need – a true second-line center – rather than splurge on what projects to be more of a luxury addition at the deadline.
This era of Avalanche hockey has ushered in several seasons defined by legitimate Stanley Cup contention, so it's no surprise that the organization's pool of prospects could leave potential trade partners underwhelmed.
Related: Avalanche's Top 5 Trade Assets at the 2023 NHL Trade Deadline
---
Latest News & Highlights
---
Although general manager Chris MacFarland and company can still offer several interesting prospects and draft picks, they may not boast the treasure trove of assets required to pull off a seismic trade. With that context in mind, let's dive into three intriguing options – plus a few more costly names – that the Avalanche can target at the upcoming deadline.
Carson Soucy, Seattle Kraken
2022-23 Statistics: 56 Games Played (GP) – 2 Goals (G) – 8 Assists (A) – 10 Points (PTS) – 16:20 Average Time On Ice (ATOI)
At first glance, proposing that the likely playoff-bound Seattle Kraken could be persuaded to trade away the towering Carson Soucy (he comes in at 6-foot-5) to a conference rival appears misguided.
However, the context surrounding Soucy's status with the organization suggests that the veteran defender could change sweaters by the trade deadline. A pending unrestricted free agent (UFA) with only one year remaining on a contract carrying an annual average value (AAV) of $2.75 million and seeing limited deployment, the 28-year-old is a prime trade candidate.
There are no qualms about how Soucy generates the majority of his on-ice value. He frequently engages physically, sitting third among Kraken blueliners in terms of his per-60-minute rate of takeaways and hits thrown. He's also featured regularly on the Kraken's secondary penalty-killing unit, ranking third on the team in shorthanded ice time.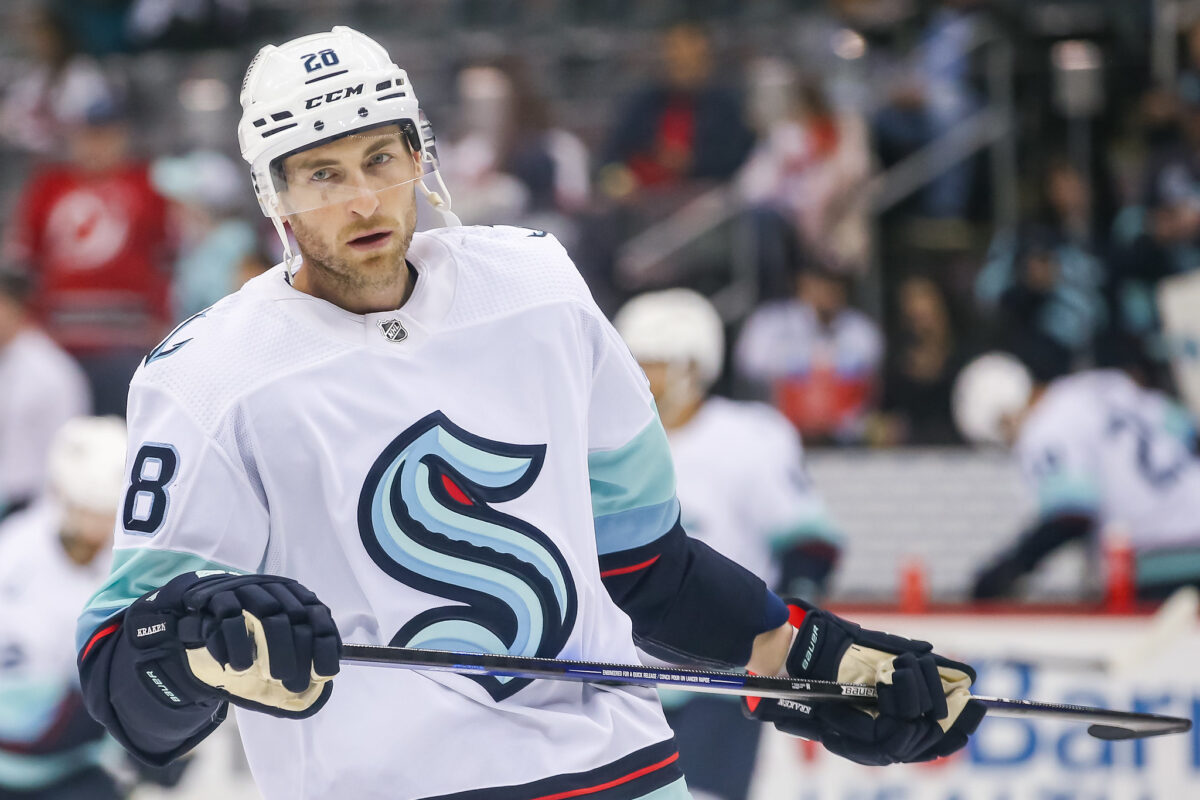 According to Corey Sznajder's tracking data, Soucy is also one of the NHL's most effective disruptors of transition play. Even though opposing skaters target him at the second-highest rate on the team, he grades out as the Kraken's best defender at denying zone entries. For an Avalanche squad that can occasionally get into a track meet, having players capable of regularly cutting off such attempts allows them to kickstart their own rush offence.
Despite those positives, he only ranks fifth among regular Kraken blueliners in ATOI in all situations and has the likes of Jaycob Megna and Cale Fleury breathing down his neck. That's before considering the possibility that Seattle acquires defensive reinforcements of their own who can push everyone down the blue line hierarchy, or if the Kraken would rather add to a quickly growing prospect pool.
Another clear strike against acquiring Soucy is his propensity to take inopportune penalties which, for an Avalanche team that owns a middling penalty kill (ranks 19th at 77.5%), is unappetizing, to say the least. According to Evolving Hockey, he's tied for ninth among NHL blueliners in total minor penalties taken this season (18) and co-owns the fourth-worst penalty differential at minus-15.
Related: NHL Trade Bait List for the 2023 NHL Trade Deadline
The Avalanche are loaded with active puck movers so cultivating a more diverse collection of skills only helps to build a more resilient group on the blue line for the playoffs. Soucy can be sheltered on the bottom pair and offers greater stability and more NHL experience at a key position. Considering what's likely to be available at the deadline, the Avalanche could do a whole lot worse than procuring Soucy from the Kraken.
Dmitry Kulikov, Anaheim Ducks
2022-23 Statistics: 56 GP – 2 G – 10 A – 12 PTS – 20:15 ATOI
Moving down the list of pending UFA defensemen, the Anaheim Ducks' Dmitry Kulikov could be one of the most sought-after skaters at the deadline. The Ducks' abysmal on-ice situation has clouded every player's true value, so it stands to reason that Kulikov's numbers could improve in a more favourable playing environment.
The 32-year-old Kulikov carries a fairly manageable cap hit of only $2.25 million through this season but controls his future destination due to the eight-team no-trade clause (NTC) inserted into his contract. With the Ducks looking like the favourite in the Connor Bedard sweepstakes and projected to have over $60 million in cap space by the trade deadline, negotiating salary retention on their end should be a straightforward conversation.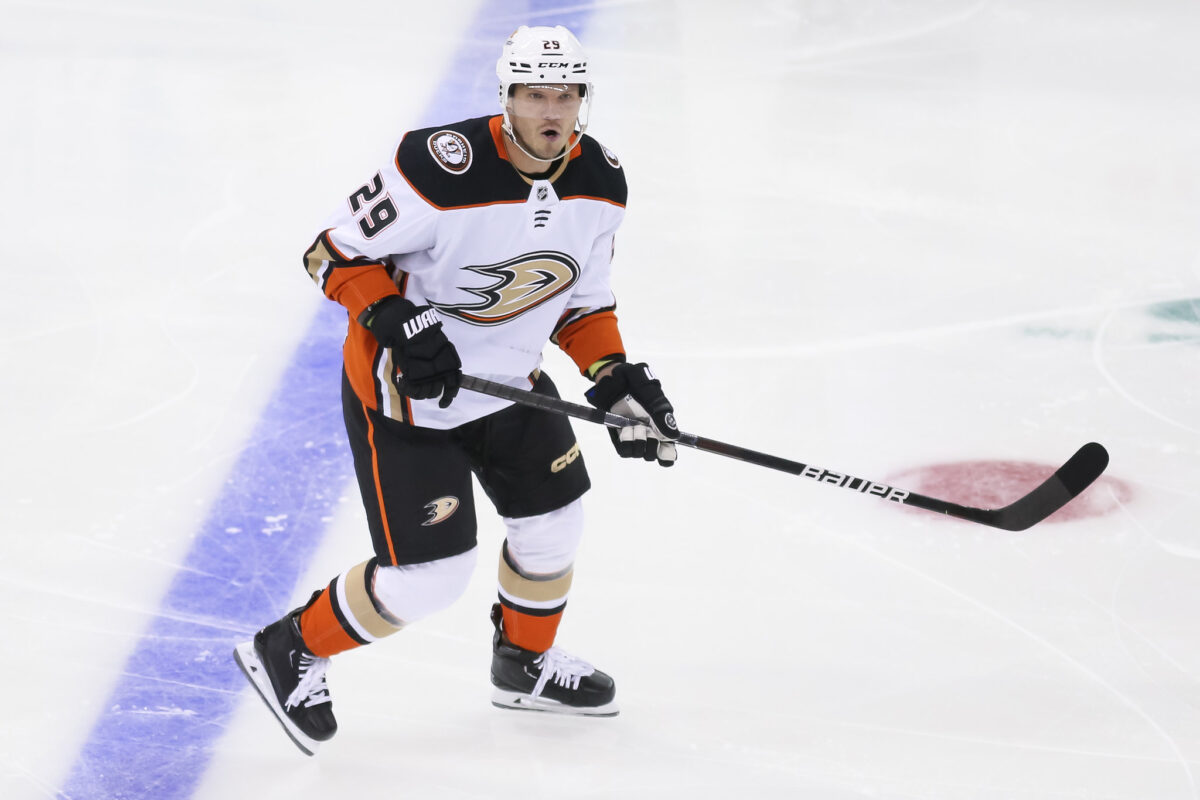 Surprisingly, Kulikov, better known for his defensive prowess, has generated an above-average rate of offensive zone entries and scoring chances for himself and his teammates. The Ducks' clear talent deficit means he counts a meagre total of 12 points on the year, but that wouldn't be the case with the Avalanche.
Unfortunately, there are drawbacks to acquiring the Russian blueliner. Like the rest of Anaheim's defence corps, Kulikov has struggled to prevent opposing zone entries but isn't so demonstrably poor that he would be an indefensible liability in that regard. He's also posted bottom-20 shares of shots, scoring chances, and expected goals among qualified defensemen (minimum 300 minutes played at 5-on-5), but it's difficult to gauge how much of that is due to Kulikov and how much blame to assign to the Ducks' thin roster.
One look at how former Ducks defenseman Josh Manson prospered after joining the Avalanche at last year's deadline should partly assuage fears that Kulikov is well-beyond his best-before date. It's also important to remember that Kulikov would be a depth piece in Colorado rather than the top-four option he is in Anaheim where he ranks third by ATOI in all situations and first in average shorthanded usage.
You may also like:
A veteran of nearly 900 career NHL games, Kulikov is admittedly past his prime. Still, he could provide stability as a bottom-pair option with penalty-killing expertise that could allow the Avalanche's star defensemen to direct their energy to create offence and facilitate the team's electric transition game.
Salary retention and the demand for Kulikov's skillset could drive up the cost to acquire him beyond what the organization is willing to give up for a depth option. Even so, few aspiring Cup contenders would admit to regretting a trade for depth ahead of what could be another long playoff run. Is Kulikov one of the missing pieces needed to repeat?
Erik Gustafsson, Washington Capitals
2022-23 Statistics: 57 GP – 7 G – 26 A – 33 PTS – 20:10 ATOI
The third and final trade target is the offensively-minded Erik Gustafsson, who finds himself in the middle of a career renaissance with the Washington Capitals this season.
After the organization took a one-year, $800,000 flyer on the well-travelled blueliner, he's repaid their faith with the second-most productive campaign of his career. Sure, John Carlson's injury opened the door, but Gustafsson has grabbed the opportunity with both hands.
Gustafsson ranks 23rd at his position in all-situations points and 15th when isolating for even-strength production (25 points), and has done so while being entrusted with the second-highest 5-on-5 usage of his career (16:44 minutes per game). He's not just a fortunate benefactor of the Alexander Ovechkin Powerplay Experience (trademark pending).
On top of revitalized boxscore production, the 30-year-old defender is generating one of the league's highest rates of high-danger passes and hasn't struggled with the same defensive miscues that have plagued his NHL tenure to date. In fact, he's been one of the league's most effective blueliners at preventing clean zone entries with possession while keeping successful attempts outside of frequent scoring areas.
Admittedly, Gustafsson's availability hinges entirely on the Capitals' on-ice fortunes over the next two weeks, even if they should probably initiate a rebuild. As of this writing, they sit one point behind the New York Islanders for the Eastern Conference's second wildcard spot. Further complicating matters is the fact that they only have a two-point lead on the Detroit Red Wings and Buffalo Sabres who hold three and four games in hand respectively.
It's entirely possible that Gustafsson has earned himself an extension as the Capitals look to make Ovechkin's path to goalscoring history as painless as possible. Further complicating matters is the fact that the Avalanche already boast a number of defensemen with his skillset, and could stand to benefit more from targeting a different type of rearguard.
It's not the perfect fit, but the league has already transitioned to rewarding pace, puck-handling, and aggressive attacking play; why shouldn't the Avalanche double down on what makes them dangerous?
Avalanche Have Several Defensive Options at the 2023 Trade Deadline
Outside of the aforementioned names, the Avalanche could also target one or more of the following players at the upcoming trade deadline in order to shore up their blue line, with contract terms in parentheses:
Compared to their other positional needs, the Avalanche's situation on the backend isn't as dire. Regardless, any team hoping to make a deep playoff run must consider the possibility that one or more players will miss time at some point and that having a host of serviceable options waiting in the wings offers a sense of comfort.
Judging by their activity at and leading up to the 2022 Trade Deadline, Avalanche management figures to be busy once again this season.
Data courtesy of AllThreeZones, Evolving Hockey, Natural Stat Trick, and the NHL. Statistics are accurate as of Feb. 19.