With the 2023 NHL Trade Deadline less than a month away now is an appropriate time to evaluate where the Colorado Avalanche stand heading into the business end of the 2022-23 season.
Mostly due to experiencing a torrent of injuries to start the campaign, the defending Stanley Cup champions own a record of 27-19-4 as of this writing and hold a tenuous grip on the Central Division's third automatic playoff spot.
If the Avalanche are to repeat, they likely have to take a more difficult path to the Stanley Cup Final than they did last season, with a weaker supporting cast than the one which contributed significantly to the third title in franchise history. As a result, it would not be surprising for the Avalanche to bolster their lineup ahead of the deadline on March 3, with the offseason departures of Andre Burakovksy and Nazem Kadri looming large this season.
Related: NHL Trade Bait List for the 2023 NHL Trade Deadline
---
Latest News & Highlights
---
General manager Joe Sakic – now the president of hockey operations – made a slew of moves in the week leading up to the 2022 deadline. He acquired defenseman Josh Manson and forwards Artturi Lehkonen, Nico Sturm, and Andrew Cogliano for a slew of prospects and draft picks, with all of the newcomers playing meaningful roles in the Avalanche's eventual Stanley Cup triumph.
Now Chris MacFarland, newly promoted to general manager, has his hands full as the team looks to make a return trip to the Stanley Cup Final. The Avalanche have parted ways with a sizeable amount of prospects and draft picks at recent deadlines in an effort to boost their championship hopes, but have retained a number of intriguing assets with which to barter and acquire any of their top trade targets.
Now, let's dive into which of the Avalanche's roster players, picks, and prospects could be of most interest to willing sellers leading up to the 2023 NHL Trade Deadline.
5. Samuel Girard, Defenseman
Although Cale Makar's recent head injury and the eternal concerns about Bowen Byram's health might give the Avalanche pause when it comes to parting ways with Samuel Girard, he remains one of their most attractive pieces of trade bait. The 24-year-old blueliner is on a cost-controlled contract that carries an average annual value (AAV) of $5 million through the 2026-27 season when he'll turn 29.
Concerns about his passable in-zone defensive play aside, Girard is a smooth-skating playmaker in transition and kickstarts much of the Avalanche's neutral-zone play beyond Makar and Devon Toews. He's also tallied four goals and 17 points in 44 games this season and produced two goals and 18 points in 32 playoff games since 2021.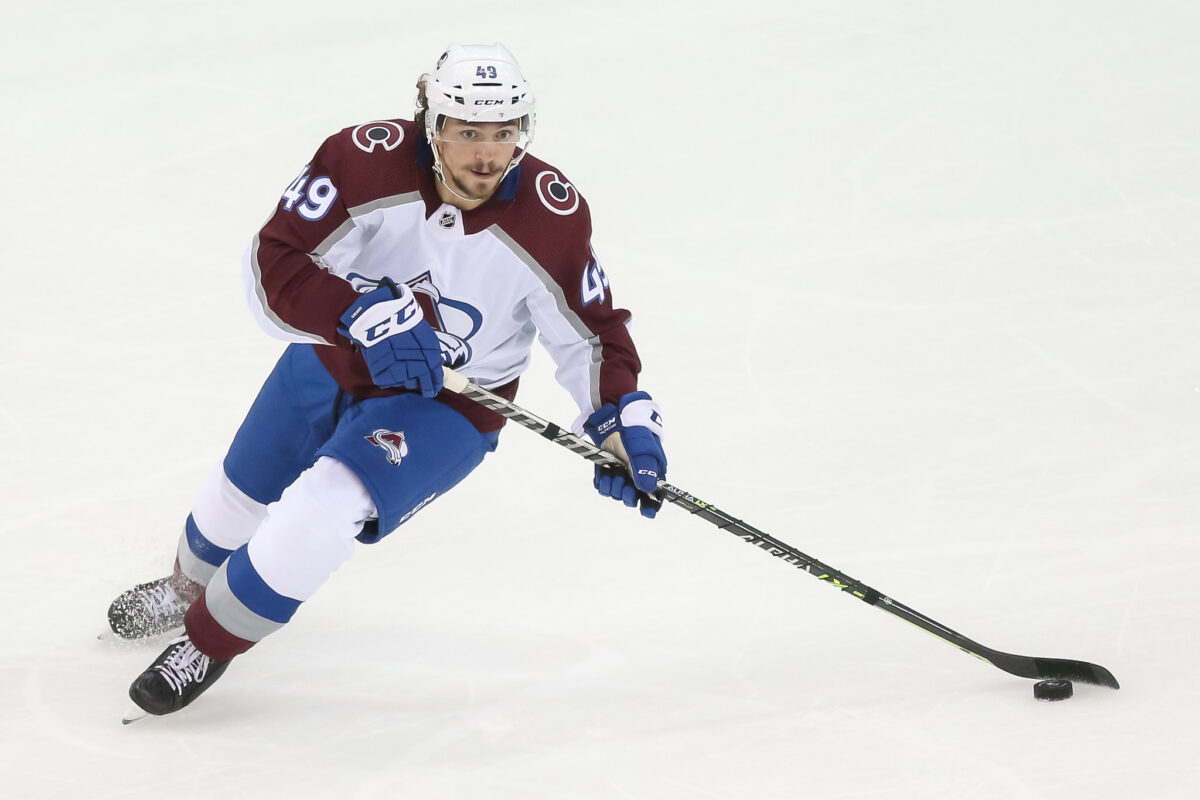 The fact that Toews is slated for a contract renewal at the end of the 2024-25 season – during which he'll turn 31 – also throws a wrench into any potential trade considerations.
As suggested by their previous cap and roster maneuvering, the Avalanche are not an organization typically married to players with unappetizing age profiles. Unless Toews takes a discount relative to what he could get on the open market, Girard and Byram could easily slide into top-four roles, especially once Byram receives an extension of his own after this season.
With that context in mind, it's unlikely that Girard finds himself on the move unless a similarly cost-controlled asset comes the other way. There is a utility for a team like the Avalanche to boast three defensive pairs (when healthy) that are capable of initiating dangerous rush attacks and creating offensive mismatches in transition.
Still, Girard's contract makes him one of the few players that can be used as a salary makeweight in a larger deal. Where he ends up is anyone's guess at this point.
4. 2024 First-Round Draft Pick
According to CapFriendly, the Avalanche own their first-round picks from 2023 to 2025 and a second- and third-round selection in 2025 across the first three rounds of those upcoming drafts. Given that going through another season so beset by injuries is unlikely, their 2024 first-round pick carries less value if the team performs as expected.
Still, a first-round pick is a first-round pick and the Avalanche could easily be persuaded to part ways with an asset given their current contention window. Toews is 28, Gabriel Landeskog is 30, and Josh Manson is 31; several key players that are on or quickly approaching the downswing of their careers.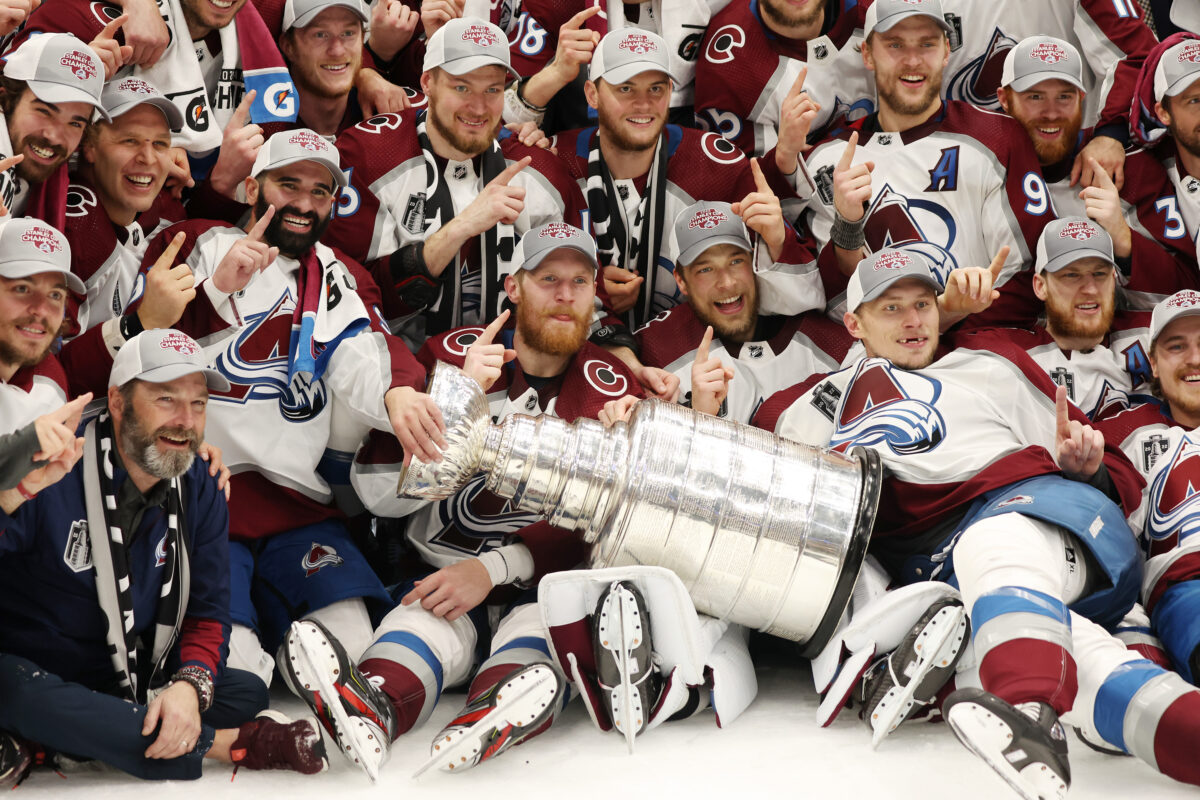 Of course, Byram (21), Alex Newhook (22), Girard (24), Makar (24), Mikko Rantanen (26), and Nathan MacKinnon (27) are the bridge between generations and competitive timelines. Yet, as NHL history has demonstrated time and time again, teams are never guaranteed to maintain their grip on the league forever, and it's better to swing for the fences and miss than never go for it in the first place.
A first-round pick that likely ends up in the late-20s is a palatable compromise between the present and the future. The Avalanche could implode next season and trading a pick a year ahead of time is always risky, but it gives the team another shot at repeating. In my opinion, this pick is as good as gone.
3. Sean Behrens, Defenseman
Currently unsigned, 19-year-old defender Sean Behrens was drafted by the Avalanche 61st overall in the second round of the 2021 Entry Draft and is one of the organization's top prospects. According to prospect guru Scott Wheeler, Behrens boasts all of the traits of a proactive modern NHL defenseman:
He's a heady, intelligent, mobile, active-in-all-three-zones (but within reason) defender who can control a game with his ability to exit his own zone, navigate through the neutral zone, lead entries, and then manage offensive-zone sequences with his calculated aggression and quick reads.

From – 'Colorado Avalanche are No. 32 in 2023 NHL prospect pool rankings' – Scott Wheeler – The Athletic – 01/09/2023
Despite being more offensively inclined, Behrens doesn't hesitate to engage physically and has demonstrated the ability to disrupt neutral-zone attacks with either his body or his stick.
Despite getting off to a slow start, Behrens has accumulated three goals and 17 points in 24 games with the University of Denver. This season's tally brings him to six goals and 46 points in 61 games over two seasons in Division I of the NCAA.
You may also like:
After featuring in only a single game at the 2022 World Junior Championship, Behrens played a leading role with Team USA at the 2023 edition, generating three points in seven games as the Americans emerged victorious in the Bronze Medal Game.
Given the Avalanche's organizational depth at the position, MacFarland could be inclined to trade away yet another defenseman. Behrens could potentially be following in the path of Conor Timmins, Drew Helleson, and Justin Barron in recent years, with those three traded for Darcy Kuemper, Manson, and Lehkonen respectively.
Shedding so many valuable assets in such a short time could eventually come back to bite the Avalanche (they rank dead last in Wheeler's leaguewide prospect pool rankings) but as the saying goes (I think), Stanley Cup banners fly forever.
2. 2023 First-Round Draft Pick
Although the Avalanche currently sit on the right side of the playoff ledger, their postseason fate still hangs in the balance. They're tied with the Minnesota Wild by points (58) with a game in hand, but only hold a two-point cushion on the Nashville Predators who themselves have a game in hand on the Avalanche.
So, it's within the realm of possibility that the Avalanche miss the playoffs and find themselves participating in the draft lottery. The current rules stipulate that the lottery winners can only jump 10 spots in the order. The Avalanche would have to completely implode to end the season in 22nd place in the league, the highest a team can rank while being able to win the first-overall selection.
With a number of franchise-defining talents headlining a loaded 2023 Draft class, the slim possibility that the Avalanche miss the playoffs could drive up the value of this year's first-round pick. Even if the Avalanche finish right on the outskirts of the playoff race, that puts the team which owns their first-round pick in a position to pick near the top five of the 2023 Draft.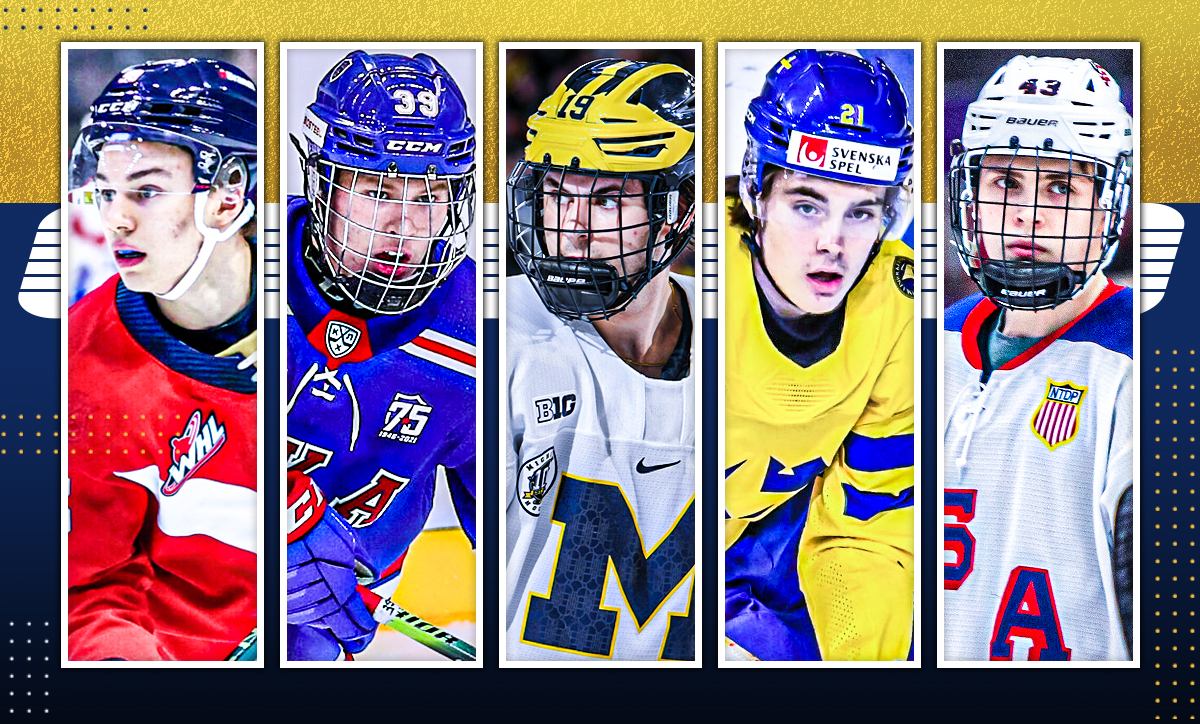 With a number of the team's players returning from injury and both Manson and Landeskog likely featuring before the end of the regular season, such a drastic downfall seems unlikely.
It's all about the percentages when it comes to trade value and although such a devastating scenario could be avoided with the use of pick protections, forgoing those safeguards could help net the Avalanche an even more impactful player.
1. Alex Newhook, Forward
Without a doubt, 22-year-old Alex Newhook – the Avalanche's first-round pick in 2019 – is the team's most attractive trade asset heading into the 2023 Deadline.
Earmarked to replace Kadri's production in the second-line center role, Newhook has struggled to cement his place in the top six this season. His 12 goals and 20 points in 50 games represent a lower scoring rate than last season's 33 points in 70 games despite playing slightly more at both 5-on-5 and on the power play.
Still, his on-ice shooting percentage (OiSH%) of 7.9 percent in all situations is nearly two percent lower than what it was last season (9.4%). With the Avalanche's more talented players returning from injury, his production should see an uptick.
To be fair, Newhook isn't the first promising prospect to take time to acclimate to and succeed at the NHL level, and he won't be the last. Jack Hughes, Tage Thompson, and even MacKinnon himself all took several seasons to break out on the NHL stage and were all drafted in a higher spot than the native of St. John's, Newfoundland.
Even if Newhook isn't of the same calibre of prospect, he's flashed the potential to one day permanently assume the second-line center role.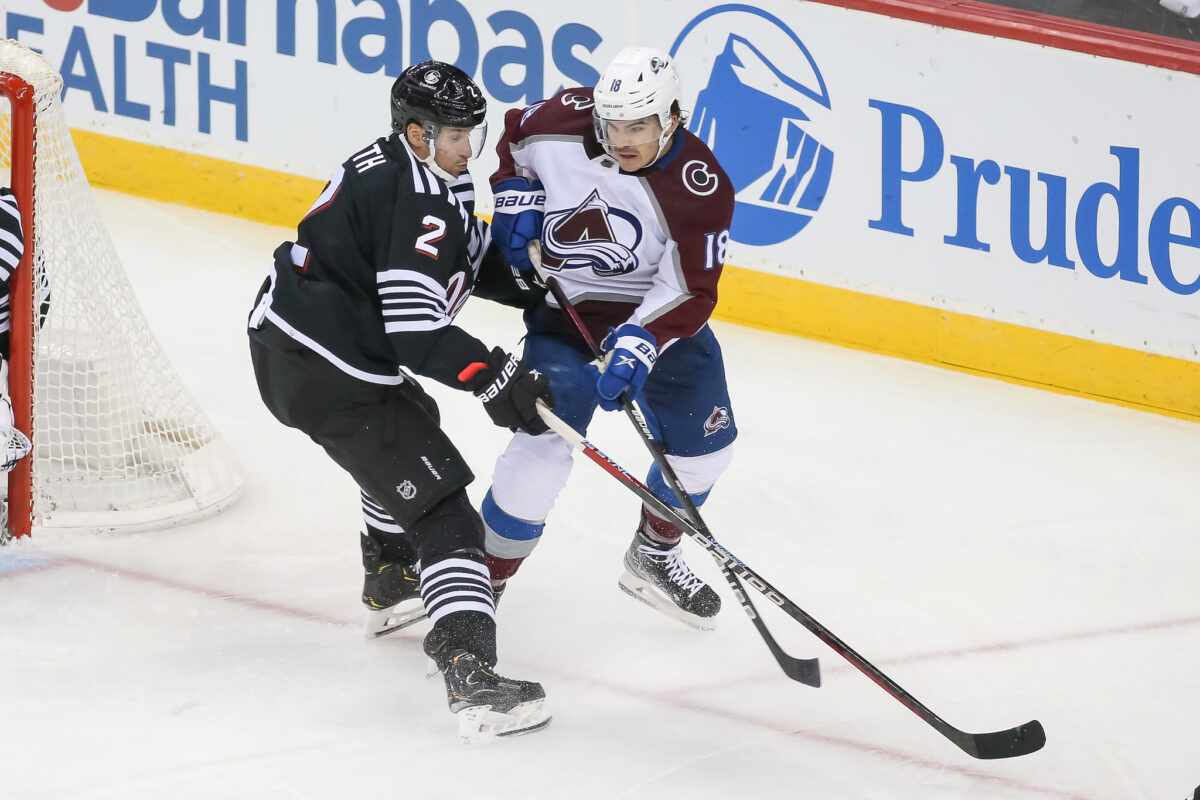 Across two short stints in the American Hockey League (AHL) in 2020-21 and 2021-22, he tallied nine goals and 20 points in 18 games. It's not quite the same as tearing up the NHL, but it's something of some substance.
According to Corey Sznajder's tracking data, Newhook has shown an aptitude for carrying the puck in transition, ranking fourth among Avalanche forwards in controlled zone entries per 60 minutes and sixth in scoring chance assists.
Newhook's relatively low production to date could help the Avalanche lock in a lower contract AAV after this season. Another season of development combined with more frequent deployment could see him take a step next season. Even so, if he is eventually dangled as a trade chip in the hopes of securing an impact player capable of contributing immediately, the Avalanche must hope other teams see his value in the same light.
Avalanche Trade Assets: Honourable Mentions
Beyond the aforementioned assets, the Avalanche could also offer interested teams the following picks and prospects, if so inclined:
Compared to some of the other teams primed to make significant trades at the deadline, the Avalanche lag behind in terms of the pieces they can offer up in any given deal. They may have to settle for smaller moves to improve at the margins, but all signs point to MacFarland and company being active ahead of March 3 – buckle up.
Data courtesy of All Three Zones, College Hockey News, Natural Stat Trick and the NHL.
---
---