The St. Louis Blues are officially changing the guard and nucleus of their team. The decision to trade franchise-star Vladimir Tarasenko sent shockwaves through the NHL after he publicly requested a trade 21 months ago. While the Blues currently have multiple expiring contracts this season, it would behoove them to explore an option that would move out one of their defensemen currently earning $6.5 million per season to reallocate funds toward their forward group. The proposed trade partner, the Vancouver Canucks, are in a similar position as the Blues, needing a re-tool that could shake up their team and help push them back to playoff contenders once more.
With that in mind, the Blues could look to make multiple additions and subtractions from their squad before the start of next season. If they are looking in the ways of a trade, the Canucks are a team that could make sense as there have been multiple rumors of forward Brock Boeser being on the trade market (from 'What we're hearing about Brock Boeser on the trade block, Bo Horvat and more", The Athletic, Dec. 4, 2022).
Why Boeser to St. Louis Makes Sense
Looking over the roster, the Blues are a team that cannot afford to go into a full rebuild. The way it is currently constructed, they have too many long-term contracts and talented players to tear everything down to the studs and start over. It does not need this level of deconstruction, which is why re-tooling makes sense for this team. Reallocating funds from areas like the defense and spending it on forwards to help provide the scoring depth they once boasted seems only logical. But, more on that later. The player that could become a substantial help to the Blues in this time of transition could be Boeser.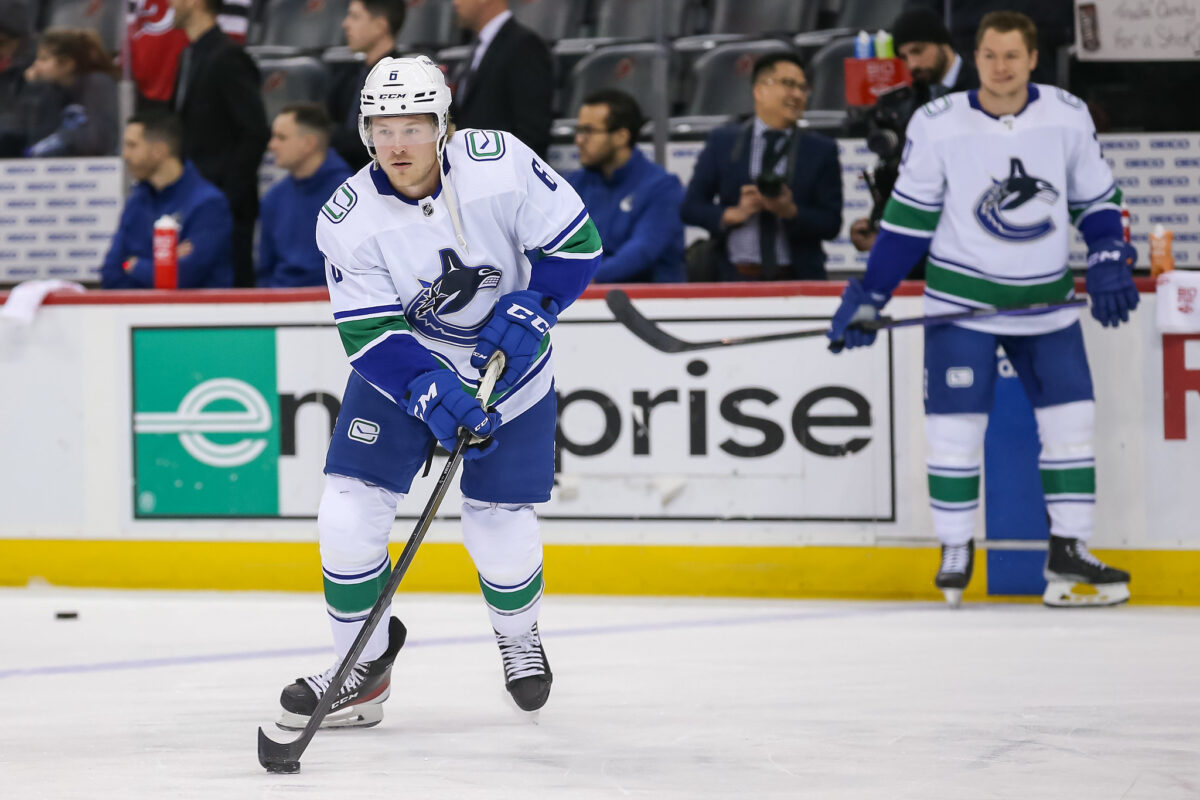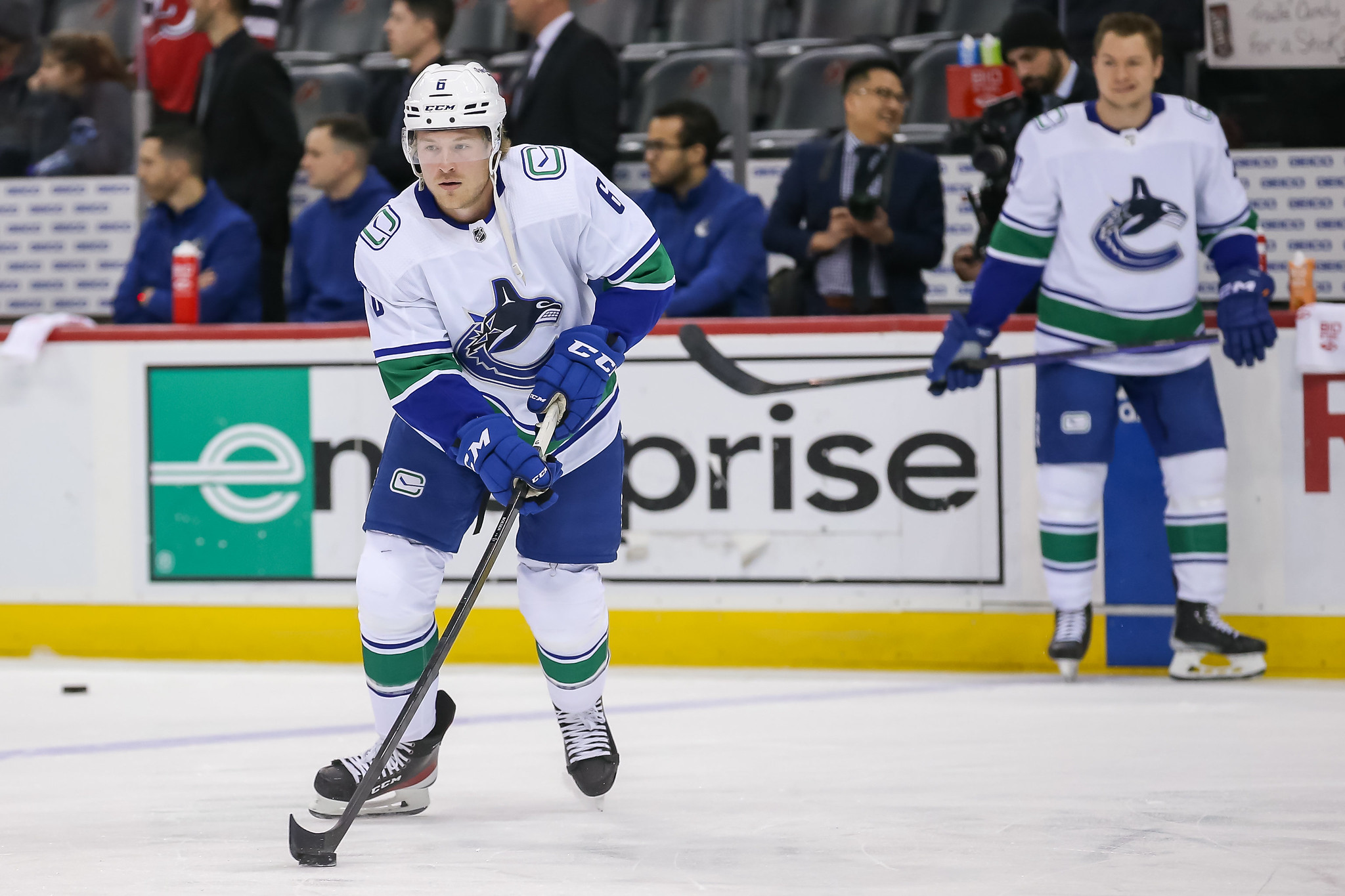 Drafted 23rd overall in the 2015 NHL Entrry Draft, Boeser is a right winger that could provide the Blues with a high level of offensive talent to be inserted into the club's top-six. The Canucks forward will be turning 26 years old at the end of February and is nearing the end of his first year in a three-year contract worth an average annual value (AAV) of $6.65 million. At this time, he has no trade restrictions and will not have any protection on his contract until July 1, 2024, when he can submit a 10-team no-trade list.
Making a move to acquire another top-six forward allows the Blues to spread their talented scoring depth throughout three lines, rather than two. With the loss of Tarasenko and David Perron over the past two seasons, bringing in another forward that averages over 25 goals over the past three seasons would add another high-end scoring threat at even-strength and the power play.
Related: Blues Prospect Report: Bolduc, Hofer, Snuggerud, Neighbours
---
Latest News & Highlights
---
The Blues currently have multiple forward prospects like Jimmy Snuggerud, Zachary Bolduc, and Jake Neighbours that could all become top-six regulars throughout their careers. In the case of Snuggereud and Bolduc, both players are unlikely to make the jump to the NHL within the next two seasons. Looking to the 2025-26 season, the team has four forwards under contract, Brayden Schenn (currently 31 years old), Brandon Saad (30), Jordan Kyrou (24), and Robert Thomas (23). By bringing in a player like Boeser, he helps add to the team's current forward core and becomes one of the key players to help form a bridge for the club's prospects in their ascension to the NHL. Additionally, once these prospects begin to make their way to the NHL, Boeser provides an additional option for the club to retain in lieu of a veteran like Saad whose style of play may not age as well and could be an easier player to move with a $4.5 million AAV.
Canucks Need Reinforcements on Blue Line
At this time, the Canucks are in the bottom three of the NHL in goals against per game, allowing just under four goals a night. Addressing the elephant in the room early on, Colton Parayko has a contract worth $6.5 million AAV through the end of the 2029-30 season, when he is 36 years old. His contract holds a full no-trade clause until the final two years of the deal when it becomes a modified no-trade clause where he can submit a 15-team list. That is a long contract and a lot of term left for a player with a history of back injuries.
While the 6-foot-6, St. Albert native has experienced his fair share of negativity over the past two to three seasons, he has made a name for himself with one of the most dangerous slap shots in the NHL, scoring 49 goals in 546 career games. Fans in St. Louis have long waited for Parayko to consistently unleash his shot each season, only to find themselves waiting for something that ultimately never comes. However, when he does unleash the shot, it reminds Blues fans of the days of Al MacInnis.
Earlier in his career, Parayko found a consistent partner in longtime veteran Jay Bouwmeester. He became a standout and was ranked among the top Blues defenders. With the departure of long-time Blue, Alex Pietrangelo, Parayko was promoted to the top pairing and filled the shoes of the former captain. However, the transition has not gone to plan, despite mixing his linemates and bringing in outside additions like Nick Leddy and Torey Krug. The Blues have multiple defensemen that are capable of logging top-four minutes at this point in their careers and have the ability to move one out, should a trade materialize. With the club also experiencing financial constraints, the decision to move on from Parayko will make room for players like Tyler Tucker and Scott Perunovich on a full-time basis.
The Canucks currently have four defensemen under contract for the 2023-24 season, three of which are left-handed shots. With right-handed defenseman Tyler Myers set to turn 34 next year, there is a distinct void in their ability to field a capable lineup of defenders to balance out their talented forward group. The decision to acquire a player who averages roughly 23 minutes of time on ice per game would provide Vancouver with only their third defenseman to log over 22 minutes per game outside of Quinn Hughes and Oliver Ekman-Larsson, with the ability to play in all situations.
Should the two Western Conference teams make a deal to swap players, the trade is one that could help both teams in the short and long term. Both have thrived with their respective franchises and could use a change of scenery to re-ignite their careers and help their new teams to return to the playoffs.