Over the past decade, the St. Louis Blues have been one of the most successful teams in the NHL. Since the 2012-13 season, they have earned a total of 994 points, good enough for fifth in league standings in that timespan, joined by the Boston Bruins, Tampa Bay Lightning, Washington Capitals, and the Pittsburgh Penguins. Ranking among the league's elite, the Blues have not selected higher than the 17th overall pick when drafting Zachary Bolduc in 2021 while averaging the 26th overall pick since 2012. In that time span, they have managed to draft multiple players that have either become key members of their NHL squad or highly regarded top-100 prospects.
Here's a look into four of the Blues' top prospects and how their season is going midway through their 2022-23 campaigns.
Zachary Bolduc
Blues forward prospect Zachary Bolduc is perhaps the most lethal goalscorer on the organization's depth chart. After scoring 55 goals and 99 points in 65 games in the Quebec Major Junior Hockey League (QMJHL) with the Québec Remparts, he is currently on pace for 47 goals and 119 points in 62 games, declaring himself among the league's elite scorers. With the level of offensive production and scoring success he has experienced over the past two years, it came as a bit of a shock when he failed to earn a roster spot on Team Canada at the 2023 World Junior Championship. However, once they announced their final roster decision, it was clear that he would have been relegated to a bottom-six role, even an extra forward among the country's elite scoring prospects. However, the decision not to include Bolduc in the tournament did not stop the Blues prospect from continuing his offensive tear through the QMJHL.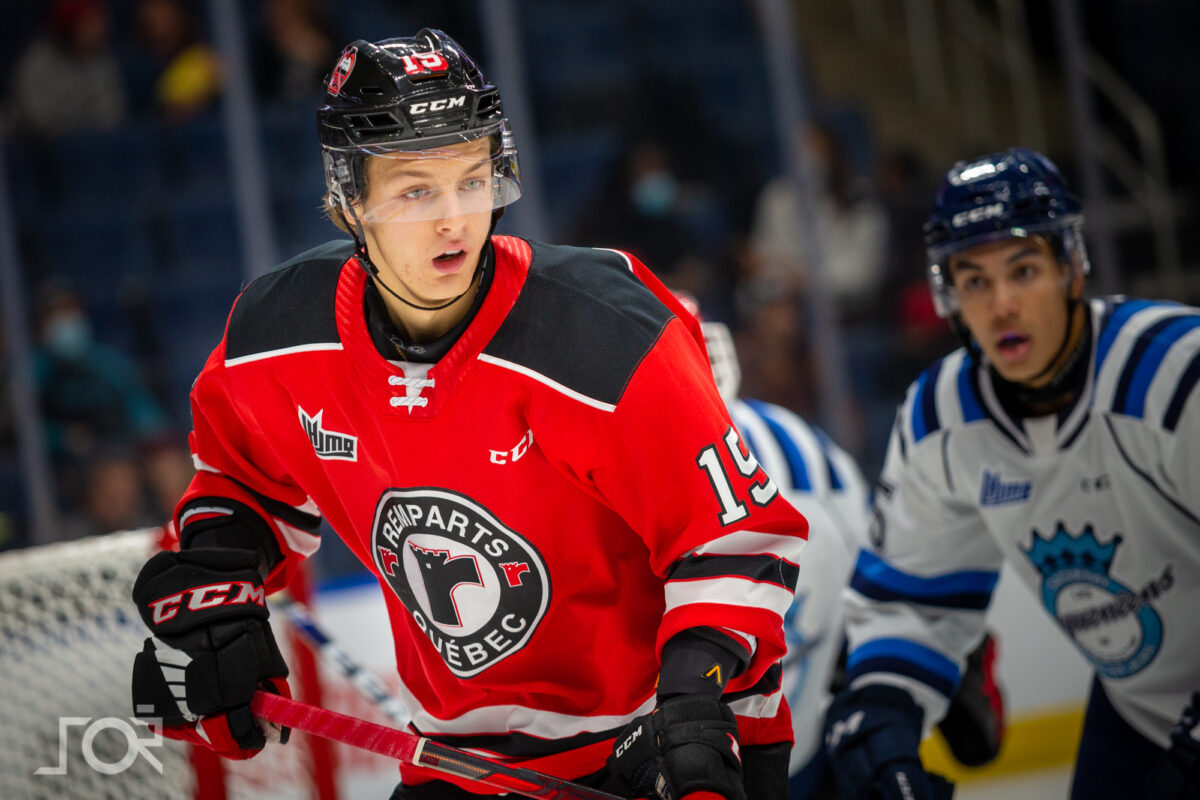 Bolduc has the talent to become a key top-six forward for the Blues moving forward. However, he still has work ahead of himself. In October, Blues head coach Craig Berube said of Bolduc's demotion to the QMJHL:
"He's a kid. He's not ready yet for this level. He's gotta go down and play with more pace. I think he has ability with his feet to do a lot more than he does with the puck. He's gotta skate more, make more plays and not just be a shooter. He's capable of doing more with his ability. And defensively, he's gotta improve. He's gotta be more responsible defensively. He has to understand the responsibilities of playing good 'D' and checking" (from 'Blues notebook: Blues return high-scoring Bolduc to his junior squad', St. Louis Post-Dispatch, Oct. 4, 2022).
Related: Blues News & Rumors: Neighbours, Tucker, 2,000th Victory & More
---
Latest News & Highlights
---
Bolduc is proving that he is more than just a shooter this season increasing his overall point totals and all-around game. The true test will come when he comes back to training camp next season to prove to the coaching staff and himself that he is ready for the next step in his professional career.
Joel Hofer
After signing Joel Hofer to a two-year contract extension on Jan. 2, the Blues have found themselves their goaltending tandem of the future alongside starting netminder, Jordan Binnington. Despite his 13-10-4 record this season, the 22-year-old has seen improvements in his statistics year over year. After a 2.96 goals-against average (GAA) and .905 save percentage (SV%) through 39 games played in the 2021-22 season, he currently owns a 2.60 GAA and .915 SV% through 27 games this year. He has become the club's number-one goaltender for their American Hockey League (AHL) affiliate, the Springfield Thunderbirds, and is well on his way to contending for a starting role in the NHL in the coming years.
Jimmy Snuggerud
Alongside Bolduc, Jimmy Snuggerud has become one of the most anticipated forward prospects in the Blues organization. After being drafted 23rd overall on July 7 during the 2022 NHL Entry Draft, he set his sights on the NCAA with the University of Minnesota, the same college his father Dave attended and played for while wearing the No. 18. Jimmy wears No. 81.
Playing in his first season in the NCAA, Snuggerud has taken the college hockey scene by storm. To date (Jan. 25), he is tied for ninth in D-1 college hockey with 31 points. His play this season won him an opportunity to play alongside his Minnesota teammate, Logan Cooley, for Team USA at the World Juniors tournament where, once again, Snuggerud turned some heads, which got fans, coaches, and scouts alike excited for his development and progression to the NHL. Once the tournament concluded, he ranked third in total scoring with 13 points in seven games, trailing only Cooley (14 points), and Connor Bedard (23).
Jake Neighbours
Through his first season in the NHL, Blues rookie forward Jake Neighbours has been a consistent casualty on a veteran-filled NHL squad, relegated twice to the AHL. This year, he has appeared in 24 games with the Blues scoring three goals and six points while averaging 12:30 of time on ice and middle-six deployment. Recently, the 20-year-old played a critical part in achieving the Blues franchise's 2,000th team victory in a 2-1 win over the Ottawa Senators. Not only did the forward score the game's opening goal, 5:30 into the first period, but also logged his first NHL fight in a second-period tilt against 23-year-old Parker Kelly.
As the Blues move forward in the coming years, it will likely come alongside the success and failures, the triumphs and the learning moments from these four individuals. Alongside players like Scott Perunovich, Robert Thomas, Jordan Kyrou, and perhaps even Tyler Tucker, the Blues' prospects and current youth are beginning to form the core of the future.