It is becoming clearer with every passing game that the Winnipeg Jets should be legitimate buyers at the 2023 Trade Deadline. One of the better teams in the Western Conference has some holes that need patching, and the picks and prospects to make it happen (from 'Jets' reputation as a contender makes them a target for competition,' Global News, 1/25/23).
Timo Meier from the San Jose Sharks is a name to watch, as they may be looking to move him to avoid signing him to a large contract in the offseason. If he becomes available, the Jets should be all-in on acquiring his services for a multitude of reasons.
Timo Meier Could Bolster an Already Potent Top-Six Group
One of the Jets' needs is a top-six forward, and adding one would bolster an already dynamic group. There are names out there such as Sam Reinhart and Bo Horvat, but Meier is arguably the most talented of the bunch and is under team control for another season due to his restricted free agent (RFA) status.
Related: Jets & Panthers Could Produce A Blockbuster Trade
---
Latest News & Highlights
---
Meier has recorded 28 goals and 20 assists through 48 games and has been the most dynamic forward on the Sharks this season. He's coming off of a 2021-22 campaign where he posted 76 points in 77 games, which is a career-high mark that he is on pace to break this season.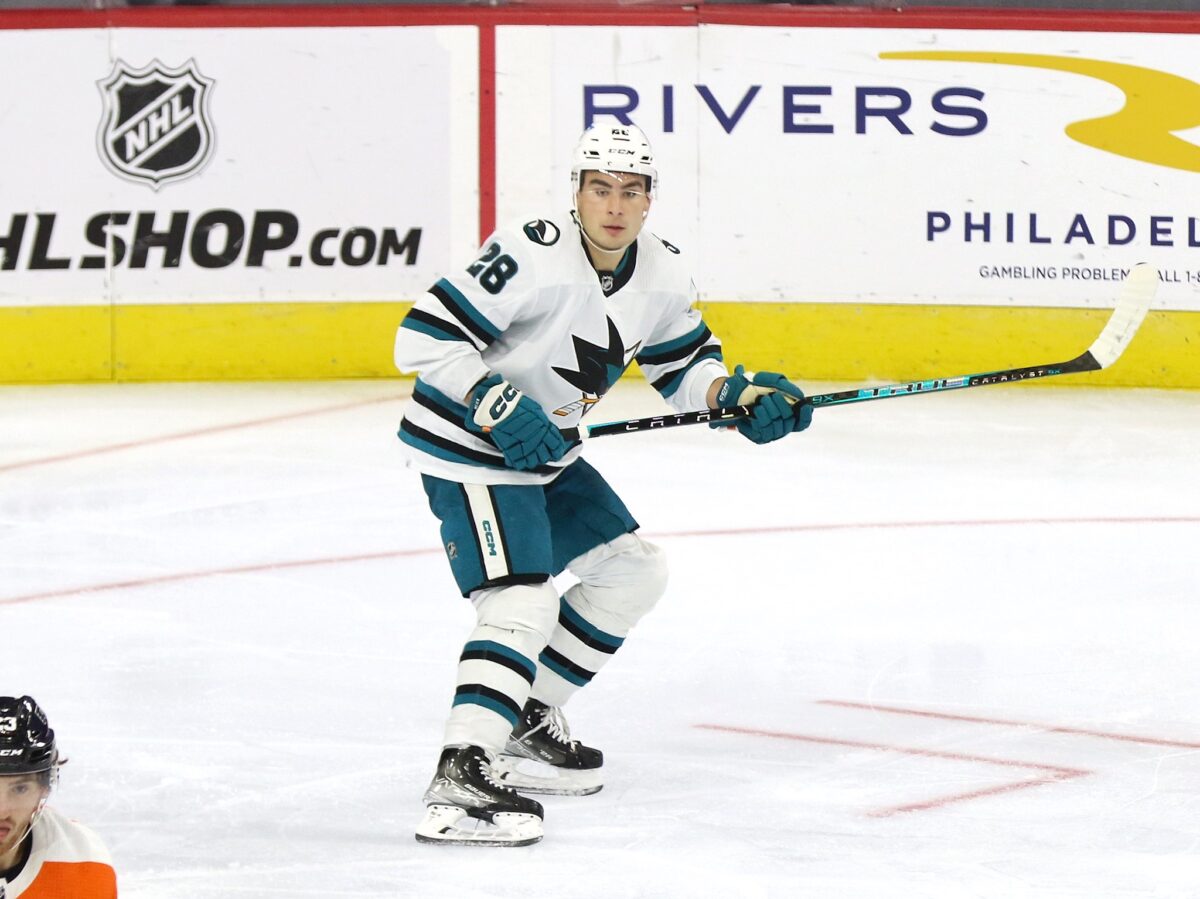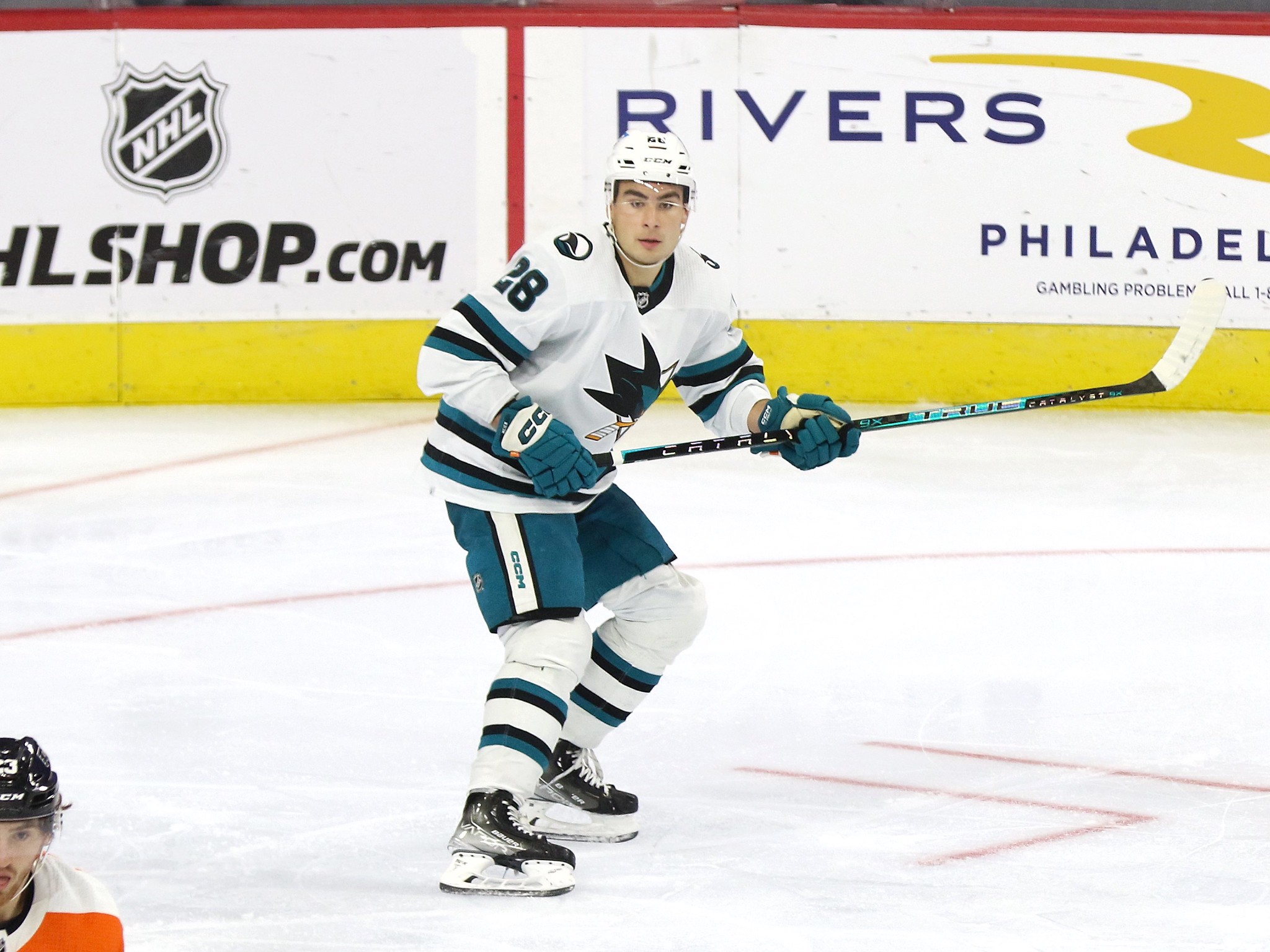 The Jets' top six is already great, but in order to keep up with the best teams in the NHL, they will need to have three lines that can score at a high level and in big moments. Right now they do not possess the depth to be amongst those teams, but an addition like Meier could be the difference between them winning the Stanley Cup and losing in the second round.
Nikolaj Ehlers and Kyle Connor are two wingers that are currently in their prime and playing some of the best hockey of their careers. A winger group consisting of those two and Meier would be a lot to handle for opposing teams, and it would multiply matchup issues that the Jets already possess on a nightly basis.
Meier Could Fix Finishing Issues That the Jets Are Experiencing
Over the past week and a half, Sam Montembeault, Juuse Saros, and Ilya Samsonov have all had games where they stonewalled the Jets and saved two or more goals than expected. When trends like this happen, it is more a lack of a finishing touch rather than goaltenders stringing together outstanding performances. On the bright side, the Jets are generating plenty of offence, they just need another forward to help them finish those chances off.
According to Natural Stat Trick, Meier is not only a finisher but an excellent play-driver that can carry any line. He is posting above 55 percent in Corsi percentage and expected goals percentage, with over 65 percent in high danger chance percentage when he is on the ice.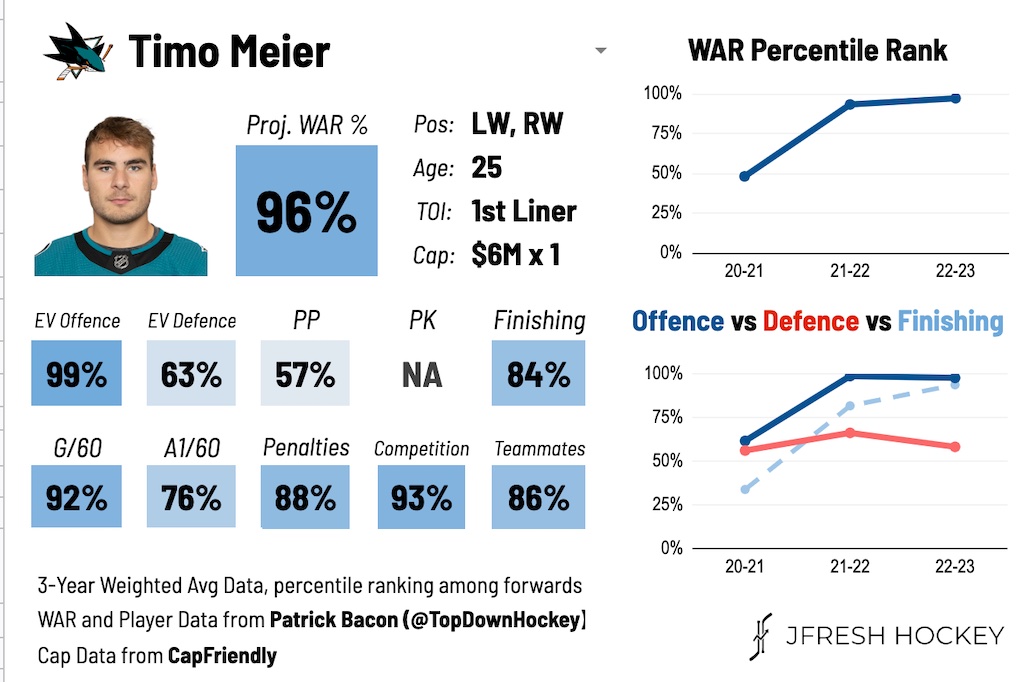 As shown by his JFresh Hockey player card, you can see that Meier is a well-rounded winger that doesn't take shifts off in the defensive end. He's more of a goal scorer than a passer and he generates offence at a 99 percentile level. The Jets' top six very well could be the best in the West if they made a splash this big.
This would push a player like Blake Wheeler down to the third line, but at age 37, he isn't primed for top-six minutes given the wear and tear his body has experienced over his career. This would also give him a more sheltered role, in which he can thrive and re-focus his efforts in fewer shifts facing lesser competition.
A Hefty Price Tag Should Not Scare Jets Off
All of the draft picks that Kevin Cheveldayoff made early in his tenure have led up to these next two seasons. Mark Scheifele and Connor Hellebuyck's contracts are both set to expire in 2023-24, and these players are both enjoying career years.
Pierre-Luc Dubois' contract is up this season, and while he is playing the best hockey of his career, there are reports that nothing can change his mind about being in Winnipeg long-term. After this season, he could demand a trade, and who knows what the Stanley Cup window will look like for the Jets after that.
Given these circumstances, the Jets should not be afraid to pay a hefty price for Meier's services. The window is now. They have multiple core players with expiring contracts in the next two seasons, and they would be foolish to try and extend that window any further.
If the Sharks come asking for a first-round pick, two high-level prospects, and a middle-of-the-lineup roster player, the Jets should be willing to take it. Yes, players like Brad Lambert, Ville Heinola, and Chaz Lucius will be valuable to this roster over the next few years, but there is nothing to guarantee that the franchise will have a better chance to win the Stanley Cup over the next few seasons than they do right now.
The time is now, and there is arguably no better asset on the market than Meier. He is a perfect fit for what the Jets are experiencing up front, and he is just about to enter the prime of his career at 26 years old. They are paying up for a bonafide top-six winger, whose best hockey is ahead of him. If the organization is serious about contending this season, it should do everything in its power to acquire Meier.
---
---