The Edmonton Oilers and Ken Holland have some serious work to do before the 2023 Trade Deadline, as a big move appears to be coming in the next couple of weeks, whether it be for Erik Karlsson, Patrick Kane, or someone else. Any big trade will come with a big price attached to it, not only to acquire the player but for salary retention on top of that.
---
---
The Oilers have their first and second-round picks available for this year and next, and those are definitely in play as they are in win-now mode. Prospects are also in play to get a deal done, including the focus of this article today, Xavier Bourgault. He is the Oilers' 2021 first-round pick and just turned pro this season, enjoying some success in the American Hockey League (AHL).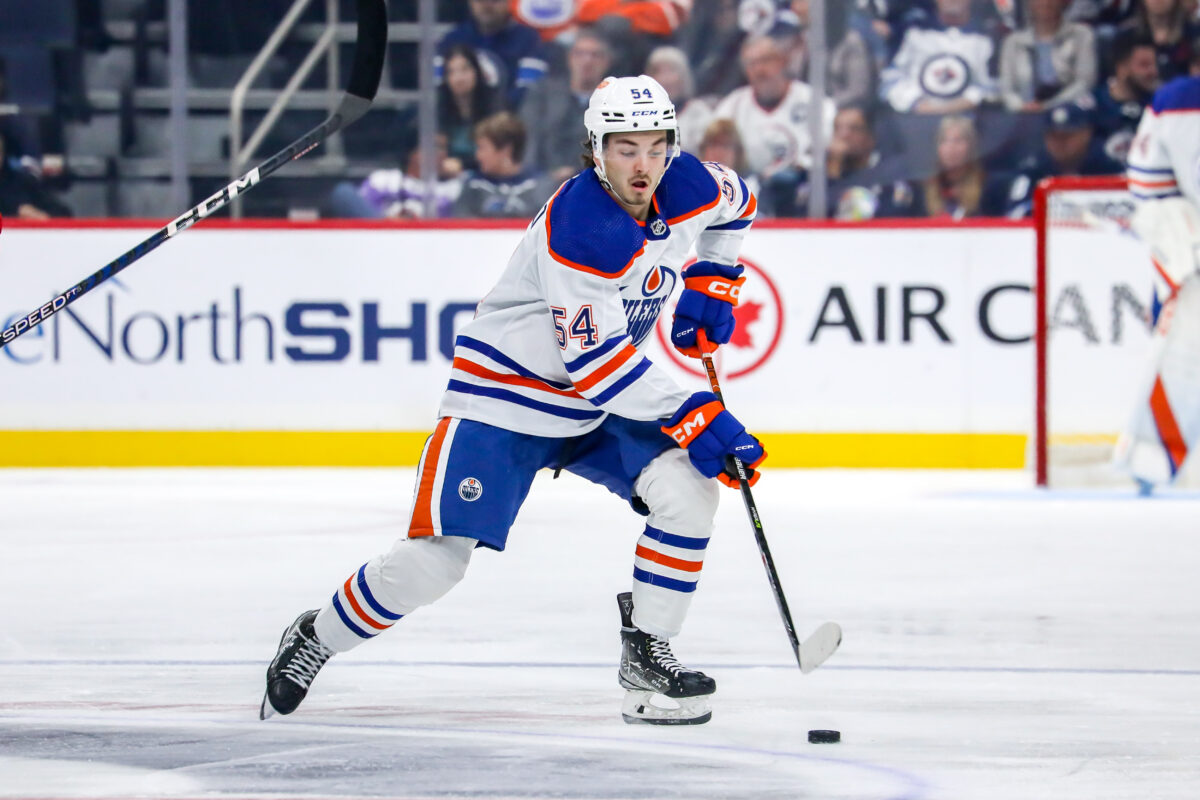 Edmonton has a good amount of strong forward prospects all around the same point in their development, meaning it wouldn't be a massive loss to trade one or two for a better chance at winning now. Some potential deals the Oilers could strike may involve more than just trading their first-round pick this season, as prospects who are a couple of years closer to the NHL have a high value placed on them as well. We are going to take a look at three teams in which Bourgault could be used as a trade chip in a blockbuster deal.
San Jose Sharks
Karlsson to the Oilers seems like the most likely move that will happen at the trade deadline that involves a game-changing talent. What may be holding up a deal is the return and how much money will be retained. The assumption is that $2-4 million of the $11.5 million average annual value (AAV) cap hit will be retained by the San Jose Sharks for the next four years, but the higher the number, the more it will cost the Oilers in assets. Cap space seems like the thing the Oilers are in need of the most, so a bit more salary retained would be well worth the price to get it.
---
Latest News & Highlights
---
As for the return for the likely Norris Trophy winner this season, the Sharks are hoping for something in the ballpark of three first-round picks. I mentioned the Oilers should have their next two first-round picks in play to acquire a game-changer, but as for the third, it will likely be one of the team's better prospects like Bourgault since he was a first-round pick not too long ago. Included in the package back to the Sharks would also have to be Tyson Barrie and Jesse Puljujarvi/Kailer Yamamoto for the money to work. Bourgault is the type of prospect who has the potential and the arrival time to work well with the rebuild in San Jose. By the time he's 25 years old or so and entering his prime, the Sharks will be coming out of it and need his type of talent to be producing in the lineup.
Arizona Coyotes
Jakob Chychrun remains a top potential addition for the Oilers due to his very attractive cap hit, term left on his deal, and arguably their need for another impactful defenceman. The Arizona Coyotes' asking price for Chychrun remains a first-round pick, another first-round pick or a prospect of similar value, and a second-round pick. The Oilers have the draft picks and the prospect to make it happen. It was initially assumed that Philip Broberg was one of the pieces the Coyotes were asking for from Edmonton to complete the trade, be he has since established himself as a good young defenceman in a short period of time and isn't going anywhere.
Related: 3 Oilers Who Should Not Be Traded Ahead of 2023 Deadline
Bourgault on the other hand should still have another season in the AHL ahead of him and wouldn't really be able to make an impact in the NHL for a couple of seasons. The Oilers would definitely take the tradeoff of someone who can contribute to a potential Stanley Cup right now with Chychrun over a former first-round pick who isn't impacting the roster yet. It would be fewer cap gymnastics than a deal involving Karlsson, but both have had their injury concerns over the past number of years. In any event, Bourgault would be a necessary piece in the return package for Chychrun with the Coyotes' asking price.
St. Louis Blues
It was suggested that Colton Parayko could be a potential backup plan for the Oilers if they couldn't acquire Karlsson from the Sharks. Parayko is signed long-term and as the St. Louis Blues try to retool their roster, they are reportedly looking to move one of their defencemen. On Insider Trading, Darren Dreger brought up Parayako saying, "we highlight Colton Parayko, not just because he's a right shot [defenceman], but primarily because of [his contract] (7 X $6.5M) and also because he's drawing the most interest among those defencemen."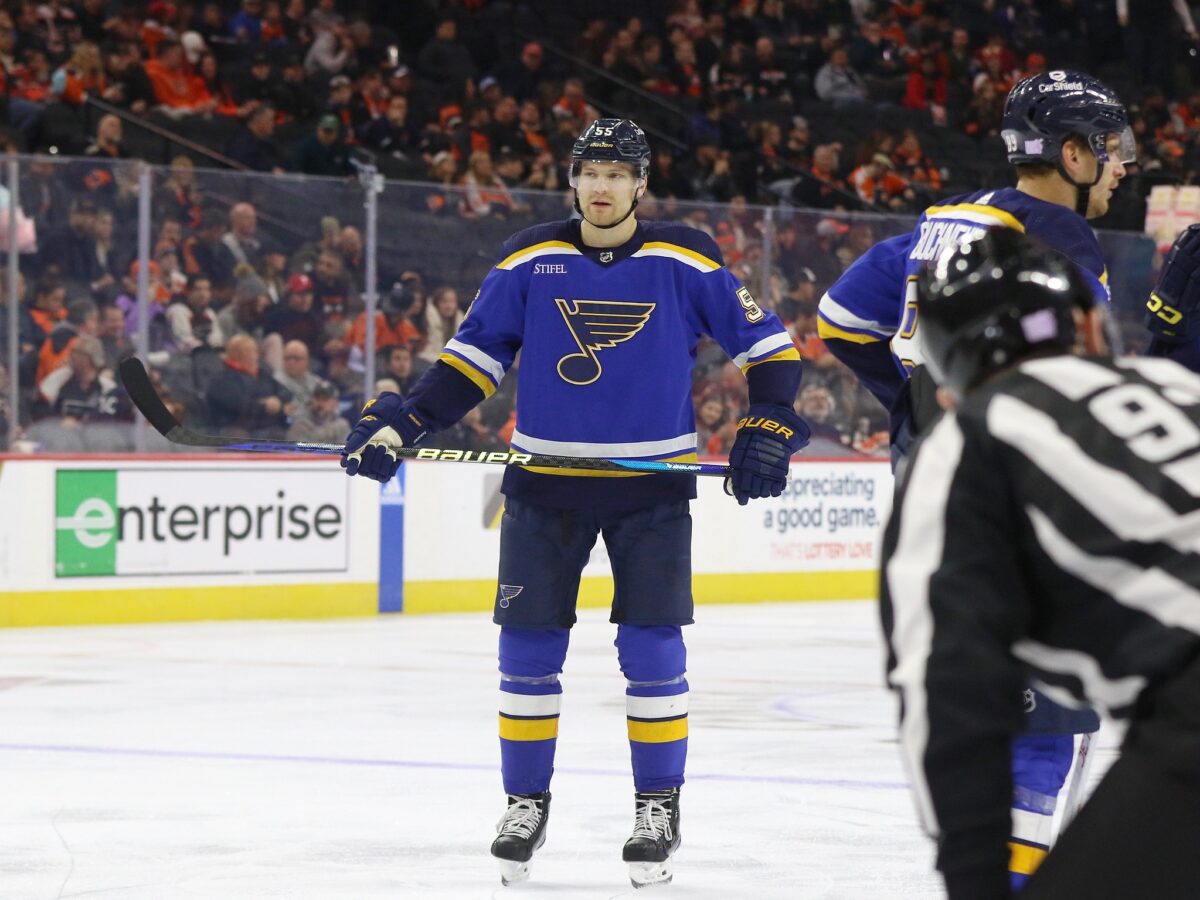 The Blues are locked in with their top four defenders for at least three more years and three of them are being paid $6.5 million AAV. That's a lot to be paying for a core group that hasn't produced a lot of results this season. Since the Oilers' right side needs more work and that is likely coming sooner than later, Parayko is a large defensive body who could fill a void for a long time. As a 29-year-old defenceman in his prime, it won't be cheap if the Oilers pursue this option. At least a top prospect like Bourgault would have to be included. If you remember from earlier this season, the Oilers seemingly stole a once highly-coveted forward prospect from the Blues in Klim Kostin and the team is also looking to restock their prospect cabinet.
You may also like:
In a perfect world for the Oilers, they wouldn't need to give up any of their prospects and they would eventually develop into productive players for them. But their Stanley Cup window isn't going to be open forever and they need to take advantage of it. If there's an impactful player that will help Edmonton reach the top of the mountain and it costs someone like Bourgault, that's the price they will have to pay. The end goal is to lift the Cup either way.