The selling continues for the St. Louis Blues. They've already parted ways with four players with expiring contracts. I don't think Blues general manager Doug Armstrong will hesitate to keep collecting assets.
Related: Blues Get a Big Haul in O'Reilly Trade with Leafs
---
Latest News & Highlights
---
They traded Vladimir Tarasenko and Niko Mikkola to the New York Rangers for two players and two picks. After that, they sent Ryan O'Reilly and Noel Acciari to the Toronto Maple Leafs for two players and three picks. They now have three picks in the first round of the 2023 Draft. The 2023 Draft is set up to be one of the deepest in recent memory. To take it a step further, they have five picks in the first three rounds of the upcoming draft. It makes a lot of sense for Ivan Barbashev to be the next Blues domino to fall, but this is also an opportunity to maximize their return. As such, they should package Barbashev with Josh Leivo.
Barbashev & Leivo Could Help a Playoff Contender
Barbashev and Leivo are two players that play a playoff style in the regular season. They won't blow anybody away offensively, but they do a little bit of everything. They can be plugged into the middle to bottom-six forward group for any playoff contender. There are a number of playoff contenders that haven't added to their lineup via trade yet. The number of potential destinations for this deal is high. It's also a familiar move for the Blues, who have already traded rentals in O'Reilly and Tarasenko.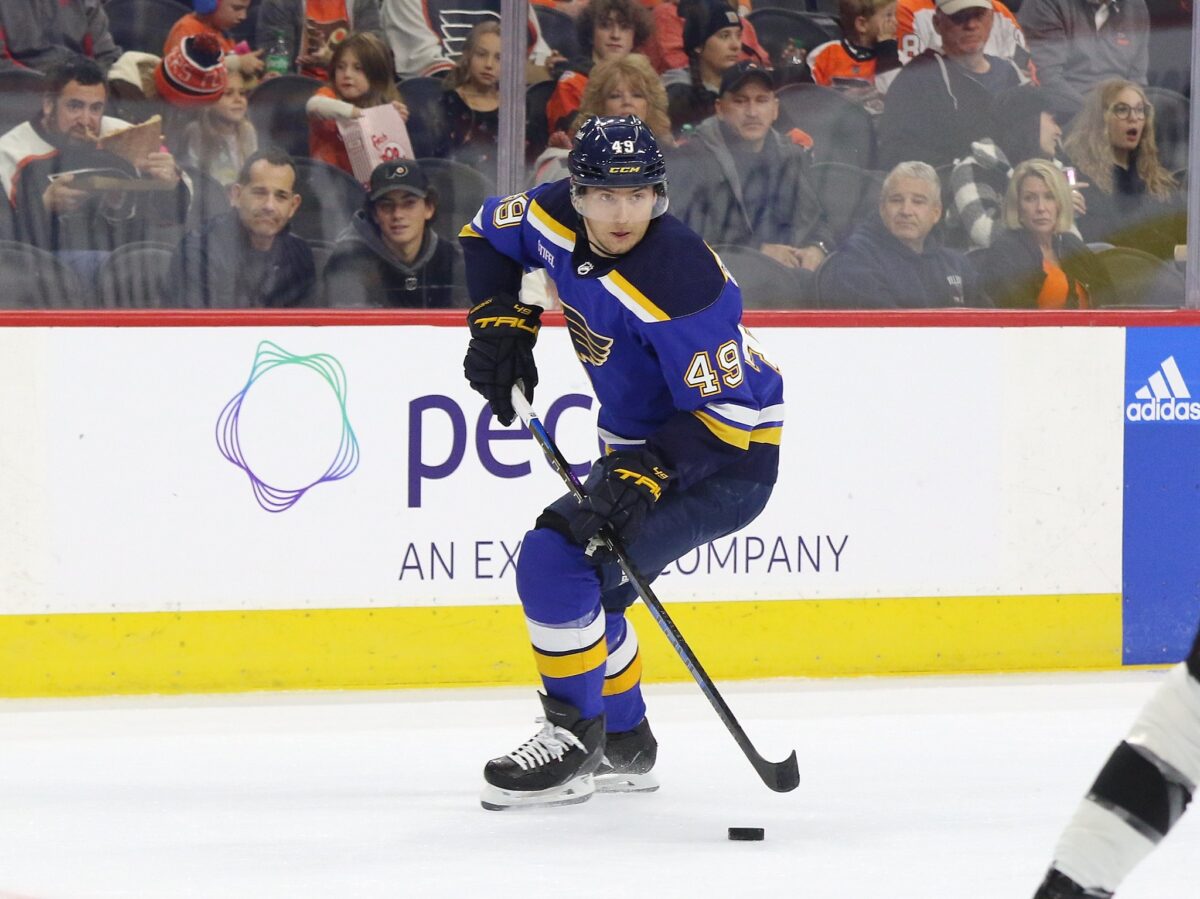 Let's start with the 2022-23 season for Barbashev to this point. He's played in all 55 games for the Blues so far and only missed one game last season. He's been as durable as anyone in the NHL for two seasons now. That's surprising given the heavy style that he plays. While his offensive numbers haven't been as good as last season, they haven't been that bad. He has 10 goals, 18 assists, and 28 points in 55 games with less ice time per game than last season. In 2021-22, he had a breakout season with 26 goals, 34 assists, and 60 points. He could boost his offense with a change of scenery and a better lineup.
Leivo would be the Acciari-type piece in a deal like this. He's been valuable for the Blues in a number of ways this season. He's outperformed expectations in every way. He has 13 points in 39 games with scattered ice time. He's also been the Blues' best defensive forward. He's done everything that the Blues have asked and more this season. I have no doubt that he can be a good fourth-line option for a playoff contender.
Logical Destinations for Barbashev & Leivo
There have been a lot of rumblings about the Vegas Golden Knights in a possible Barbashev trade. They also had rumored interest in Acciari before he was moved. I'm not sure that Vegas needs two forwards added to their lineup, but this deal could make sense to improve their depth. Barbashev would be a good fit on their second line with Mark Stone on injured reserve right now. Reilly Smith and William Karlsson have Mike Amadio as their linemate right now on the second line. Barbashev would be a much better option. When Stone returns, he could move down to the third line.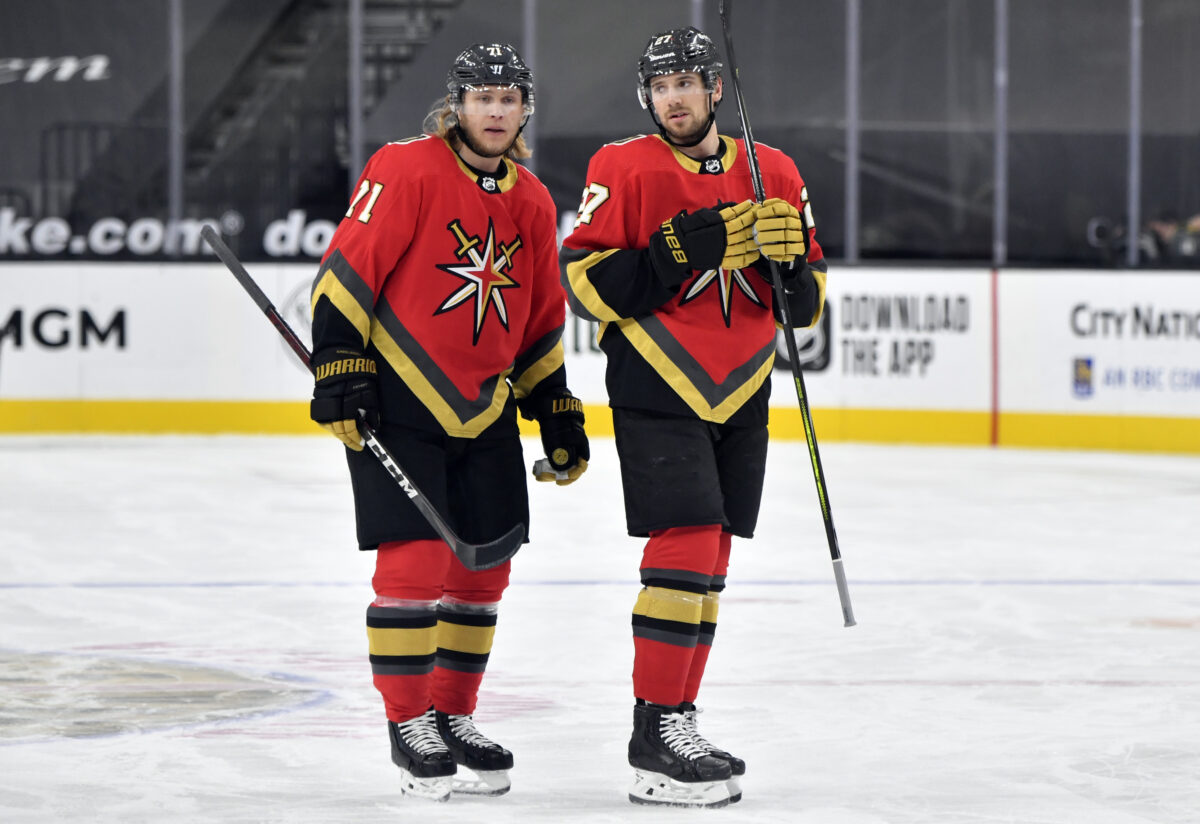 The Golden Knights have their first-round pick in the 2023 Draft, but no second-round pick. Given the prices for rentals at the trade deadline in recent memory, a first-round pick isn't out of the realm of possibility for Barbashev. The Maple Leafs gave up a first-round pick for Nick Foligno in 2021. He had 16 points in 42 games before that trade. Barbashev is younger and more versatile. Foligno also had 51 playoff games under his belt before that trade, Barbashev has 50. It's not crazy to think that the Golden Knights, who expect to contend for the Stanley Cup, to trade a first-round pick for Barbashev and Leivo.
Outside of Vegas, I think the Calgary Flames, Pittsburgh Penguins, and Boston Bruins could make sense for Barbashev and Leivo. Both the Penguins and Flames have their first and second-round picks in the 2023 Draft, while the Bruins just have their first. Any playoff team that needs two-way forwards would be wise to make this deal. The asking price from the Blues' perspective should be a 2023 second-round pick at worst. The 2023 Draft is loaded in rounds one through three and the Blues have a big opportunity to improve their prospect pipeline or make important trades this summer. It makes a ton of sense to package Barbashev and Leivo to maximize their return. I think Armstrong will try to get it done this way as well.