It's no secret the Edmonton Oilers are in pursuit of an upgrade for their blue line and the latest chatter is that an offer may have been sent to the San Jose Sharks for elite defenceman Erik Karlsson. Still, what's delaying an imminent trade is his big cap hit of $11.5 million, and the price that it's going to take to acquire the future Hall of Fame defender.
However, suppose Sharks' general manager (GM) Mike Grier and Oilers' GM Ken Holland can't finalize a deal. In that case, it's possible Edmonton was checking in on the St. Louis Blues' defenceman Colton Parayko as a right-handed, backup option. Blues beat writer Jim Thomas tweeted that a handful of teams had representatives in attendance to watch the Blues and New Jersey Devils game on Feb. 16, and the Oilers were noted to be one of the clubs with a couple representatives in the building.

With former Blues' forwards Vladimir Tarasenko and Ryan O'Reilly now traded, St. Louis is clearly in sell mode. On that note, The Score mentioned in an article recently that the team is also open to the idea of trading players with term and TSN hockey insider Darren Dreger mentioned on "Insider Trading" that it's very possible the Blues move one of their top-four defencemen, with Parayko drawing the most interest. If the Oilers strike out on a deal for Karlsson, would the St. Albert, Alberta native, Parayko, be a good fit on his hometown team?
Parayko Has Struggled With the Blues This Season
The 29-year-old is a big-bodied defender at 6-foot-6 and 228 pounds. He averages 23:15 time on ice, second on the Blues, behind only Justin Faulk (23:45). Parayko has four 30-plus-point seasons in his eight seasons playing in St. Louis, but by all accounts, he's struggled this season.  
He's currently on pace for 29 points and before the 2022-23 campaign, Parayko was a plus-70 plus/minus in his career; however, he's currently minus-16 on the season. According to Natural Stat Trick, at 5-on-5, he has a 46.61 percent Corsi (CF%), 46.34 percent scoring chances for (SCF%), 46.29 percent high-danger chances for (HDCF%) and a 32.61 percent high-danger goals for (HDGF%). However, it's worth noting he plays against other team's top lines, as his most notable competition at 5-on-5 is Mikko Rantanen (29:16), Artturi Lehkonen (29:15), Connor McDavid (28:58), Nazem Kadri (21:52), and Nathan Mackinnon (21:34).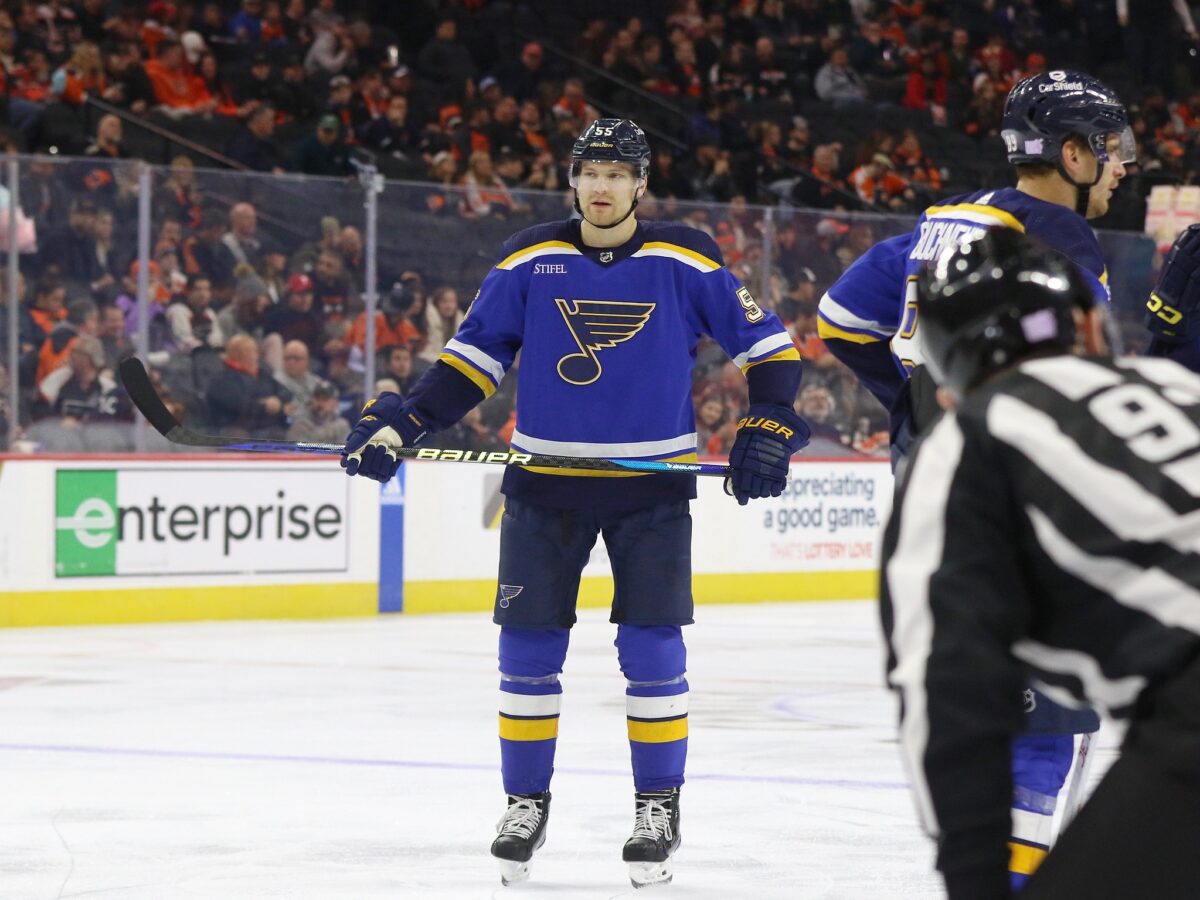 While his statistics range from mediocre to below average, his struggles have been made public by his head coach Craig Berube, when he said back in January, "He's definitely not had the year that we expect him to have or he expects." (From "Blues' Colton Parayko Demoted to Third Pair: He's Definitely Not Had the Year That We Expect," The Athletic, 1/25/23).
Oilers' Holland Could Buy Low on Parayko, But Should He?
For GM Holland, this could potentially be a "buy low" situation as the Blues' blueliner was once touted as a true number-one defenceman, but there is a risk that he doesn't bounce back to his previous steady play. Parayko has a cap hit of $6.5 million until the 2029-30 season, but he also has a no-trade clause in his contract; however, you have to wonder if there's an appeal for the defender to waive his no-trade clause to return to his hometown, for a chance to win a Stanley Cup in an Oilers' uniform with Connor McDavid and company?
Related: Oilers News & Rumours: Puljujarvi, Karlsson, Chychrun, Kane
---
Latest News & Highlights
---
In order for the Oilers to make the money work for a trade for Parayko, the Blues would have to retain salary. If they retained 50 percent until 2029-30, Edmonton would have to offer a sweetener, like a first-round draft pick and a third. Because Parayko isn't the offensive wizard like Karlsson, Edmonton would likely be inclined to keep Tyson Barrie to quarterback the power play and Cody Ceci, a right-handed shot, would have to be included in a trade to offload his $3.25 million cap hit. The defensive pairings could look like the following:
Darnell Nurse – Colton Parayko
Brett Kulak – Tyson Barrie
Philip Broberg – Evan Bouchard
Holland would have to gauge if Parayko would be that much of an upgrade over Ceci to risk trading significant assets. That said, with his subpar play this season, and also a contract that expires in 2029-30, combined with a history of back issues, this deal might not be the best fit. Yet, on the other hand, perhaps a change of scenery and a move back to his home province could do him good. Moreover, hockey analyst Andy Strickland tweeted recently that the defender is settling in and has put together a string of a few good games in a row.
The trade deadline is less than two weeks away and trade talks are bound to heat up from now until then. From what we know, the Oilers have their sights on Karlsson, but it's possible they're eyeing Parayko, a player with Stanley Cup pedigree, as a fallback option as a possible upgrade to their defensive corps.
Would Parayko be a good fit for the Oilers? Have your say in the comments below!
---
You may also like: