The Edmonton Oilers are expected to make a few moves at the 2023 trade deadline, both by moving players out and upgrading. To achieve their goal, it may cost them some assets, but that doesn't mean it has to be a certain group of young players or prospects. The Oilers have draft picks to offer up and aren't in a position or need to make a game-breaking trade. Let's take a look at which potential trade pieces they shouldn't move at the deadline this season and give more time to blossom in the NHL.
Philip Broberg
Philip Broberg may be the easier choice here, considering the level his play has ramped up to over recent weeks. He just recorded the first multipoint game of his career in the win over the Detroit Red Wings with two assists and is being given a better opportunity to succeed. In the first 16 games of the season, the 21-year-old was averaging just 12:19 of ice time per game, logging less than 11 minutes six times; he had three assists in those first 16 games and was a plus-1.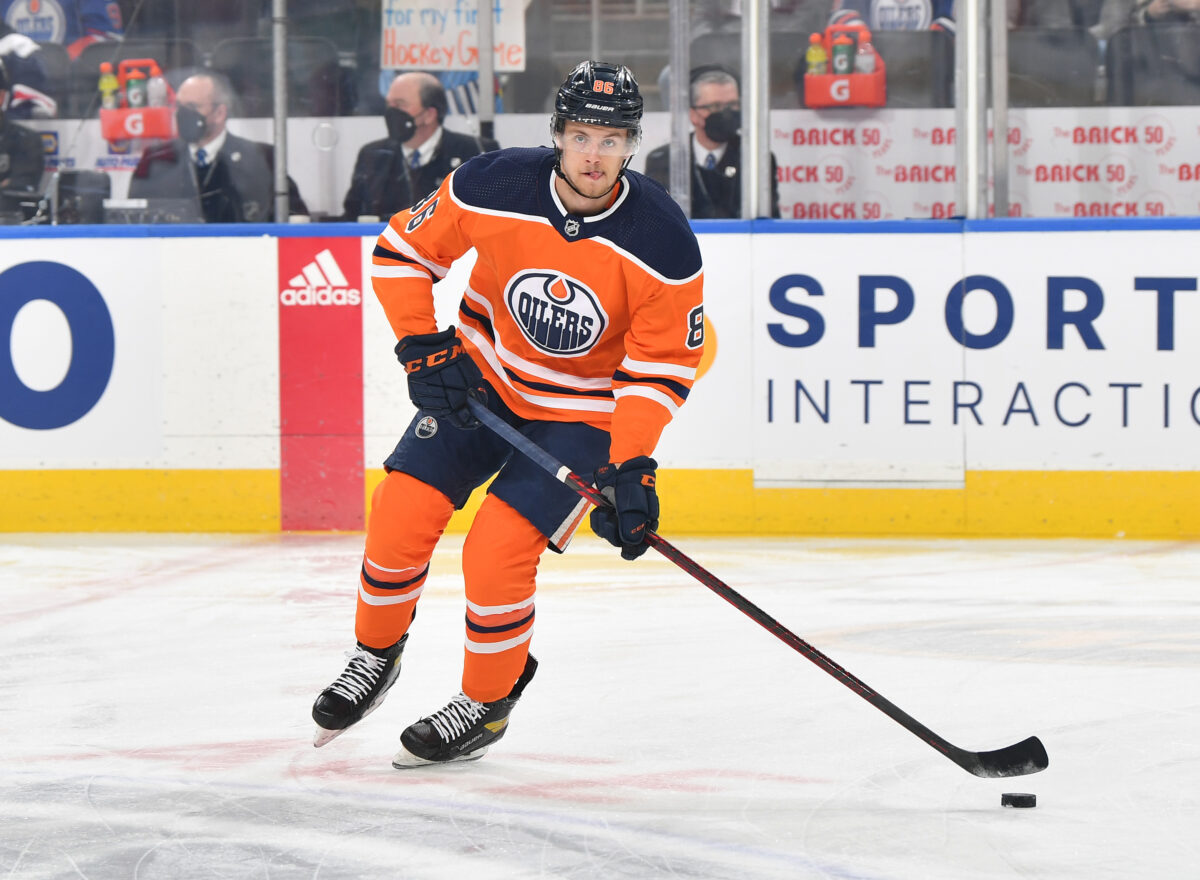 Over Broberg's last nine games, in which the Oilers have gotten 17 of 18 points, the young defenceman has averaged 15:46 of ice time, recorded three assists, and is a plus-9. Not only has he gained a ton of confidence in his ability, but he is also making smart plays in all zones and has formed amazing chemistry with Evan Bouchard.

There were rumours that Broberg was the main piece that would have to be headed back to the Arizona Coyotes for Jakob Chychrun if a deal was struck, but Broberg should be considered untouchable at this point. He will still be on his entry-level deal until the end of next season, and the Oilers need value from their players. He projects to be a top-four defenceman that's good at both ends of the ice, so the team would be trading away a player who could be a great piece on the blue line for a long time. There's a small chance that the Oilers don't continue to give Broberg a good look and see what they have in him by keeping him in Edmonton.
Dylan Holloway
Dylan Holloway has worked extremely hard all season all over the lineup to prove himself and show that he is a viable option for the Oilers. After a rough start to the season that got him demoted to the bottom-six for a long while, the rookie has worked his way up the lineup to play on the top line in a couple of recent games. Scoring hasn't come easy for the hard-working youngster, but he is getting his chances, and the puck will start going in for him soon enough.
Related: 3 Potential Trade Destinations for Oilers' Brett Kulak
---
Latest News & Highlights
---
Holloway has scored three goals and nine points this season while averaging 9:30 of ice time per game. His ice time should continue to rise as he's skating, being aggressive, and playing physically every shift. As someone who can shift around the lineup when needed, he will be an important piece early in his career when he's being paid a low AAV and then a solid top-six piece down the line when he starts to enter his prime. He hasn't directly been linked to any teams, but his name may have come up when discussing a top prospect the Oilers have to use to land a big name.
Raphael Lavoie
The third prospect I will mention here is Raphael Lavoie. There have been questions about him and his consistency since turning pro. He can go on hot streaks and cold streaks, but since his return from injury this season, the hot streak hasn't ended, providing the thought that this production is here to stay (from 'Lowetide: Oilers prospect Raphael Lavoie turns a corner, now NHL-ready,' The Athletic, Feb. 4, 2023).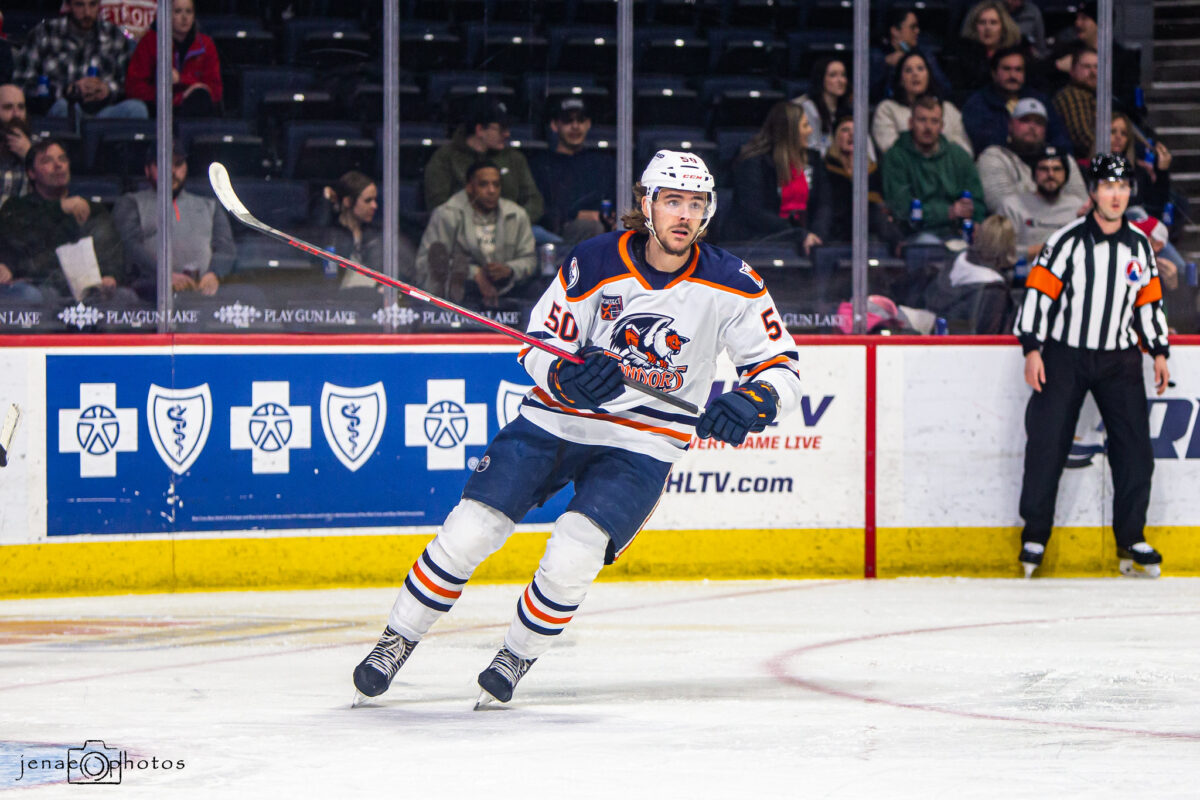 Lavoie is now 22 years old and was drafted just outside the first round by the Oilers in 2019. He may be a late bloomer, but it has come at the right time. The potential he's tapping into is coming before his entry-level deal expires and has made him a possible future call-up this season for the Oilers. Similar to Klim Kostin, Lavoie has size, skill, and scoring ability that make him very hard to defend. If he stays consistent, his ceiling is high. He's getting his game going, and it would be a bad time to trade him when he's doing so. He has been playing at a point-per-game pace since returning from injury and continues to show that he can put the puck in the net.
This means players like Xavier Bourgault, Tyler Tullio, and Carter Savoie are all fair game at the right price. That price would be high, and unless the Oilers are planning on pulling off a blockbuster, all the organization's best young players and prospects should be safe for now. Expect draft picks to be moved over many of the Oilers' top prospects. Though their time to win is right now, young players continuing to come into the lineup and contribute will help maintain the success.
---
You may also like:
---