It's easy to like Bob Hartley.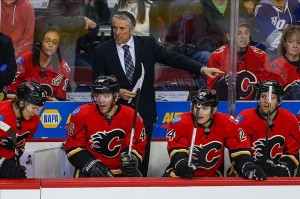 He's very affable. He makes jokes before scrums. Heck, half the time he has a wacky sound-bite or quote that he trots out for a press conference. Every media member in Calgary seemingly has their own favourite "Hartley-ism." Likeability aside, the Calgary Flames made a smart move when they signed him to a new deal. The club announced a new multi-year deal for Hartley via a press release (and with a media availability at the arena).
If there's one thing to point to in terms of what Hartley's accomplished (thus far) in Calgary, it's the establishment of a team culture. It's probably unfair to point the finger specifically at the former captain, but the departure of Jarome Iginla (combined with the team officially kicking off the rebuild by selling off nearly every veteran for scrap) really allowed the team to define itself in a way it hadn't been able to since about 2002. Once Jarome Iginla became the team's star player, the team's culture and roster construction seemingly revolved around him. And for good reason.
When the going got tough, who would step up? Jarome. Who was the team's most visible on-ice leader? Jarome. So whose team did it basically become? Jarome.
And ex-general manager Darryl Sutter pretty much drove himself mad (and/or out of a management job) trying to solve the seemingly unsolvable problem of finding Iginla a sure-fire #1 NHL center to play with. (The tragic irony being that the June after they traded Iginla, they drafted Sean Monahan at sixth overall, seemingly solving that center problem.)
But without a star to revolve around, and without an established long-term captain, the Calgary Flames have realigned themselves as a 20-man unit. And the man directing traffic is Hartley, who's managed to establish the Flames as an up-and-coming group with a reputation as a hard-working group that it'll take a 60-minute effort to beat.
Listening to Hartley speak about his experiences here thus far, you get the impression that he knew what he was getting into and he is eager for the challenges that are yet to come. Two seasons ago, his first training camp was cut short by a lockout, and then his club struggled to find its footing playing a new system with a new coach and the old team. The team laid its groundwork last season, particularly in a stretch after the Olympic Break that saw them win nearly two of every three games they played. And, recent struggles notwithstanding, the Flames have been the shock of the NHL this season with their torrid start putting them into the playoff periphery.
There's a lot of work to be done, and the Calgary Flames remain a team with a lot of holes and things they work on. But under the tutelage and leadership of Hartley, they have emerged as a mature, hard-working group. With an infusion of new talent from the draft and their farm system, and continued improvements from their existing crop of young players, it will be very interesting to see how far Hartley can take this group over the next few seasons of his new multi-year deal.
Ryan Pike has covered the Calgary Flames and the NHL Draft extensively since 2010 as a Senior Writer for The Hockey Writers and Senior Contributing Editor of FlamesNation.ca. A member of the Professional Hockey Writers Association, he lives in Calgary.