Who would have thought it?  After an awful start to the season, the Columbus Blue Jackets have now won 7 games in a row.  Many even began to think how the likes of Connor McDavid and Jack Eichel would look in Union and Blue.  Instead, the Blue Jackets are right back in the thick of the race.  They are primed to make another run that could be amongst the best in the NHL.
We thought this would be a good time to review how we got to this point, and what is there to look forward to.  To do this, we have brought an "All-Star" lineup together to do the Ultimate Columbus Blue Jackets roundtable.  We asked the same 5 questions of everyone in the panel.  We address the 1st 3 questions here, and answer the last 2 questions in Part 2.  Our goal with this roundtable was to bring in different perspectives from the best Blue Jackets sources.  The panel includes everyone, from those within the organization, to other hockey writers, to fans.  Without further ado, let us now introduce our "All-Star" panel.
Rob Mixer, Digital Content and Community Manager of the Columbus Blue Jackets. (@robmixer)
Alison Lukan, Blue Jackets Writer for both Fox Sports Ohio and the Union Blue blog. (@AlisonL)
Jordan Mills and Matt Pfeffer from the CBJ Artillery. (@theCBJArtillery)
Philip Wischmeyer from Along the Boards. (@alongtheboards)
Morgan Langworthy from DKM Hockey. (@dkm_hockey)
Sam Blazer from Buckeye State Hockey (@_BSHockey).
Fletcher Keel from Union and Blue. (@unionandblue)
Kevin Valentin from the Union Blue Soldiers. (@TheUBSoldiers)
How Would You Grade The Season?
We first asked our panel to grade the Blue Jackets season to this point all things considered, and why?  They won their 1st couple of games.  They then went through a stretch of losing 15 of 17.  Now they are on a 7 game winning streak.  Is there optimism?  Lets see what the panel thinks.
Rob Mixer: I would give them a B. There have been plenty of things stacked against them – namely this ridiculous run of injuries to key players that seemingly never ends – and they've done a really nice job of deflecting excuses and distractions and just working on their game. The one area I think has held them back is their inconsistent defensive play (yes, some of that is due to injuries) and their penalty kill in particular. Take it one step back and you could also fairly say that their proclivity for taking penalties has had a negative impact on the penalty kill. I like that they've rediscovered their identity and their leaders have done well to keep the group focused, which could easily get lost during a disappointing start with so much negative energy caused by the barrage of injuries.
Alison Lukan: Incomplete. Yep, that's a cop-out but I don't think we've ever seen a season like this before for any team. The injuries were devastating and I don't know that we can truly gauge how much of an allowance the team should get give what they played through. We still have yet to see the team play as rostered (even excluding Horton from the equation). I do think they languished a bit during the losing streak but I'm not going to ding them for it…too much. Ask me again at month's end.
The CBJ Artillery: C+, granted all the injuries we have had to deal with and call ups for that matter, our team is just now finding its swagger again. To be a successful team in the NHL, you have to battle through those. We are currently trending the right direction though, but have a lot of catching up to do.
Along The Boards: Out of 10 I would give them a 4. This is based on their performance for the whole season, not just the last 5 games. Even with the injuries, they have had enough healthy players to win games. They have had Johansen, Foligno, Hartnell and Atkinson healthy all season, and they should be our top 4 scorers. Those 4 have played well, but they have struggled when it has mattered most and have not provided any timely scoring – save for their recent couple of games. The winning streak is great, but I still haven't been all that impressed with their play aside from the Tampa Bay game. Bobrovsky has been huge, and that is why we are only 6 points our of 3rd place right now.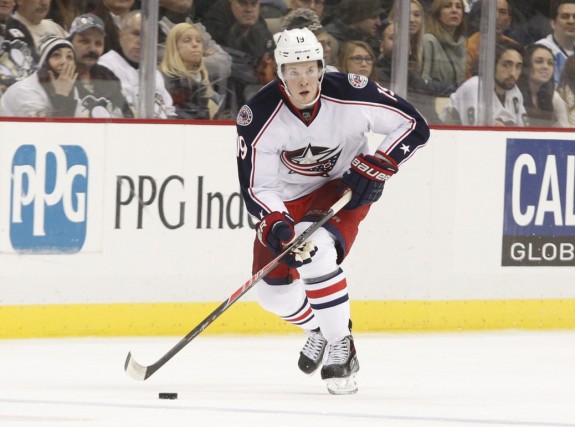 DKM Hockey: C-, injuries happen to all teams, but it's fair to say the injuries did affect key players in the Blue Jackets lineup at an alarming rate. However, after the Jackets good start the first few games of the season, there were some lapses in how hard the team worked and there were a handful of games where the Jackets looked unprepared.  Regardless of the injuries, mental/emotional lapses can't happen, especially when the injury bug strikes.
BS Hockey: C-, The injuries have been tiresome for the team and fans alike but even when the team has been fully healthy, they have been underwhelming. This current 7 game winning streak has made many forget October and November but the problems are still there. Secondary scoring and possession woes have yet to change, for sustainable success both need to pick up for the team to keep up with their winning ways.
Union and Blue: Somewhere between a C- to a B-. This isn't a bad team, they've showed us that they can play as well as anybody over the past week. They got off to a rocky start and have righted the ship quite nicely here. Even if the winning streak doesn't get extended past 7 games, the losing streak in November is no longer valid. The Jackets are back in the hunt and they look really dangerous when they play this way.
Union Blue Soldiers: We would give them a B.  They certainly did not get off to a good start.  Now they are starting to get it going.
https://twitter.com/ACracknell32/status/545057569782628352
The Most Pleasant Blue Jackets Surprise
We next asked our panel who was the most pleasant surprise for the Blue Jackets.  Most everybody had the same answer, Nick Foligno, and for good reason.  He has been a beast to start the season.  A couple of other names were also mentioned.  Lets look at those.
Rob Mixer:  Jordan Leopold. I really, really appreciate the job he's done since coming over from St. Louis. This is a guy who's seen everything in the NHL during his 12-year career and was kind of caught off-guard by a midday trade to Columbus, but being the professional that he is, he's stepped right in and made a positive contribution to the Jackets' defense. In the wake of multiple injuries and a couple of long losing streaks, Leopold still does a solid job every night and plays a low-maintenance, effective game.
Union and Blue: I'll actually go with one of the waiver acquisitions from a few weeks ago and say Kevin Connauton. He's been a great blue line presence in the defensive position, and at times has looked more like an attacker than a defenseman. His first two goals for Columbus have been huge and he nearly had a third against Detroit to end the game in OT before the shootout. He's been really impressive and has quickly, I think, become a Blue Jackets fan favorite.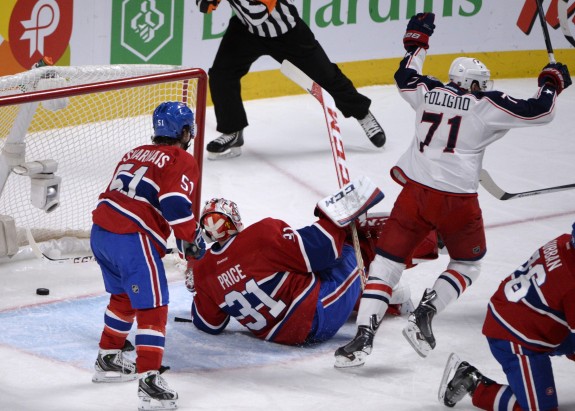 The Impact Of The All-Star Game
The next thing we asked our panel was about the upcoming All-Star Game.  It will be very big for the city of Columbus and the Blue Jackets.  How big will it be?  Let's see what the panel had to say about this.
Rob Mixer: "Huge" is an understatement. It's an opportunity for Columbus to shine, and I really think we're going to blow the hockey world away with the show we're putting on. A lot of people both with the NHL, our partners and internally within our organization have worked tirelessly over the last nine months to bring this thing together, and fans got to see the plans they've been working on during last week's press conference. Columbus is such a great city that's full of energy and full of people who are passionate about making it a better city, and that's a pretty awesome thing to have on your side. It's long been said that the All-Star Weekend puts the host city in the spotlight. They're going to need some extra wattage for Columbus.
Alison Lukan: I think the ASG is more important for the city than the team. Not only in terms of sheer dollars but also recognition within the league and the opportunity for the city to put on a great show. The facilities and team here are top-notch. They will put together more than a few elements that will blow the doors off, I think. I mean come on, there's a SNOW SLIDE!
The CBJ Artillery: Having the ASG in Columbus is HUGE for this city. Many people look down on Columbus as a team and city. Many have no idea what exactly Columbus offers, people think we're a "cow town" when in fact we aren't. We're the 15th largest city in the nation with a wide range of things to do. This city will shine during the ASG and the Columbus "haters" will realize just how great our city is.
Along The Boards: I don't think it affects the team whatsoever, but it is phenomenal for the city. It is a rare chance for Columbus to be a national focal point, and I fully expect that the city will take full advantage of it. I heard Lisa Logan say that 10-15 million dollars in additional revenue to businesses in the Arena District is expected over All-Star weekend. The festivities leading up to the event will be a great treat for the loyal and passionate sports fans around central Ohio, and the event itself will be a nice little boost to the local economy.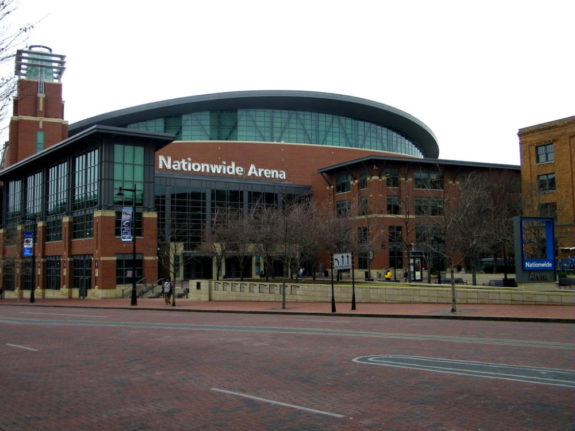 DKM Hockey: It's huge.  Media from around the world will be in attendance for the All Star Game and the city will be on showcase for all to see.  People in the NHL know that Columbus is attractive for events like this because of the arena's proximity to the Convention Center, bars, and hotels.  This gives Columbus a distinct advantage over many other cities, including major cities, to host these types of events.  Hopefully this exposure won't go unnoticed by the rest of the sports world.
BS Hockey: As a lifelong Columbus resident I don't think many understand the importance of the All Star Game at Nationwide Arena. Columbus is often forgotten when talking about Ohio, Cincinnati and Cleveland always come to the forefront of people's minds. This isn't just a showcase for the city on a local or state level, this is an opportunity to show its viability on an international level. Columbus is already being considered for the Democratic National Convention, the success of the ASG may just be the cherry on top for future conventions in the capital city.
.@MichaelBColeman: "This is exciting for our community. It's who we are now: a city that has transformed into a destination city." #CBJ

— Columbus Blue Jackets (@BlueJacketsNHL) December 9, 2014
Union and Blue: Anyone who reads our site knows I'm not a native Columbian (is that even the word for it? I don't know), so I have a unique look into how the game will affect the city. The long and the short of it – its huge. I don't think many Blue Jackets fans realize just how marvelous a building Nationwide Arena is, and now the entire league will be able to see it. Columbus as a city is awesome as well. I've only managed to make it to two CBJ games (which, seems like a whole bunch since I'm from Atlanta, GA) and half of the fun of going to the games have been just being in Columbus and being inside Nationwide – almost like a pilgrimage. Especially if the Jackets' continue to tear through their schedule. Columbus as a city, and the Blue Jackets fan base, isn't necessarily thought of as the smartest or most passionate, but the league perspective can all change come All Star weekend. Man, just talking about it makes me wish I could go!
Union Blue Soldiers: The All Star Game for Columbus is huge and very big for us. As a Jackets fan, we know what a great place Columbus is. I love taking my family to Columbus, especially for the Jackets, Ohio State, Crew, Clippers, R Bar and the rest of the Downtown Arena District. But some do not know that. They have no idea on what a great place it can be. This is our chance to show the hockey world what an awesome place Columbus is. We have done it in the past. We can do it again.
This is going to be one awesome party in January.

— Rob Mixer (@RobMixer) December 9, 2014
We are very grateful for everyone on the panel taking their time to answer these questions.  In Part 2 of the roundtable, we explore how the Blue Jackets will approach the trade deadline, and keys to success in the 2nd half of the season.