In Part 1 of the Columbus Blue Jackets Ultimate Roundtable, our panel gave us great insight about the season to date, and the impact of the All-Star Game coming to Columbus.  We have brought everybody back again to discuss a couple of more pertinent topics.  Let us take a moment to reintroduce our panel, all of which are highly respected voices in the Blue Jackets community.
Rob Mixer, Digital Content and Community Manager of the Columbus Blue Jackets. (@robmixer)
Alison Lukan, Blue Jackets Writer for both Fox Sports Ohio and the Union Blue blog. (@AlisonL)
Jordan Mills and Matt Pfeffer from the CBJ Artillery. (@theCBJArtillery)
Philip Wischmeyer from Along the Boards. (@alongtheboards)
Morgan Langworthy from DKM Hockey. (@dkm_hockey)
Sam Blazer from Buckeye State Hockey (@_BSHockey).
Fletcher Keel from Union and Blue. (@unionandblue)
Kevin Valentin from the Union Blue Soldiers. (@TheUBSoldiers)
In addition to the panel above, I also will be giving my input in the questions that are being posed.  This Blue Jackets team will be very interesting to watch as 2015 begins.  As players start to return from injury, it will be interesting to see if the Blue Jackets can continue their recent winning ways, in the quest of making the playoffs for the 2nd consecutive season.  Our questions here will focus on the trade deadline, and keys to making the playoffs.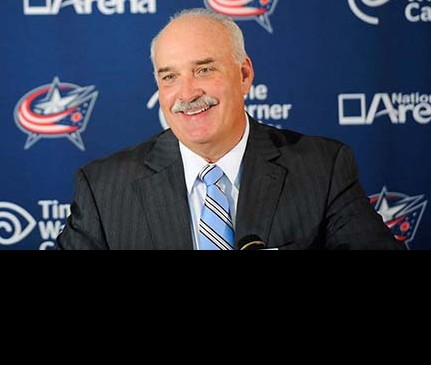 How Do Blue Jackets Approach Trade Deadline?
The next question that we posed to the panel was in regards to the trade deadline.  How will the Blue Jackets approach the deadline this season?  It's a curious question if you consider everything that has happened to the team this season.  When they lost 15 of 17, you could have made the point they would sell.  Now they have gone 8-1-1 in their last 10 games.  They are not far out of the playoffs.  Will they be aggressive now?  Let's see what our panel said.
Rob Mixer: Tough question to answer right now, but obviously, it's going to depend on their situation as the deadline approaches. If they're in the race, you would think they'd like to add a piece (perhaps a forward) that can provide some offense but with the way the NHL standings are looking right now, there could be 18-20 teams looking for the same thing come trading season.
Alison Lukan: It's too early to tell right now. This answer remains the same – if they are in contention, not much happens at all, but if a significant asset can help the Jackets by coming in (or leaving to gain draft status or picks which are draft currency) it could happen. I think the more important asset management question lies in the next week or so. Cody Goloubef can only stay on a conditioning assignment in Springfield for two weeks. Tyutin is back and Murray is skating. Not only because they'd have 9 D but a of a crowded locker room, something might have to give sooner than the deadline. Even if it is testing the waiver wire.
The CBJ Artillery: I expect a few shake ups, but nothing in the realm of a major splash. Jarmo and JD are very set on getting the franchise to have long-term success by way of the young talent in Springfield. Plus our franchise loves waiver wire/lost cost= high reward pickups.
Along The Boards: Jarmo always remains active in trade talks, so it's just a matter of how serious they get. If the Blue Jackets are within four or five points from third place in the Metro, I could see a big move being made. It has been no secret that the team wants to find a top-six forward to replace Nathan Horton, but there are just not many ideal candidates out there. The front office is smart enough to know that they can't just bring in anyone. The player they acquire has to not just have offensive ability, but has to be willing to play a physical and defensive game as well. In other words, they will be looking to acquire someone who plays "Blue Jacket hockey." Eric Staal?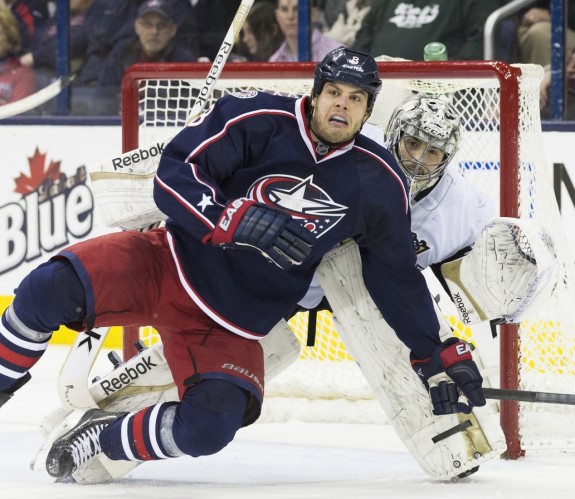 DKM Hockey:  Personally, I believe in the philosophy that John Davidson used with the Blues and now with the CBJ – that the Blue Jackets will not sacrifice long-term growth and sustainability for short-term gain. I don't feel like JD or Jarmo will "Panic Buy" or make a trade for the sake of change. They aren't feeling the heat many other GM's are feeling and that gives them an advantage. Horton's career is likely over and the hushed whispers surrounding Murray's recovery are better addressed outside the frantic pace of the Trade deadline. But if a reasonable offer is made to address those two issues, surely JD and Jarmo will consider it.
BS Hockey: The plan only a couple of weeks back may have been sell mode but now this streak has thrown an interesting wrench in the front office's plans. I think the plan from the start of this injury riddled season was to remain neutral and not sacrifice the future for success today. That plan will still be in effect but do I think they may sell off some aging pieces at the deadline if they can fetch a good return (ie. Tyutin, Letestu or Johnson)? Undoubtedly.
Union and Blue:  I think my answer would have been different had you asked me this a week ago and Tim Erixon was still on the team. But, after that trade I think one thing is clear – nobody is safe. Having said that, I don't mean that in a negative light. Anyone is able to contribute in a big way on any given night with the current make up of this team, and unless there's another clog at a position like there was at the  , I don't know what changes you'd want to make with a team on a roll like CBJ is. We aren't going to see another version of the Marion Gaborik trade, and even the front office themselves have said they're not going to blow things up. I could see a similar move like we saw with Erixon – say, Adam Cracknell to New Jersey for Mike Cammalleri – something that seems kind of random, but will wind up being a nice addition and a loss the Jackets can somewhat afford. So, long story short, unless Jarmo and JD really need to address something, I think the roster is safe.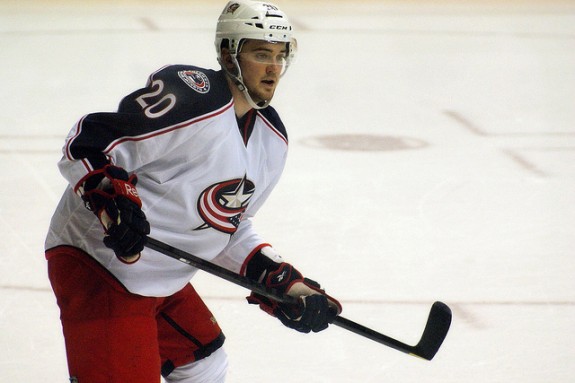 Union Blue Soldiers: I could see it going either way. We do nothing and stick with what we have. I could also see us doing something.  It seems like that JD and Jarmo always have something up their sleeve.  Nothing would surprise us at this point.
The Hockey Writers: I think this trade deadline will be different from most for one simple reason: teams do not want to give up their 1st round pick in the event they land in the top 5-7.  Next season's draft is the deepest that I can remember in recent memory.  As a result, the price to acquire someone at the deadline will go significantly higher.  The Blue Jackets will make moves that improve the team, but they won't trade draft picks or prospects to do so.  That sediment has already been echoed by team management.  They will talk to teams.  They have needs that need filled.  Don't expect a blockbuster of any kind, but expect the Blue Jackets to make a move if the price is right.
Keys To Making The Playoffs
Our last question that we asked the panel was to give us their key or keys to the Blue Jackets making the playoffs.  Several things have to go right in order for the team to return to the playoffs.  What does our panel think the keys are?
Rob Mixer: They have to be more consistent defensively and start games on time. That's gotten better over this last little stretch here, but it needs to get to a point where it becomes habit. How many points do you think they've let slip away in games where they're trailing 1-0 or 2-0 right out of the chute? Yes, every team is going to trail at some point and every team needs to have that ability to rally (and this group definitely has that) but the Blue Jackets have to come to the rink prepared to win games 2-1 and 3-2 every single night, and being ready to go when the puck drops is the first item on the checklist.
Alison Lukan: More scores for than against? But seriously – I think it's two-fold. Bob has to return to out-of-his mind form and steal more than a few games – much like he did in Florida. And I'd also like to see Johansen bring back the scoring touch. If I had to pick the most important of the two – Bob all the way.
The CBJ Artillery:  They need to play Blue Jackets hockey, play with confidence, gritty, physical and stay disciplined. When we are disciplined on the ice, we see success. Play a full 60 minutes and BOB can't be standing on his head to made saves, we need to help him out more.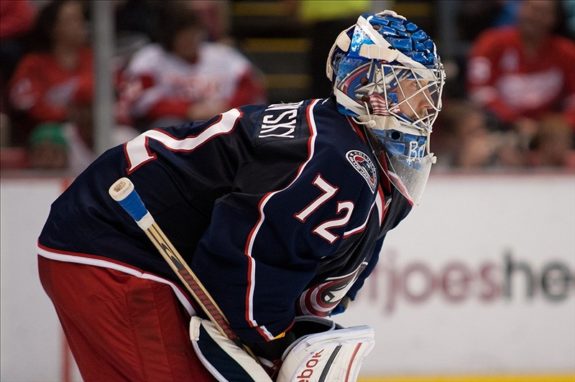 Along The Boards: It's time for the defensive corps to step up. Everyone talks about it, but what does that actually mean? Well for one, Jack Johnson eats up way too many minutes. He can be a reliable defenseman, but he is just simply not the shut-down guy that they think his is or want him to be.  Tyutin being back and Murray coming back at some point will be monumental, but there are strategic moves that must be made by Todd Richards as well. The group needs to improve their positioning and support in their own zone, and MUST be better at making passes out of the zone.
DKM Hockey:  Aside from the age-old clichés about 5 on 5 play and special teams execution (the PK has been stinky compared to last year), the Jackets have continue to earn points in close games and games where they find themselves trailing early. The team also has to learn to compete on nights when Bob can't bail the team out. Having a solid goalie certainly gives you confidence, but being able to steal a game FOR Bob can earn the team points that are in short supply in late March.
BS Hockey: Bob has gotta be Bob. Much like the lockout shortened season, Bob is going to have to carry this team for a while if the team wants to have any chance at the playoffs. The forwards are still finding their way and the defensemen are still trying to gel. The odds are stacked against them but they need Bob to have Vezina level numbers for them to even have a chance.
Union and Blue: Three letters – B. O. B. Bobrovsky was either injured or coming back from injury and struggling mightily when CBJ went on their slump, but he is playing out of his mind right now and is truly the backbone of this team. If he lets up a goal, we've seen the offense bail him out, and simply wear the opposing team down to get either the equalize or the go-ahead, but it all starts with play in the defensive end, and Bob playing to Vezina status.

Holy moses my goodness Sergei Bobrovsky. How good is this guy?

— Rob Mixer (@RobMixer) December 21, 2014
Union Blue Soldiers:  They just need to keep finding a way to win.  It doesn't matter if it is Bob one night, or special teams another, it's a team effort.  As long as they do whatever it takes, they'll make the playoffs.
The Hockey Writers: The play of Sergei Bobrovsky is obviously a key for this team, but to me, it comes down to one thing.  The Blue Jackets performance at 5 on 5 will be the key to them making the playoffs.  I recently had the chance to talk to Nick Foligno, Jack Johnson, and Ryan Johansen.  They each acknowledged in a different way that this must improve.  Their power play has been great.  Their penalty kill has been better.  Their even strength play has been inconsistent all year.  In fact, the Blue Jackets are dead last in the league in the ratio of 5 on 5 goals for/against.  Going into the Boston game, that was sitting at .59.  They have scored 43, and allowed 73.  Playoffs are generally won at 5 on 5.  You can have great special teams and a great goalie.  But until that -30 differential starts to swing, they'll have a real uphill climb.
I want to personally thank our panel for taking time to answer our questions.  The opportunity is certainly there for the Blue Jackets to make a run at a 2nd straight trip to the Stanley Cup Playoffs.  Will they finish the job?  Only time will tell.  But no matter what happens, the Blue Jackets will have a major say in who does make the playoffs.  Stay tuned.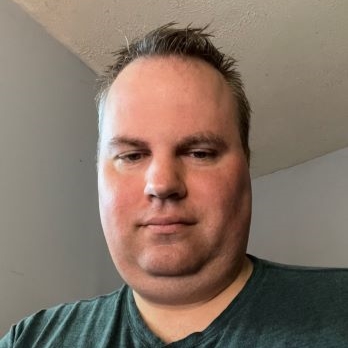 I am a fully credentialed writer who covers the Columbus Blue Jackets, Cleveland Monsters and Erie Otters as well as the Ontario Hockey League and NHL Draft. The 2022-23 season will mark nine seasons with the Hockey Writers. I am also the site's Credentials Manager. Please take note of the updated Twitter handle: @mark_scheig.