For many, one of the more intriguing stories over the past few years has been the gradual resurrection of the Calgary Flames prospect pool. Once thought to be rather barren during the tenure of former general manager Darryl Sutter, the Flames have revitalized their farm and development system, aided by some savvy drafting over the past three or four seasons. The 2012 draft class included several big names, such as first rounder Mark Jankowski, rugged blueliner Patrick Sieloff and big-bodied goaltender Jon Gillies – the latter two of which won gold with the American entry at the 2013 World Juniors.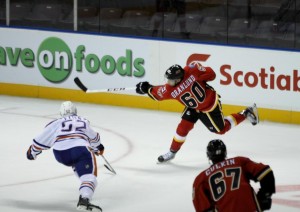 However, one player may beat all these highly-touted prospects to the professional ranks.
Drafted in the fifth round of the 2012 NHL Draft by the Flames, defenseman Ryan Culkin has found himself in a unique situation at this year's training camp.
On one hand, he's 19 years old and heading into his over-age year with the QMJHL's Quebec Remparts as a 1993 birthday. His post-draft season saw him nearly double his offensive production (from 25 to 45 points) while serving as an alternate captain for Quebec. If he heads back to the club, he'll likely get a lot of ice time and be relied upon as one of the team's offensive cornerstones and on-ice leaders. If the Remparts aren't in the championship hunt, he'd be a highly sought-after commodity at the QMJHL trade deadline, as well.
On the other hand, due to a quirk in the NHL's operating agreement with the Canadian Hockey League – of which the QMJHL is a member – he can elect to go pro and play in the American Hockey League. It's his December birthday that qualifies him, as it would any player in his situation who turns 20 before the end of December.
Culkin explained that the Flames coaching staff threw down the gauntlet to him at July's development camp, challenging him to improve in the off-season in preparation for main camp and possibility of a pro roster spot.
"They gave me a challenge after development camp," said Culkin. "They really liked what I did. They wanted me to get bigger and stronger, so I took the challenge and worked my ass off at the gym two times a day with NHL players as well, to see what it takes to get there. So I came up to rookie camp in the best shape possible and hopefully made an improvement."
One of two men that could be Culkin's prospective bench boss this season, Abbotsford Heat head coach Troy G. Ward, provided some feedback on the young blueliner's performance at Calgary Flames prospect camp and the challenges ahead at main camp. In particular, he praised Culkin for coming into camp prepared.
"He's doing a good job," shared Ward. "He's getting better and better all the time. I thought he had a really good development camp. I thought he had a pretty good camp here. Now we need to see him, like, what's the next step in NHL games? Right now I think he's in really, really good shape. He's done a really good job. He's worked tremendously hard in the off-season and he's come a long way. So whatever management decides with him, it'll probably be based on some NHL games, and we'll see what happens."
To his credit, while he admitted he's 100% focused on making the Abbotsford Heat roster for the upcoming season, Culkin would welcome the opportunity to suit up for one more season with the Remparts. With the Calgary Flames organization having 14 defensemen already under contract for the 2013-14 season (although another prospective pro, Patrick Sieloff, could also head back to junior) – not counting players on AHL deals – there's the chance that Culkin may be sent back to juniors just due to the numbers game.
"I'd be disappointed, but I wouldn't not want to play there," said Culkin. "They got a great coach in [Philippe] Boucher and I think we have a great team that can go far down there."
As Ward noted, the next challenge facing Ryan Culkin is the "live-fire" portion of training camp, pitting prospective pros like Culkin against the established Flames players. First comes inter-squad scrimmages, then comes pre-season competition in NHL rinks against other NHL clubs. Culkin acknowledged that all he can do is put it all out there on the ice.
"I guess it's all in my power, all in my hands," said Culkin. "If I have a good camp, then I'm going to play in the American Hockey League. I for sure want to play up there. I want to play up there as long as I can. But I can't control whether I play there or not. I can only control how I play on the ice."
Ryan Pike has covered the Calgary Flames and the NHL Draft extensively since 2010 as a Senior Writer for The Hockey Writers and Senior Contributing Editor of FlamesNation.ca. A member of the Professional Hockey Writers Association, he lives in Calgary.