Many National Hockey League pundits declared the Calgary Flames winners after the Feb. 29 deadline, which saw them ship Jiri Hudler, Kris Russell and David Jones out of town in exchange for four draft picks, defenceman Jyrki Jokipakka, prospect Brett Pollock and goaltender Niklas Backstrom.
A month after the wheeling and dealing and the moves GM Brad Treliving was able to pull off still look as great as they did on deadline day.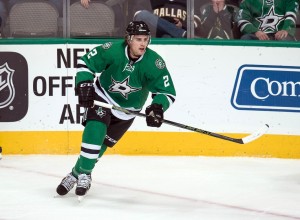 Russell Shipped to Dallas
The impressive haul Calgary was able to reel in from Dallas in exchange for defenceman Kris Russell is arguably the best return of any trade made this season. By getting young blueliner Jyrki Jokipakka, prospect Brett Pollock and a conditional 2016 second round draft pick the Flames made the most of their heavily sought-after blueliner.
Russell, a quick-footed, offensive defenceman, was a significant member of the Flames locker room during his three seasons in Calgary. Resigning Russell just wasn't going to be possible at the end of the season, so Calgary needed to maximize the return for the 28-year-old defenceman. As it turns out Dallas was willing to pay big to add Russell for a Stanley Cup run.
The main return for the Flames was Jokipakka, a big, stay-at-home defender who fits in well with the offensive defenceman Calgary already has. The 6-foot-3, 215-pound, 24-year-old defenceman is no longer a prospect, having already played in over 100 NHL games. What's even more important is that he comes at a cap hit of $900,000 and shouldn't cost too much to resign heading into the 2017-18 campaign. So far Jokipakka has fit in well on Calgary's backend logging a ton of minutes over course of this first 13 games. The big Finish defender has surpassed 20 minutes of ice time in four of the Flames last nine game. Jokipakka has chipped in with four assists in those 13 games matching his assist total over the first 40 games of the year.
Prospect Brett Pollock lead the Western Hockey League's Edmonton Oil Kings in scoring this season collecting 78 points in 72 games. Scouts say the 6-foot-3, 197-pound left-winger has the size and skill to be an effective power forward at the NHL level, but needs to improve his skating. At just 20-years-old Pollock will still have some time to fill into his frame, add a bit of muscle and get his skating up to par.
Calgary also received a condition second round draft pick in the deal. According to TSN's Pierre LeBrun, the pick could turn into a first round selection if Dallas makes it to the Western Conference Final and Russell plays in at least half of the Stars playoff games.
Backstrom, Pick Acquired for Jones
The Calgary Flames goaltending carousel added another piece in late February when management agreed to take goaltender Niklas Backstrom along with a 2016 sixth round draft pick in exchange for forward David Jones.
This deal was simply trying to get something in return for Jones, who just didn't fit into the Flames future plans. With his contract expiring in the offseason and Calgary needing to free up money for other players Jones was not going to be resigned. Taking on the contract of Backstrom was what the Flames had to do in order to get a late round draft pick for the pending free agent.
While it is unlikely that Backstrom has any sort of future with the Flames he has managed to start two games for Calgary since being acquired. On March 20 the Finnish netminder started his first NHL game since January of 2015, picking up a 4-1 win in Montreal. He followed it up with a 6-2 loss in Minnesota to his former team allowing six goals on 29 shots.
In 12 games with the Wild, Jones has scored twice and chipped in with one assist.
A winner of this trade won't be able to be determined until the draft, as the main return for the Flames is the sixth round pick. Although Backstrom was included in the deal it is hard to imagine the 38-year-old plays more than a handful of games in a Calgary uniform. The Flames will have some decisions to make in goal as all four goalies on their roster – Backstrom, Hiller, Ortio and Ramo – are free agents. It is safe to say that Ortio and Ramo are the top two candidates to return, while the Flames will search the market for a legitimate NHL starter.
Flames Snag Pair of Picks for Hudler
The first deal the Flames made on deadline day involved sending sniper and pending unrestricted free agent (UFA) Jiri Hudler to the Florida Panthers for a 2016 second round draft pick and a 2018 fourth round pick.
While this trade is impossible to gauge until after the 2016 and 2018 drafts, as it stands it doesn't look like a bad deal for the Flames. With Calgary in a cap crunch heading into the 2016-17 season and the team needing to hand out big contracts to both Johnny Gaudreau and Sean Monahan the Flames are in desperate need to free up cap space. The declining play of Hudler combined with his $4 million cap hit resulted in him not being included in Calgary's plans moving forward. Snagging a couple of picks for his services was as good a return as Treliving could have expected.
Over the course of his first 12 games in Sunrise, Florida Hudler has collected five goals and two assists. His point-per-game clip of .583 is slightly less than the .660 he posted through the first 53 games of the season in Calgary. Both numbers are nowhere near the .975 clip he posted during the 2014-15 season when he scored a career-high 31 goals, which is looking more and more like a fluke. No matter how much success Hudler has in Florida the Flames will still come out as a winner in this swap.
Calgary has 11 picks in the 2016 NHL entry draft including four in the first two rounds.
Multi-media journalist with the Bonnyville Nouvelle. Back up play-by-play broadcaster for the Bonnyville Jr. A Pontiacs. Sports writer.