Ron Francis Got His Pick
The Hockey Writers highlighted Haydn Fleury as the next best defenseman in the draft behind number one overall pick Aaron Ekblad. Friday night, the Carolina Hurricanes made him the seventh overall pick in the 2014 NHL draft. After the selection of Fleury, GM Ron Francis praised the defenseman from the Red Deer Rebels and made it clear the team got the player they wanted
 Who is Haydn Fleury?
Fleury was the third option I listed in my preview of prospects the Hurricanes should target at seven. He is a big 6' 3'' and weighs 201 pounds and still has time to grow. He uses his length well and has good speed to go with his size. He has tons of potential and already makes the strong defensive plays that you look for in a defensive prospect. The offense can come in time, but its always a good sign when scouts talk about a young defenseman already having great positioning and hockey IQ. The best upside with Fleury is that he turns into a tower looming over the Hurricanes defensive zone in the future.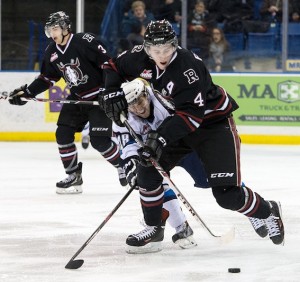 Ron's Thoughts
Ron Francis was interviewed after the drafting of Hayden Fleury and assured that Fleury was the guy they were hoping to get. "He's a big mobile defenseman and has a lot of upside to his game." Fleury adds a big defensive body to the Hurricanes talent pool. Francis talked about his game plan for the draft, which had a lot of good players falling to the team at seven but it seems they had their eye on Fleury the whole time. "Coming into the draft we had a game plan, we were comfortable with anybody who fell to us in our range, and thankfully it was Hadyn." Fleury was brought in to interview with the team before the draft and Francis got a good vibe from the player and ultimately decided he was the best fit for the team. "At the end of the day, your just trying to get a comfort level that you think he's a good kid, which we did, we felt he was a good player and we are glad to grab him "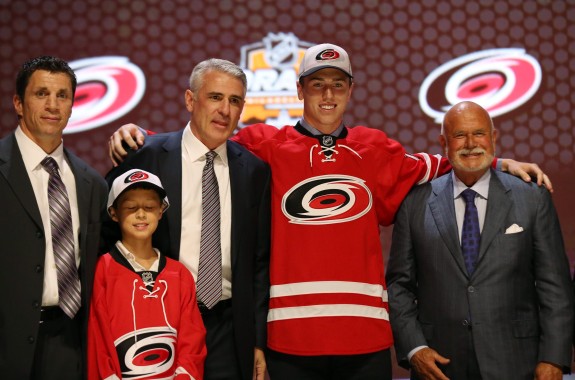 How I grade the pick
This was the safest pick the Hurricanes could have made at seven. I enjoy watching big physical defenseman grow, and the combined speed Fleury has is exciting. His hockey IQ is high, and he plays physical game without giving up positioning on the ice. His defensive game is so strong that I think his offense production will come from playing higher level hockey. I think Fleury will grow into being a player comparable to Marc Staal. Both players have the size and speed to help them break down opposing teams offensive stars. When looking back at how the rest of the first round panned out I think that Fleury was the best prospect available for the Hurricanes. I grade the Fleury pick as a B+ and I feel he is only a few years away from making the NHL roster.