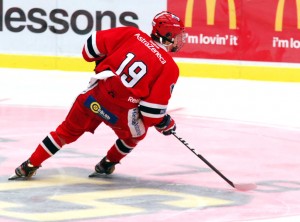 While I was hoping the Leafs would move up and select one of the top three or four players in the draft, they came away very well on Friday night, drafting Swedish winger William Nylander.
Nylander, the son of former NHL player Michael Nylander, was considered by many to be "the most talented player in the draft."  It would seem that the reason he was not ranked higher, despite his talent, is because he is smallish (5'11" 170lbs), doesn't have a fully well-rounded game and has a tendency to hang onto the puck too long and not use his teammates well. Still, those things can come with time, and the Leaf's fans should be happy they selected a player with high levels of skill and a very high ceiling (i.e the chance to be a star player).
By all accounts, Nylander is a hugely talented offensive wizard. Though he may be smallish and in need of grooming to play at the NHL level, he gives the Leafs a potentially high-end scoring forward. It may be a slight amount of hyperbole, but people compare him to Patrick Kane.
In a sense, this is a very satisfying draft pick. I would have been excited -almost just for the sheer thrill of it – to see the Leafs move up and select one of the top guys – but like Morgan Rielly in 2012, the Leafs get a player with the talent of a top pick in exchange for taking a player with some warts. Rielly could have been a top three picks, but his draft-year was ruined by a knee injury, causing him to fall to fifth. Nylander possesses the high-end talent to have gone higher, but the NHL typically favors size and an all-round game with the highest picks.
Sure, there is no guarantee with any selection, but Nylander played with men this past season in Sweden, as opposed to kids his own age in the OHL, and he instantly becomes the Leafs top prospect and the one with the highest ceiling.
—-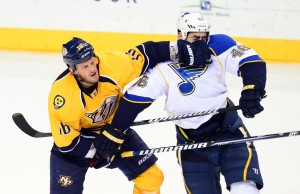 After selecting Nylander, the Leafs did not have a second round pick because it was moved to Anaheim for Peter Holland. They did, however, make a trade, sending Carl Gunnarsson and the 94th pick in the draft to the Blues for Roman Polak. The Leafs also retained $200, 000 of Gunnarsson's salary in the move.
Polak is a stay-at-home defender who is 6'1″ and 230lbs. He is a a checking machine and will provide the Leafs with the defensive specialist they have sorely missed the last few years. At 28 and with 2 years remaining on his deal with a $2.75 million cap hit, slightly less than Gunnarsson's,  this is a solid pick-up for the Leafs.
The Leafs, you may remember, had Gunnarsson sorely miscast as their #2, partnered mostly with Dion Phaneuf. Not only was Gunnarsson ineffective playing so highly in the lineup, but he also made Dion the most talented defenseman in the NHL with the worst partner, a problem that I believe has negatively impacted Phaneuf's game.
The Leafs were also saddled with too many of the same kind of offensive defenseman, and while Gunnarrson was not one of them, I do believe that dressing him along with 4/5 other skilled offensive players left the Leafs deficient in physicality and without a true stay-at-home guy, which ultimately made them too easy to play against.
Polak should make a big upgrade on Tim Gleason, a player sure to be bought out this summer.  He may be the slowish, physical type, but he will clear the front of the net, provide solid penalty killing minutes and make the Leafs harder to play against in their own zone.
I expect the Leafs to return next year with Phaneuf, Gardiner, Rielly and now Polak.  The hope is that they fill one of the remaining spots with a Marlie and the other with a top-pairing guy to partner with Dion.
It's just the start of what promises to be an interesting summer, but with the drafting of Nylander and the trade for Polak, the Leafs look like a good bet to make solid, positive changes and come into next year much improved.