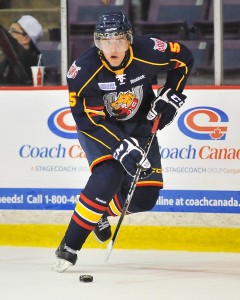 The Maple Leafs have not picked in the top 3 in the NHL draft for 25 years.
To put it in perspective on how long ago that was, Mats Sundin was picked 1st overall that year by the Nordiques. The year was 1989 and the Leafs passed on Bill Guerin to select Scott Thornton 3rd overall. Although Thornton had a decent career, he was not what you're hoping for with a pick at the top end of the draft.
25 years is a long time to go between top three picks, and I firmly believe the Leafs need to move into the top three for this years draft. Currently, they are set to pick 8th, but there are 3 potentially top-line centres available: Sam Reinhart, Sam Bennett and  Leon Draisailtl. Not to mention potentially franchise defensive anchor Aaron Ekblad.
The Leafs also need to keep Riemer and dump Bolland,but moving up to get on of the top four players should be their top priority.
The Leafs have made the Playoffs once in the last ten calendar years.
That is a pathetic performance, by both the team and the management, and it is unacceptable. What's worse, is that during this decade of failure, they have never picked higher than 5th overall.
[Related: Why the Leafs SHOULD NOT Move Up in the Draft]
If there is a team in the NHL that knows how difficult it is to acquire a top centre or defenseman outside the top three of the draft, it should be the Leafs. Ten years and one playoff series.
Now, this is a strange draft because there is no consensus number one pick and the teams with the top three picks have expressed, to varying degrees, that they could be persuaded to move their picks. The Leafs need to take advantage.
The price to move up could be huge. Rumours persist that the Panthers would want a ridiculous package of Phaneuf, Kadri and the 8th pick. Nonis can't get crazy and over-pay, as such a trade would undoubtedly be doing, but he has to get creative and find a way to get it done.
The Leafs have – if you discount Rielly and Kadri who are already on the team – zero high ceiling prospects. For a team that has been down and out for so long, that is unacceptable. The Leafs really have to look hard and realistically assess how close they are to contending, or if they can even contend, ever, with their current core.  Any kind of honest look at their team shows they need to pick up foundational player, the kind you only get, in 99% of situations, if you draft him.
I think they can compete with their current core – if they added that one special player. What they have is good and the jury is out on Rielly, but the rest of them – Kessel, JVR, Kadri and Phaneuf- seem to be great secondary options to the centerpiece that they are missing.
They have the chance to get that centerpiece today,and I for one think the risk is worth it.