Back in the 2005-06 season, the Anaheim Ducks set a franchise record for points in a season with 98, going 43-27-12 in Randy Carlyle's inaugural year as coach. In the first round, the Calgary Flames took the Ducks to game seven before losing. Anaheim then went on to sweep the Avalanche in round two before being wiped out by the Oilers over five games in the conference finals. 37 days later, then Ducks GM Brian Burke made a splash and acquired highly coveted defenceman Chris Pronger. Going the other way to Edmonton was Joffrey Lupul, Ladislav Smid, a first round pick in 2007 (Nick Ross), a second round  pick in 2008 (Travis Hamonic) and another first round pick on the condition that the Ducks make the finals. Well, thanks in large part to Chris Pronger, the Ducks did make the dance, and they ended up winning it all. Edmonton would later use that pick to select Jordan Eberle.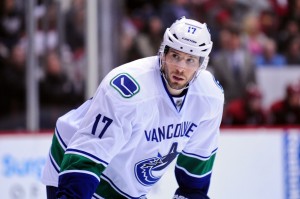 This past season somewhat parallels the Ducks' 2005-06 season in many ways. They finished with a franchise record in wins and points, going 54-20-8 for 116 points. They made it to the second round where they got knocked out by the Kings in seven games (who of course went on to the Stanley Cup). Their cupboards are completely stocked in every way imaginable, with many highly touted prospects. www.hockeyfuture.com ranks the Ducks' prospect pool second overall behind the Buffalo Sabres. In the 2014 draft, Anaheim boasts four picks in the first two rounds, including the 10th and 24th overall. Considering Teemu Selanne has retired and Saku Koivu may be on the verge of leaving, some of Anaheim's prospects may graduate in order to fill a few gaps. However, since last season was such a success, using some of these picks as trade baitmust have GM Bob Murray salivating. Sending a prospect, a first round pick and whatever else is needed to fill out a nice offer could be just what the Ducks need to nab themselves another Pronger-like deal to send them over the top.
Anaheim dominated so many aspects of the game last season. Ryan Getzlaf and Corey Perry still combine to make one of the best duos in the league. Mathieu Perrault and Nick Bonino had break0ut seasons. The Ducks' defensive corps combined with Jonas Hiller and Frederik Andersen for the 9th best defence in the league. All that is really needed is some upper-level talent to fill out the first two lines.
Recent news has suggested Ryan Kesler might be the guy to help send Anaheim over the top. Rumours are floating around saying Chicago and Anaheim have been the front-runners thus far, and www.thefourthperiod.com believes Anaheim are one of the few locations Kesler would even waive his no-trade-clause for. Kesler, at 29 years of age, is currently scheduled to receive $5 million over the next two seasons, which isn't too hefty a sum for the Ducks.
Murray has said again that #NHLDucks will be a mid-range cap team. So they'll have about a $61-62M budget and $12-13M to spend.

— Eric Stephens (@icemancometh) June 25, 2014
Kesler has been good-not-great over the past few seasons, but the gritty center is capable of hitting the 70-point mark and could be exactly what the Ducks need to help push them on a Stanley Cup run.
The other guy everyone seems to be talking about is Jason Spezza. Spezza wants out of Ottawa. In fact he wants out of Canada in general. The Senators captain has a lot to boast about over the course of his career, and he and his hefty salary could certainly push the Ducks. Whether that would be over the top is debatable, but there's no doubt he would provide a major boost on the score-sheet.
So who budges first? Does Anaheim make a major draft-day trade tonight? Could we be witnessing the next step on Anaheim's journey toward a Second Stanley Cup? The Ducks are an elite team with elite prospects, and it really does seem like just one impact player could be all the need for glory.