Over the past two drafts, the Flyers have made a concerted effort to bolster their pool of defensive prospects. After selecting just five defensemen in the 2009-2011 drafts, with the earliest being Simon Bertilsson at 87th overall in 2009, the prospect pool was empty. In 2012 and 2013, the Flyers selected eight defensemen, with three of them being selected higher than Bertilsson was in 2009. One needs to simply look at the Flyers defense right now to realize that changes needto be made.
The 2014-15 Philadelphia Flyers Defense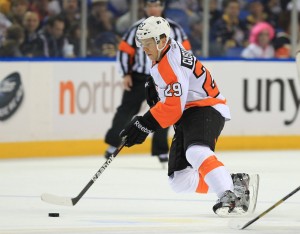 In 2013-14, the Flyers were the only team in the NHL that did not draft any of the regular defensemen on their roster. Everyone was acquired via trade or free agency. The closest thing to homegrown talent the Flyers had was Erik Gustafsson, an undrafted free agent who played just 31 of 82 regular season games. This offseason, Gustafsson opted to sign in the KHL instead of return to Philadelphia. The result is that the Flyers are projected to pay their defensemen more than any other team in the NHL, despite it being a relative weakness on the club. Once you remove Chris Pronger they drop to second behind the Blackhawks, but by just $600,000. And the Flyers defense has nothing close to Duncan Keith or Brent Seabrook.
With how coveted quality defensemen have become in the NHL, it's becoming increasingly difficult to acquire them at a reasonable cap hit through free agency, or at a reasonable cost by trade. They simply aren't out there. The resulting Flyers defense is one packed with second pairing defensemen. Right now, Braydon Coburn is their only top pairing defenseman. The rest are a collection of #3s and 4s.
For the first time in awhile, there is hope for some of the young defensive prospects the Flyers have collected. Samuel Morin, Shayne Gostisbehere, and Robert Hagg are all quality NHL prospects. However, those hoping that they will be the savior of the defense will likely be disappointed.
The Flyers and Developing Defensemen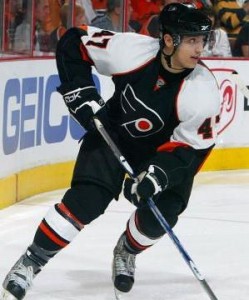 After the 2005-06 season, the Flyers had a similar revelation about their defense. Mike Rathje and Derian Hatcher were shown to be obsolete in the post-lockout NHL, and the Flyers rushed to add defensive prospects. From the 2006-2008 Drafts, the Flyers selected six defensemen. More importantly, five of six were selected in the third round or earlier. Those six were: Mike Ratchuk, Denis Bodrov, Joonas Lehtivuori, Kevin Marshall, Luca Sbisa, and Marc-Andre Bourdon.
Similar to recent years, fans rejoiced at the team's commitment to rebuilding the defense and penciled in these youngsters as NHLers in the future. It hasn't exactly worked out as planned. The six have played a combined 321 games in the NHL, with Luca Sbisa accounting for 266 of those. And only 94 of those games were played in the orange and black.
Whether it was injuries (Bourdon), a refusal to leave home (Bodrov), or just ineffectiveness (Marshall, Ratchuk), none of them panned out.
This has been a long-term problem in Philadelphia. Dating back to 1994, to this day, the Flyers have drafted just five defensemen that have played 100 games in the NHL (Jeff Woywitka, Alexandre Picard, Joni Pitkanen, Denis Seidenberg, and Luca Sbisa). They have played a combined 1,947 games in the NHL, with 409, or just 21%, being played for the Flyers.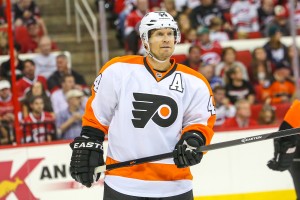 This has been a deep-seated problem for the Flyers for a long time. The fact that they're remained competitive despite this is a testament to the rest of the team. Shrewd trades for Eric Desjardins, Kimmo Timonen, and Chris Pronger have masked these deficiencies.
With Desjardins long retired, Pronger not able to play hockey again, and Timonen on his last legs at 39, the Flyers finally need to face the music.
The Flyers will have six picks in the 2014 draft, their 1st, 2nd, 5th, 6th, and 7th, and likely Boston's 3rd as they appear unlikely to re-sign Andrej Meszaros. If I'm Ron Hextall, I am selecting a defenseman with, at a minimum, three of those picks.
In order to properly develop some homegrown defensemen, it looks like the Flyers will need volume to get some of them right. Until they prove that they can effectively develop defensemen, the team needs to continue to pour significant resources in the form of draft picks, undrafted free agent signings, scouts, and coaches in order to identify and develop talent.
Morin, Gostisbehere, and Hagg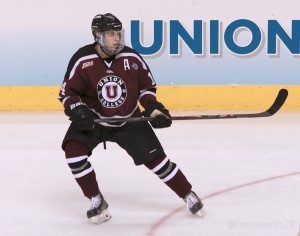 Many Flyers fans are clamoring for them to select a winger that can keep up with Claude Giroux with the #17 overall pick. Or, they are hoping for a free agent wing like Mike Cammalleri, Thomas Vanek, or Matt Moulson to play with Giroux. Some believe a trade for Evander Kane would be a good move (
it wouldn't be
). These fans forget that the Flyers scored the 8th most goals in the NHL this year, and let up the 11th most.
The reason fans are clamoring for a wing is that they believe that three saviors riding on white stallions are on their way to Philadelphia in the form of Samuel Morin, Shayne Gostisbehere, and Robert Hagg to save the entire Flyers defense. Morin, a 6'6″ monster, is assured to be a top pairing #1 because he's huge and can skate, and with Chris Pronger mentoring him, he'll be unstoppable. Shayne Gostisbehere has a slapshot that's apparently as good as Al MacInnis and Zdeno Chara. Hagg is a two-way jack of all trades that was a huge steal in the second round.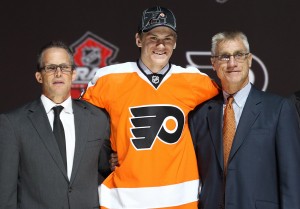 All three have shown good potential, and are good prospects. But from what they have shown so far, I would not believe that any of them will become a #1 defenseman. It is possible that one of them exceeds expectations and goes above and beyond what they have shown so far. But don't bank on it. Morin is still a very raw prospect, and called his 2013-14 campaign an up and down season. Gostisbehere, for all his offensive talent and skating ability, is only 5'11" 170 lbs. Hagg is still struggling with consistency and putting forth a consistent effort from shift to shift.
For every Chara or Keith that turns into a stud during their NHL career, there are 50 other prospects that don't make it. Chances are, one of the three above players will not even be a regular NHL player. Add on the Flyers' inability to groom defensemen, and you understand why expectations must be tempered significantly.
Don't get me wrong, they are good prospects. But they are just that, prospects. If the Flyers want to get a young, two-way #1 they will have to trade a king's ransom for an established one, trade up, giving up some big assets and hope a high draft pick turns into a stud, or continue to draft lots of defensemen, and hope one makes it. The first two seem like by far the best option to me.