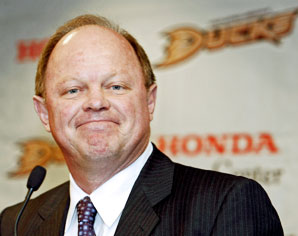 A few months before the Stanley Cup Playoffs, I threw out the notion the Anaheim Ducks couldn't be true Cup contenders without a franchise defenceman. Anaheim can throw out arguably the best offensive duo in the world, a solid blueline, and about 20 options in goal. But they lack that valuable workhorse on the back end that consumes minutes for a living. So it was no surprise to me when the Ducks were sent a short distance home by the eventual winners Los Angeles, who relied on all-world blueliner Drew Doughty to shutdown Corey Perry and Ryan Getzlaf.
A marquee defenceman is needed to compete with the Kings, Blues and Blackhawks of the NHL, but the post-season exposed an equally important hole: the second line center position. The top end is loaded; there's no doubting Perry or Getzlaf's abilities as they're in their prime. The other solid, younger assets upfront that have a future with the Ducks are mostly wingers (Devante Smith-Pelly, Jakob Silfverberg, Emerson Etem, Kyle Palmieri). And sure, Nick Bonino and Mathieu Perreault were pleasant surprises as second line center plugs during the regular season, but that magic quickly faded in the playoffs. When you're lining up against teams that can throw out Kopitar/Carter/Stoll or Thornton/Couture/Pavelski, their weakness up the middle is even more glaring. In the Los Angeles series in particular, once Getzlaf was slowed down by Selke-nominee Kopitar, the Ducks were left twiddling their thumbs.
Newly anointed GM of the Year Bob Murray has a busy month ahead with free agency on the horizon. In addition to figuring out his crowded crease situation and shoring up the blue line, he can add a second line center to – the top – of his priorities list.
Here are some options Murray can consider, either through trade or free agency.
---
Jason Spezza, Ottawa Senators
75GP – 23G, 43A, 63P
The name thrown around the most this summer, the Ducks are already rumored to be interested in the fragile center. And for good reason. The Ottawa Senators captain is the perfect fit behind the Ducks' own 'C' bearer as he provides everything the Ducks need in a second line center right now.
Spezza is a veteran with plenty of playoff experience, including a trip to the Cup Finals. His playmaker approach will compliment the speedy Anaheim youngsters nicely, and may even reinvigorate the 31-year-old's game. Though he's at the point of his career where his numbers will only decline, there's still plenty left in the tank, who can stay with the Ducks if he's a fit (he's only signed for another year).
What's really appealing about a Spezza acquisition is he's a former 90-point guy who knows how to carry a team. If anything happened to Getzlaf, Spezza can be counted on to step up and lead the team offensively, as he's done it for years in Ottawa. And of course, alleviating the pressure works both ways, as Getzlaf will see more free ice when other teams account for Spezza in their game plans.
The two teams have history with the Bobby Ryan blockbuster consummated last summer – will there be another one?
Paul Stastny, Colorado Avalanche
71GP – 25G, 35A, 60P
Once considered the franchise's bright young star, Stastny is more of an afterthought in Colorado, surpassed by his younger, dynamic teammates. He doesn't have MacKinnon's flash or Landeskog's all-around game, but Stastny is a serviceable, top-six player who doesn't have many apparent weaknesses.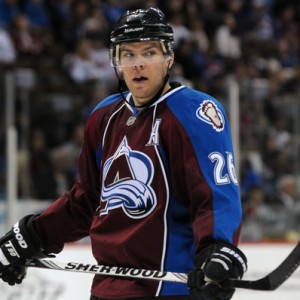 There's some talk that Stastny isn't the same player from his first two years in the league, where he averaged over a point a game. That simply isn't true. If he was given the same ice time and opportunity during his career years, he would still be a 70-point player. He's an extremely cerebral player that will, similar to Spezza, be an ideal fit for Anaheim's up-and-coming wingmen. His creativity can boost the powerplay, too, especially if he's deployed on the second unit.
The only problems in pursuing Stastny: there's no guarantee he'll sign and the cost of business. Stastny made $6.6 million annually on his expiring contract, and after a 60 point season his price tag should be on a summer sale special. But the 28-year-old salvaged a ton of dough thanks to a monster post-season where he accrued 10 points in seven games. Only postseason work is considered when valuing a player's worth – just ask Marc Andre-Fleury or Bryan Bickell.
The Ducks do have the cap space for Stastny if they want him. They'll just need to decide if he's worth the probable $6-million+ it'd take for a signature.
Brad Richards, F/A
82GP – 20G, 31A, 51P
No, not really. If Murray even considers the bought-out under performer, he should throw his GM of the Year award in the trash.
Ryan Kesler, Vancouver Canucks
77GP – 25G, 18A, 43P
The Canucks' own second-line center would be my top choice for the Ducks' need if there weren't so many question marks surrounding the heart-and-soul player. Kesler is the ultimate second line center and would have insane value on the Ducks. He can score, play physical, and lead by example (again, those young Duck forwards). The way he carries himself and competes will undoubtedly rub off on the team, making them that much harder to play against.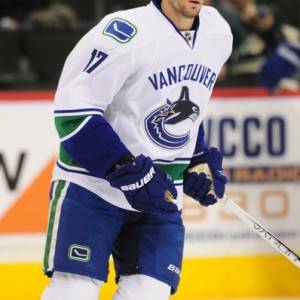 The apprehension? I'm not sure if this is the same Kesler that potted back-to-back 70-point seasons not too long ago, including a 40-goal campaign. Players that play that gritty style Kesler employs have much shorter production spans than your average point producer.
The most glaring comparison is L.A's Mike Richards. Both are 29 years old, play a north-south game, and are heralded two-way dynamos. It's clear, in L.A. at least, that Richards isn't the same player after two subpar seasons and an even weaker playoff run. Is the same regression happening to Kesler? His past two full seasons have been mediocre 40-point campaigns, with an injury-plagued one sandwiched in between. How long before the wear-and-tear on Kesler becomes as bad as Richards, who was even rumored to be a compliance buyout candidate after their Cup win?
On paper, Kesler is an ideal fit. But the risk may not be worth the reward, especially when the Canucks need to hit a home run deal after last year's goaltending fiasco.