As the 2014 NHL Draft rapidly approaches, trade rumours and speculations begin to take shape. It seems as though this upcoming draft is poised to be one to remember, with the majority of NHL teams looking to make some noise come June 27th.
Currently, the Florida Panthers hold the number one selection and all fingers are pointed at 18 year old defenseman, Aaron Ekblad. Does Florida need a reliable top line defenseman? The answer is yes, but no more than they need everything else. Therefore, the idea that Florida may be shopping around their first overall pick is more than possible.
[Related: Why the Leafs MUST Trade Up in the Draft]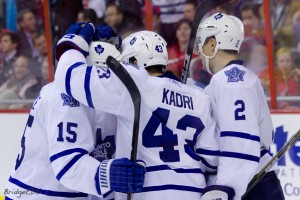 The Toronto Maple Leafs have been consistently talked about as a team that is interested in moving up for a higher pick, if not the first overall than something in the top five. The Leafs currently sit at number 8, which is without question a comfortable position. In the last 15 years, the Leafs have only had three draft picks within the top 10.  In 2012, Morgan Rielly was selected 5th overall and still has endless potential. In 2009, Nazem Kadri was selected 7th overall and still growing as a highly skilled forward. In 2008, Luke Schenn was drafted 5th overall and he was… big? Aside from those three, the Leafs have not picked within the top 10 since Nik Antropov in 1998. The NHL draft on Friday will allow the Leafs to snag another top ten player to compete along side Kadri and Rielly.
When draft day approaches, Toronto fans should cross their fingers and hope that the Buds stick with their 8th selection. If trading up is going to cost the team Gardiner, Kadri, and our 8th overall, then this idea should be immediately thrown away. It feels as though Justin Timberlake from The Social Network stood in front of the Leafs organization and said, "A top 10 pick isn't cool. You know what's cool? A top 5 pick". Nope, sorry Justin, but we are cool where we are.
Although you may see some minor differences around the internet, there does seem to be a consensus top five. Aaron Ekblad, Sam Reinhart, Sam Bennett, Leon Draisaitl, and Michael DalColle are the five players that the Leafs would (hypothetically) be trading up for in the draft. The only lock as a franchise player appears to be Ekblad, and do the Leafs really need another defensive prospect? Sure, he is an incredible player, but the Leafs already have a great set of prospects on the backend. Gardiner and Rielly have already shown what they can do at a pro level, while T.J Brennan, Stuart Percy, and Matt Finn are all full of potential. Besides, it will take a hefty chunk of talent to trade for the first overall pick.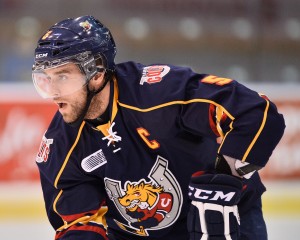 The next four players are all well-rounded forwards. Sam Reinhart is a very intelligent two-way centre who will undoubtedly have a successful NHL career; however, he does not have that extra bit of flair which separates solid players from superstars. Bennett, Draisaitl, and DalColle are all excellent forwards as well, each with a natural ability to produce points. Unfortunately, they all possess certain flaws that can potentially hurt them at the NHL level. All four have their share of risk and therefore trading up is the wrong decision.
Remember, these players are obviously extremely talented and lead their draft class for a reason. At the same time, they do not have enough substantial differences from someone the Leafs can pick up at number 8, at least not enough to give up major roster pieces.