Tuesday afternoon the Pittsburgh Penguins announced they had their man. Mike Johnston was announced as the new head coach tasked with finding a way to get the Penguins to live up to their potential. While there was much discussion about Johnston's prospects of being successful in the NHL, the question about what he's leaving behind in Portland remains.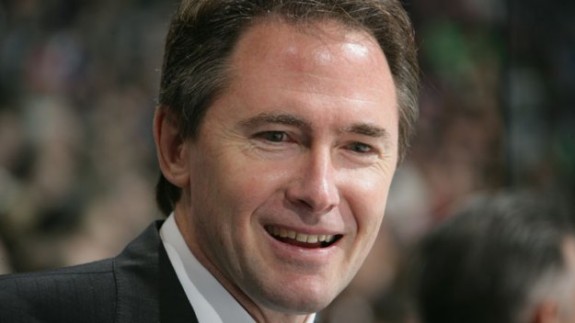 Without question, Mike Johnston was one of the most successful head  coaches in WHL history. His Portland Winterhawks just appeared in their fourth straight WHL Finals and they continue to produce NHL prospects at an extremely high rate.
How will Johnston be remembered for his WHL tenure? It may not be as clear as you think.
On-ice success
The Portland Winterhawks hired Johnston mid way through the 2008-2009 season, in hopes he could rescue a struggling franchise. That year the Winterhawks were coming off of an 11-win season, one year after a 17-win season. Johnston's first full year in 2009-2010 he guided Portland to a 44-25-0-3 season and the team's first playoff appearance in four years. Since that year he was picked up 173 wins, four Western Conference titles and developed numerous NHL prospects.
Johnston, who also served as Portland's general manager, found talent to put on the ice and then coached them to an exciting up-tempo style of play. Johnston's team were faster than you, would dominate you in puck possession and would roll at you in wave after wave of red sweaters. His system resulted in Portland averaging 314 goals in his five full seasons, that equates to 4.4 goals per game. Its' that offensive fire power that the Penguins are banking on to bring them back to the Stanley Cup.
As the general manager Johnston also had an eye for talent. Over his tenure running the club, Portland has produced six first round draft picks in the NHL Draft. That list is made up by Ryan Johansen, Nino Niederreiter, Sven Baertschi, Joe Morrow, Derrick Pouliot, and Seth Jones. Overall Johnston has had 15 players drafted by NHL clubs in his five-plus years.
He has also picked up star players late in the WHL Bantam Draft. Brendan Leipsic was a sixth-round pick in 2009 and is now a Nashville Predators prospect. Chase De Leo, a prospect in this year's draft, was selected by Portland in the ninth round of the 2010 Bantam Draft. Portland has also had success in recruiting U.S. born players and developing European imports.
That kind of success turned a franchise that was in the tank, and possibly on the brink of leaving town, into one that is a desirable destination for prospects and one that is wildly popular in Portland. Nothing says more about the popularity of the Winterhawks in Portland than the fact they sold out the 10,000 plus seat Veterans Memorial Coliseum for Game 7 of this last year's WHL Final, with the NBA's Portland Trailblazers hosting a playoff game, at the same time, across the street.
It should come as no surprise that Johnston is revered in the Rose City, where most Winterhawks supporters view him as the savior of their franchise.
Controversy
Despite all the success, Johnston is a controversial figure in the WHL world. Go to any rink not located in Portland and will not hear good things about Johnston or Portland. The most common word you'll hear is 'cheater'.
There is a sense among WHL fans that Johnston's success was due to a loose following of league rules regarding player benefits and recruitment. Most of this speculation comes without any concrete fact to back it up. Is it jealousy? Is there truth to it?
Johnston certainly has had his run ins with the WHL.
There was the infamous 'Red 23' incident that resulted in some hand slapping from the league offices. Then the big blow came during the 2012-2013 season when the WHL slammed Portland with serious sanctions due to reported violations of league rules. The league described the complaints as a series of  player benefits violations, most notably supplying cell phones and plane tickets to players and their families. As a result, Johnston was suspended for the remainder of the season, the team was fined $200,000 and barred from the first five rounds of the 2013 Bantam Draft as well as forfeiture of their first round pick over the next four drafts.
With the suspension, Johnston was barred from the team's facilities and not allowed to have any contact with the club.
News of this suspension was received with a certain 'told you so' attitude among the WHL fans and teams. The term 'Cheaterhawks' was born and still to this day, fans outside of Portland dismiss Johnston's success, claiming he was playing by a different set of rules.
The 2012-2013 team was then coached by assistant Travis Green and went on to win the WHL Championship. Detractors of Johnston will quickly point out that the only championship Portland has won during his time there was actually won by Green, who now coaches Utica in the AHL.
Legacy
Now that Johnston has left the WHL for the pro ranks, his Portland legacy can be examined. In Portland, he is a hockey legend who will go down in the city's long hockey history as one of its brightest stars. He did save the team, he made the club wildly popular and built an elite franchise that year in and year out is considered a contender to win the league title. In a league that is designed to make building dynasties nearly impossible, he built one.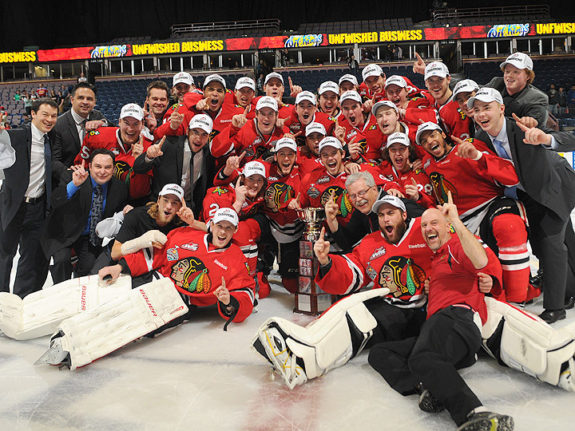 But that's the very same reason he will be viewed differently outside of Portland. His critics will say that building a dynasty in junior hockey is impossible — unless you're willing to bend the rules.
Hockey fans are very passionate and the Johnston debate can be pretty heated and both sides are entrenched in their positions. Portland fans will tell you that the league over-reacted to what are minor violations, violations that most other teams are guilty of as well. Portland critics will stick to their belief that they cheated their way to success.
Whether you like Johnston or not, the fact remains that the WHL will be hard pressed to find a run of success the Portland Winterhawks have pulled off over the last five years. Perhaps it doesn't matter what the truth is, or what Johnston's legacy is. In Portland he will always be loved, people like heroes. Outside of Portland, he will be despised, people like villains.
Johnston was both hero and villain and in the end, there is nothing wrong with either.