OHL: (LA) Kings Makers
It's never easy figuring out who a team will draft. But one safe bet entering the 2014 NHL Entry Draft? The Los Angeles Kings will pick somebody from the Ontario Hockey League.
Since Michael Futa was named co-Director of Amateur Scouting on June 5, 2007, after five seasons as General Manager of the OHL's Owen Sound Attack, the Kings have drafted more players from the OHL than any other league in the world. They've also enjoyed a ton of success with these picks (click to enlarge):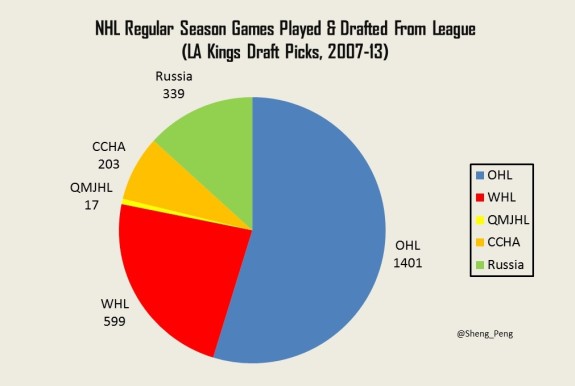 Besides the impressive number of games played by LA OHL draftees, you'll also notice that the OHL is the only league where the Kings have drafted from every single year since 2007.
Brock Otten of OHL Prospects Blog elaborates on this attraction to the "O":
"There really isn't a massive difference between the style of play in the OHL, WHL, and QMJHL. 10-15 years ago, for sure. But all three leagues now produce big and quick skilled players who also bring a physical element.
"Yet [the Kings] go to the OHL, and that's because it's what Futa is familiar with. You don't stop what's working."
Michael Futa Jumps on Jake Muzzin
How well is it working? A whopping 11 OHL graduates starred for this year's Stanley Cup winner:
Tanner Pearson (Barrie Colts, 2012)
Tyler Toffoli (Ottawa 67's, 2012)
Kyle Clifford (Barrie Colts, 2010)
Jake Muzzin (Sault Ste. Marie Greyhounds, 2010)
Jordan Nolan (Sault Ste. Marie Greyhounds, 2010)
Drew Doughty (Guelph Storm, 2008)
Trevor Lewis (Owen Sound Attack, 2007)
Jeff Carter (Sault Ste. Marie Greyhounds, 2005)
Mike Richards (Kitchener Rangers, 2005)
Dustin Brown (Guelph Storm, 2003)
Justin Williams (Plymouth Whalers, 2000)
Of special note, Muzzin was in the midst of a Max Kaminsky Trophy campaign for OHL top defenseman when he signed with LA in January 2010.
Originally drafted by the Pittsburgh Penguins in 2007, Muzzin developed slowly (possibly because of two herniated discs suffered as a teenager) and wasn't offered a contract two years later. Futa's familiarity with the league helped him identify the defender's breakthrough with the Soo Greyhounds early in 2009-10:
"The Soo? It's not that people don't go, but it's a little off the beaten path, and every time that I went, Muzz was just jumping off the sheet. He was taking over games. It was early enough in the process…You don't want it to get out how much you like a kid like that."
This enthusiasm was apparent to Muzzin, who had been close to signing with the Anaheim Ducks: "[The Kings] were calling me a lot, so it made it seem like they really wanted me, whereas other teams would call, and I would call back and it would be a day or two before I talked to them."
Two Stanley Cups later, Futa is now Los Angeles's Vice President of Hockey Operations and Director of Player Personnel. Continuing to pluck OHL'ers like Muzzin, Doughty, Pearson, and Toffoli will guarantee that this isn't his last promotion.