Ladies and gentlemen, the 2014 NHL Draft is upon us in less than 48 hours and there remain more questions than answers. Who will go 1st overall? Will Eric Staal or Cam Ward still be Hurricanes by the end of the draft? How many different ties will Brian Burke only kind of wear? You know, big, weighty, important questions.
Perhaps the most important question for now, however, is "Who will the Carolina Hurricanes Select with the 7th overall pick?"  There is certainly no shortage of choices. With so many players having seemingly equivalent talent levels, it appears everyone and their dog disagrees on how the first fifteen picks on the draft will go.
With that in mind, I won't be making a list of a bunch of potential picks and their various pros/cons. Instead, I simply present you with who I believe the most likely selection at #7 will be. So, without further ado…
The Carolina Hurricanes Might Proudly Select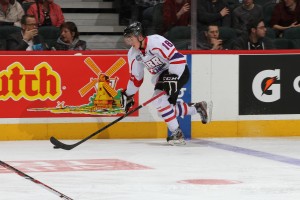 He's 6'1, 210 pounds of offense that can play either center or wing and can be a physical force when he puts his mind to it.  Jake Virtanen is a speedy power-forward who was an absolute force to be reckoned with in the WHL this season, putting up 45 goals and 71 points in 71 games.   With a playing style oddly similar to that of former Hurricanes 1st round pick Andrew Ladd, Virtanen looks to be a perfect top-9 power winger.
Perhaps what I like most about Virtanen though is that his playing style appears to be fairly malleable.  There's no one aspect of his abilities that he relies on to create offense,  which hopefully should result in him finding his way to being an effective NHL player faster than your typical "power forward" prospect.
So Why Not?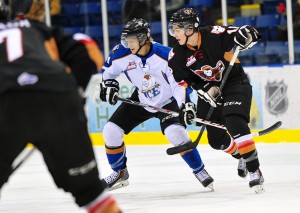 Of course, he's far from perfect. Virtanen does have a tendency to be a little bit selfish with the puck and isn't always as committed defensively or physically to the game as one would like to see.   Even so, his upside vastly outweighs these correctable inconsistencies.
As far as his availability at 7th overall goes, it's really anyone's guess.  While most seem to have him projected to be picked somewhere in the top ten, there is rumor that Vancouver was highly interested in taking the Abbotsford product at six.  Being that he grew up a Canucks fan just outside of Vancouver, the temptation may be too great for the Canucks to not take him.
Having said all that, with his size, strength, speed and scoring ability, I believe that, if available, the Carolina Hurricanes will select Jake Virtanen seventh overall in the NHL Draft.
Thanks for reading.