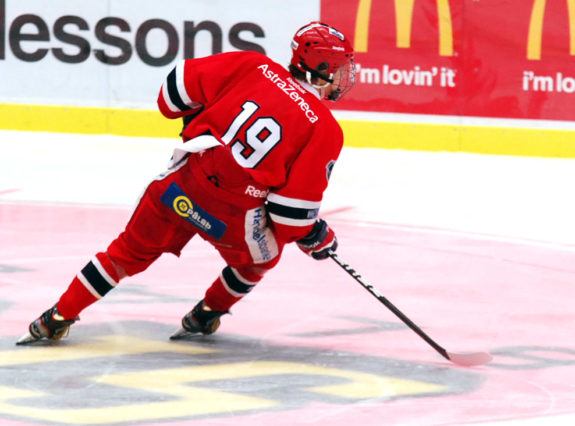 The Winnipeg Jets will select ninth overall in the 2014 NHL entry draft on June 27 in Philadelphia. General manager Kevin Cheveldayoff will look to cash in as he did with Mark Scheifele (seventh overall, 2011), Jacob Trouba (ninth overall, 2012) and even Josh Morrissey (13th overall, 2013). 
Like the trio listed above, the Jets first pick in this draft likely won't be ready for NHL action for at least a year, if not two. But, the player selected could be a part of the core group long-term, as it appears Scheifele and Trouba will be. With that in mind, here are three players that the Jets may have the opportunity to select ninth overall. 
William Nylander
Son of former NHL player Michael Nylander, William Nylander is a 5'11", 169-pound left winger, who has spent the last few years playing with a few different teams in Sweden. 
Nylander racked up one goal and six assists for seven points in eight games with Modo in 2013-14. He also played a combined 35 games with Rogle and Sodertalje and recorded 15 goals and 12 assists for 27 points.
Nylander is an extremely talented offensive player, with incredible speed and a quick, accurate shot. 
Craig Button of TSN had high praise for the Swede in his latest mock draft. 
"High end skills highlighted by excellent puck skills. His confidence with the puck is outstanding and he has as much patience with the puck as any player in the draft. Need to celebrate his gifts not question them."
The one area where Nylander clearly needs to improve is physically. He must bulk up a bit in preparation for the wear and tear he will experience in the NHL. That said, he could be a top-six player in Winnipeg within a few years. He ranks ninth on both Bob McKenzie's and Craig Button's draft lists. 
Adrian Kempe
Fellow Swede Andrian Kempe offers something Nylander doesn't: size. 
Standing 6'2″ and weighing 187 pounds, Kempe is prepared to take on the physical demands of the league and he has the skating ability to back that up. However, he still has a lot of work to do to improve his puckhandling, his shot and playmaking skills.
Kempe played 45 games in Sweden's top league with Modo, but was limited to playing mostly on the third and fourth lines. He notched five goals and six assists for 11 points, in addition to 12 penalty minutes. Not bad for a player who wasn't expected to be a top tier player heading into the season. 
Kempe may be ranked a little high by Craig Button who has him 10th, while many other analysts like Bob McKenzie have him going later in the first round. 
Brendan Perlini
Brendan Perlini isn't Swedish, but he does play left wing. 
The Sault Ste. Marie native is one of the biggest players projected to go in the first round. He's 6'3″ and weighs 205 pounds. While he isn't afraid to use his frame to his advantage, Perlini is even more of an offensive threat. 
He made a big jump in his development from 2012-13 to 2013-14 with the Niagara IceDogs. He recorded just 10 points in 27 games last year and followed it up this past season with 34 goals and 37 assists for 71 points in just 58 games.
Button describes Perlini as follows.
"A big, strong, excellent skating winger with a great release on his shot that can beat goalies from 35 feet. His growth as a player has skyrocketed and with his skills, he has the potential to be an impact player who is difficult to negate."
Perlini appears to have all the makings of a top-six forward. He has the size, offensive skill, skating and determination. The question is whether he will still be available when the Jets are ready to make their first pick on Friday.