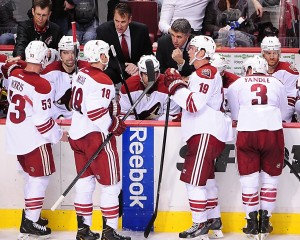 The newly minted Arizona Coyotes will be looking to build off a season that saw them finish just outside of the playoffs in spite of missing their captain Shane Doan for a significant portion of the season. While the Coyotes are not a flashy group of players they do have some solid pieces that allow them to have success.
With some of the newer statistics to the game it can be determined which players are better at spending more time in the attacking zone than others. Clearly if you are not in the attacking zone you do not have the chance to score and if your opponent is in their defending zone more often it will decrease their chances to score.
Gone are the days of complex defensive schemes and the infamous trap from the dead puck era. Now puck possession is king or as the saying goes, the best defense is a good offense.
Last year's team

Which positions are the Coyotes strong in when it comes to puck possession, and which are in need of improvement? Down the middle they are a positive possession team, while they could still use improvement to compete with the elite Western Conference teams they are adequate enough to not hurt the team in this area.
The right wing has also been a clear positive for the Coyotes in recent seasons and that trend continued last year. With Shane Doan and Radim Vrbata leading the way the Coyotes were also adequate in this position.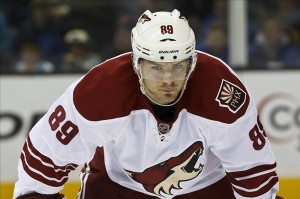 The first problem area is the left wing position. Their puck possession at this position was a drain on the rest of the team. Between Mikkel Boedker and Lauri Korpikoski there was not enough there to be a positive against their opponents. The Coyotes will need to look for an improvement via trade or free agency this offseason.
The second area of concern is their defensive core. In general it was also a drain on the team's possession this past season. Some of the less experience defenders showed well during their stints at the NHL level. Although with the relative youth of this group much of the improvement can be gained from development of their internal players.
Are any key possession players leaving?
Both Radim Vrbata and David Moss were essential to the Coyotes relative strength at right wing. Unfortunately they are both UFA's and appear to be ready to test the market. Losing those two would mean an increased role for Martin Erat and it cannot be assured what to expect from him at this point in his career.
There is a clear need to address the wing position prior to next season. Granted there could be some internal improvements, however there are no reliable alternatives currently within the organization. This will need to be an area of focus for general manager Don Maloney.
The remainders of the UFA's are not as big of an impact to the Coyotes with the likes of Paul Bissonnette, Jeff Halpern and Derek Morris all able to be replaced from within the organization.
Which free agents should the Coyotes Target?
Firstly the Coyotes should do their best to resign Radim Vrbata; he is a valuable winger and will not be overly highly priced for them. There are three players outside the organization that I believe would help to address the Coyotes needs while also being affordable.
He was a +8.6% relative Corsi player on the Pittsburgh Penguins last season along with 57 points. The first target should be Jussi Jokinen. He will undoubtedly cost more than his prior $3 million cap hit but he is a versatile forward who can line up at center or primarily on the left wing. He plays a solid two way game and competes every shift, a good fit for Dave Tippett's system.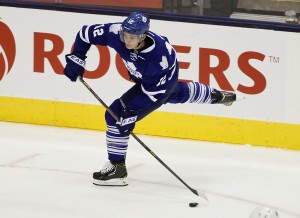 To further address their needs on the left side Mason Raymond would be another player to target. He is coming off a one year $1 million contract with the Leafs after securing a job in training camp. His price is rumored to be somewhere in the range of $3 million per season for three years. At the age of 28 Mason Raymond is most definitely worth the money. His speed makes him very effective and to go along with the 45 points he had he was also a contributor on the penalty kill. He was a +1.9% Corsi relative on a poor possession team in Toronto.
The last target would be the much mangled Mikhail Grabovski. He would add depth down the middle and has shown to be a puck possession monster that makes the players around him better. While not an elite scorer with only 35 points in 58 games last year he is a solid all-around top nine forward. He was +3.9% relative Corsi with the Capitals last season and would make the Coyotes very solid down the middle with Ribeiro, Grabovski, Vermette and Hanzal.
Can they afford these players and fit them under the cap?
The short answer is likely no to both. If they could make two external additions to their wings this offseason you could call it a success. The feeling is that Max Domi and Henrik Samuelsson will also get long looks in training camp. That would be adding four skilled players to their lineup which would greatly help their playoff chances.