Logan Halladay THW Close-Up:
Team: Janesville Jets/Bloomington Thunder
Date of Birth: 08/17/1996
Place of Birth: Cary, North Carolina
Ht: 6' 0.5″     Wt:  188 lbs
Catches: Left
Position: Goalie
NHL Draft Eligibility: 2014
Twitter: @LogyHallo
THW Ranking: 127
Other Rankings:
ISS: N/A
CSS (North American Goalies): 16
Future Considerations: N/R
Craig Button: N/R
***
*Check out THW's 2014 NHL Draft Guide, your quintessential draft resource*
***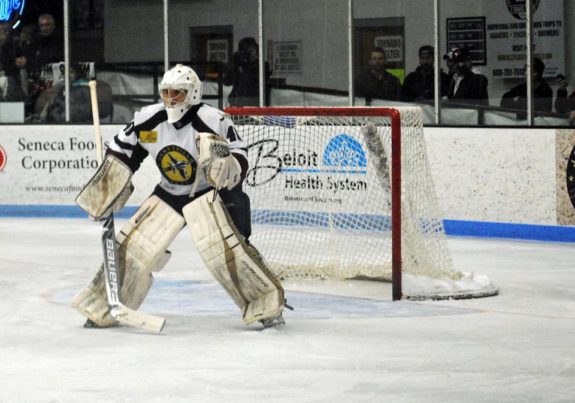 Work Ethic Is The Name Of The Game
While many might not have expected Logan Halladay to rise CSS's final rankings in the fashion that he did, the goalie definitely surprised many scouts and scouting services when he finished with the sixteenth overall ranking out of North American netminders on the Central Scouting Service's list. As a member of the Janesville Jets, Halladay made a name for himself by appearing in 31 NAHL (North American Hockey League) games and registering a 2.26 GAA and .932 Save Percentage.
Hailing from North Carolina, Halladay started to play the game of hockey from a young age as his brother, a forward, needed someone to shoot on. The rest of Halladay's ascension up until this point in time of his young hockey career can be seen as history, but that would also be conveniently ignoring how such an individual persevered in order to get what they desire and want.
Playing with the Carolina Jr. Hurricanes, Halladay put himself on the map by having a very respectable nine-game stint in Midget hockey. After moving on the USHL and HPHL for the 2012-2013 hockey season, Halladay would undoubtedly face one of the biggest challenges in his young career as he played on a team that was ravaged by injuries – something that more than likely made Halladay's time on the ice more challenging as his team wasn't able to field a full roster for a considerable amount of time.
Despite the fact that Halladay played on an injury-ravaged team, the youngster's work ethic, determination, and character simply would not let him quit on himself, his teammates, or his coaching staff. Martin Luther King Jr. once said, "The ultimate measure of a man is not where he stands in moments of comfort and convenience, but where he stands at times of challenge and controversy." Gritting out a challenging season while maintaining a positive attitude for himself and his team, Halladay embodied the very nature of Dr. King's belief – and that is certainly something that NHL teams will be looking for at the NHL Draft.
Possessing good leadership qualities and providing a calming presence for everyone around him, Halladay has lots of intangible assets that simply cannot be taught to an individual. With a maturity level far beyond his 17 years of age, it is no surprise that Halladay has grown up the way that he has and has understood the depth of his experiences leading up to the 2014 NHL Entry Draft.
With Halladay's work ethic being second to none, NHL teams looking to draft the goalie could expect to receive an individual that is not only eager to learn, but one that completely understands the team aspect of the game of hockey. Having raw athleticism, a steadying presence, great puck-handling abilities, and puck-tracking skills, Halladay definitely has the talent necessary to be a starting goaltender in the NHL one day, but when it comes down to being drafted, Halladay's demeanor and mental acuity will be the traits that set him apart from many of the netminders in his draft class.
Scout's Honour:
"One of Logan's main strengths is his puck-moving ability. He maintains a calm demeanor while making passes and does not look frantic when the puck is on his stick. He keeps his head up and makes good decisions. Other main strengths for Logan included his work ethic, his ability to display leadership qualities, and his focus. He is an excellent battling goalie and never gives up on a play, even if it includes an extreme stretch. Halladay displayed a strong sense of puck awareness. He not only tracked shots well into and off of his body, but he consistently made subtle glances off the puck to locate other scoring threats and back-door plays. Logan got better each and every day during the camp. I thought he moved with a real purpose and willed pucks out of the net at times. He was fierce and unflappable against the best shooters in the camp. But I think he needs to dial back the intensity just a little bit, because it often caused him to over-react, appear uncontrolled, and sometimes lose his net and angles. Goalies with raw skills and solid athleticism always need to work on having that perfect balance of positioning, and I think that's how Logan will really take the next step in his development."
– Justin Goldman via TheGoalieGuild.com
"It is no secret Red Line has been fans of Janesville Jets goalie Logan Halladay. We made him a player of note back in September, and all he has done since being given the keys to the starting job is put a stranglehold on it, and establish himself as this season's preeminent prospect to watch out of the North American Hockey League."
– Kyle Woodlief via USAToday.com
"A 6-foot-2 netminder who excels at playing the puck and reacts quickly in his crease, Halladay has been a standout for the North American League's Janesville Jets. Rocking a 2.26 goals-against average and .932 save percentage, he is slated to join the Golden Gophers in 2016-17, after current star netminder Adam Wilcox has graduated. Halladay is eligible for the NHL draft this summer."
– Ryan Kennedy via TheHockeyNews.com
"Lean North Carolina born hybrid goalie who took over as the jets top goaler and had a stretch where he gave up thirteen goals in nine games and had an 8 – 0 winning streak. Displays an active stick, poise, and good skills but still has along way to go to fine tune handling the puck, and taking the correct angles."
– Bill Placzek via DraftSite.com
Where He'll End Up In June:
Halladay has a good chance to be drafted in the mid-to-late stages of the NHL Entry Draft.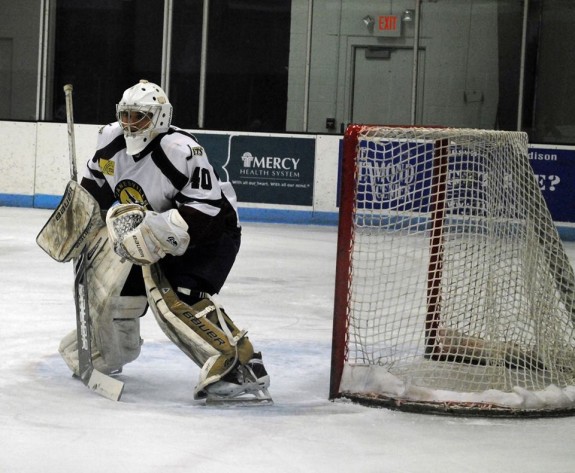 Statistics:
Bio/Interviews:
International Tournaments:
Halladay has represented Team USA on the international stage as he competed in the Youth Olympic Games during the '11-'12 hockey season.
NHL ETA:
Risk/Reward Analysis:
Risk: 2/5 Reward: 3.5-4/5
NHL Potential:
Number one starting goaltender.
Strengths:
Work ethic.
Puck tracking skills.
Puck-handling abilities.
Calm, collected, and poised.
Leadership.
Athleticism.
Confidence.
Mental toughness.
Flaws/Aspects He Needs to Work On:
Rebound control.
Positioning.
Fantasy Potential:
Video(s):
** THW's The Next Ones prospect profile template design architect: Chris Ralph