Earlier this week, the Hockey Hall of Fame opened its doors to four outstanding players. Peter Forsberg, Dominik Hasek, Mike Modano, and Rob Blake were outstanding players and the easy four selections. The late, great coach Pat Burns was also finally inducted. However, their induction came at the expense of first-time nominee Chris Osgood. By no means should Osgood have been inducted ahead of any of those four guys, but he is without a doubt deserving of a nomination. Most people attribute Osgood's success to the fact that he got to play for the Detroit Red Wings at the peak of their powers, but fail to use that same argument for guys like Martin Brodeur, Grant Fuhr, or Ken Dryden. Take a look at the numbers and argument below and see if you still don't believe that Chris Osgood belongs in the Hall of Fame.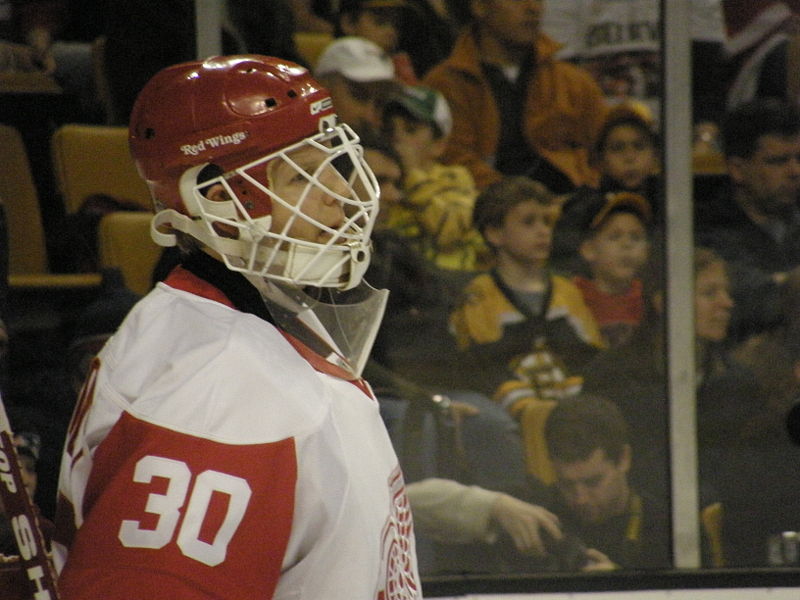 Osgood's Wins
First things first, Osgood is one of 10 goaltenders in the history of the NHL, which dates back to 1917, with 400 wins. Only one other goaltender in the 400-win club is not in the Hall of Fame and that's Curtis Joseph (let's be real, Brodeur will be a slam-dunk). 400 wins as a goaltender speaks to sustained success over the duration of your career. However, this is the statistic that most people point to as suggesting that Osgood rode the coattails of the Detroit Red Wings machine. Sure Osgood recorded 317 of his wins with Detroit. But Brodeur has recorded all 600+ of his wins with the New Jersey Devils. Their trap defensive system limited the number and quality of shots he faced for a long period of time. It also helps when you play behind defensemen Scott Stevens, Scott Niedermayer, and Brian Rafalaski for a significant part of your career. For some reason we don't hold that against Brodeur, but we always point out that Osgood got to play in Detroit with Nicklas Lidstrom, Chris Chelios, and Vladimir Konstantinov. For the record, Chris Osgood went 49-39-10 with the NEW YORK ISLANDERS, and TOOK THEM TO THE PLAYOFFS. The man won everywhere he went.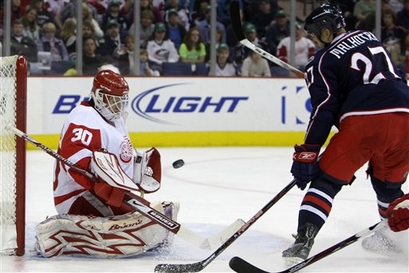 Osgood's Playoff Performance
Take a look at this anonymous goalie comparison looking at playoff stats. I'm going to compile the three best playoff seasons for each of these goaltenders and in parenthesis will be their career playoff stats and I'll let you be the judge:
Goaltender A: 71.4% winning percentage, 1.91 GAA, .924 SV%, 7 SO, 2 Stanley Cups (57.3% winning percentage, 2.09 GAA, .916 SV%, 15 SO, 3 Stanley Cups)
Goaltender B: 73.8% winning percentage, 1.97 GAA, .926 SV%, 7 SO, 3 Stanley Cups (61.1% winning percentage, 2.30 GAA, .918 SV%, 23 SO, 3 Stanley Cups)
Goaltender C: 71.6% winning percentage, 1.64 GAA, .930 SV%, 12 SO, 3 Stanley Cups (55.1% winning percentage, 2.02 GAA, .919 SV%, 24 SO, 3 Stanley Cups)
Goaltender D: 68.4% winning percentage, 1.87 GAA, .932 SV%, 9 SO (54.6% winning percentage, 2.02 GAA, .925 SV%, 14 SO, 2 Stanley Cups)
All four of these guys seem to be well in range with one another. You wouldn't say that one of them truly stood out from the pack over the others. So who are these anonymous guys? Goaltender A is Osgood, B is Patrick Roy, C, is Martin Brodeur, and D is Dominik Hasek, the four goalies that people should remember from the late 1990's and early 2000's. You can easily see that whether I compare them at their best or over their careers, their playoff numbers are extremely similar. All Osgood and the other did was win. Only Hasek did not benefit from playing on a stacked team for his entire career. It's not fair to hold that against Osgood when you can see that he posts similar numbers to Brodeur and Roy. When it came to the playoffs, he took his game to another level.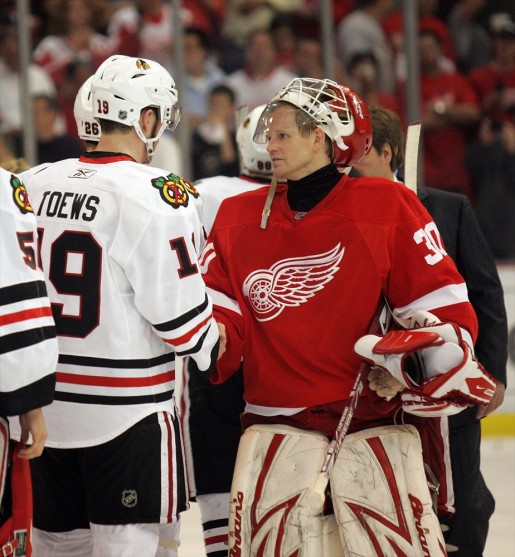 The Wonderful Wizard of Oz
On an individual level, Osgood's numbers always got better in the playoffs. For his career, he ranks 8th in playoff wins, ahead of guys like Hasek, Terry Sawchuk, and Jacques Plante. Of the guys in the top-8 in terms of playoff wins, he has the 5th best win percentage. According to quanthockey, if you look at guys who have played more than 100 playoff games, his playoff GAA of 2.09 ranks 4th all-time. His SV% of .915% would rank 6th all-time. Going back to all goaltenders, his 15 playoff shutouts are the 4th most all-time. If I told you that the goalie that ranked in the top-10 in playoff wins and save percentage, and in the top-5 in win percentage, GAA, and shutouts, you would easily say he belonged in the Hall of Fame. You are talking about one of the best playoff goaltenders of all-time with numbers like that.
Sure Osgood doesn't have the accolades that Brodeur, Roy, or Hasek have. He's not a Vezina trophy winner like the other three. He's not a Conn Smythe winner like Roy. He's not a Hart Trophy winner like Hasek. Osgood is plain and simple a winner. Every season he played in the NHL, his team made the playoffs. He's posted one of the single greatest regular season records (1995-1996, 39-6-5, 2.17 GAA, .911 SV%) and playoff runs (2007-2008, 14-4, 1.55 GAA, .930 SV%). He's one of the few goalies in NHL history to score a goal. He fought Patrick Roy and spurred the Wings on to their 2nd straight championship in 1998. There's no way he doesn't belong in the Hall of Fame. He's one of the most under-appreciated players in the history of the NHL and it's time that we finally recognize what he's accomplished.