The Florida Panthers are coming off one of the best seasons in team history, winning the Atlantic Division with 103 points(a franchise record). Led by the legendary Jaromir Jagr and a plethora of young talent, the Panthers are now a very real threat in the east. There were individual breakout seasons left and right, so all is going pretty well in sunny Florida.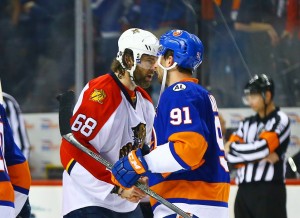 Just getting beat out by the New York Islanders in the first round of the playoffs, the Panthers are entering this new year with some extra motivation, as they felt they should've had a better showing. Now with their core signed and new players brought in, they are expecting to improve on what was an amazing season that ended sooner than anticipated.
The offseason mission was to possess more team speed, which kept management busy indeed, but they seemed to have targeted and acquired who they wanted exactly.
Florida signed two of the most highly coveted defenseman in Jason Demers and Keith Yandle, while making trades to acquire Jarred McCann and Mark Pysyk. The biggest move not physically seen is the offloading of Dave Bolland's massive contract to the Arizona Coyotes, granted it did cost them a top prospect in Lawson Crouse, but you must give in order to get.
Florida had a wonderful year overall, and now they need to prove it was no fluke. So let's see how the new 2016-17 season is starting to take shape!
Team 2015-16 Record:  47-26-9 (1st in the Atlantic Division)
Offseason Moves
Key Roster Additions:
Keith Yandle
Jason Demers
Jared McCann
Mark Pysyk
Key Roster Losses:
Eric Gudbranson
Dmitry Kulikov
Brian Campbell
Lawson Crouse
Jiri Hudler
Brandon Pirri
Key Organization Changes:
Tom Rowe(previous assistant GM) becomes the new General Manager.
Eric Joyce along with Steve Werier named as the new Assistant General Managers.
Dale Tallon is promoted to President of Hockey Operations.
Springfield Thunderbirds named as the new AHL affiliate.
Last but not least, fresh new logo and uniforms!
Forwards:
Projected Lines:
Huberdeau – Barkov – Jagr
Jokinen – Trocheck – Smith
McCann – Bjugstad – Marchessault/Sceviour
Thornton/Rau – MacKenzie – Sceviour/Marchessault
Aleksander Barkov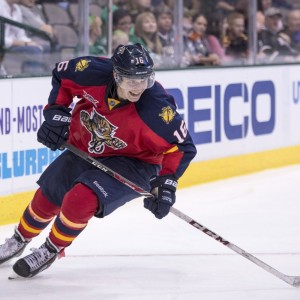 Barkov is the glue to this forward group and the Panthers' young core, when he's going, the rest of the team is usually following suit. He's integral to that first line center role, and the chemistry he has created with line-mates Jagr and Jonathan Huberdeau has made that trio among the very best in the NHL.
Barkov put up career high numbers last season, and will want to improve on that even more during this campaign. If that does happen, and Barkov takes his game to that next level as soon as this year, the rest of the east, especially the Atlantic Division, will not be looking forward to matching up against the big Finn. It's hard enough already, and he's only 21 years young!
Barkov is coming off a disappointing World Cup showing with Finland, and is probably wanting to get back into top gear for the Cats as soon as possible. Scoring 59 points in 66 games for the Panthers last season, if Barkov stays healthy and keeps improving, he could easily land at a point per game pace.
Jonathan Huberdeau
Huberdeau is coming off his best ever season in the NHL, points wise, notching 59 in total. He just needs to continue on "Huby Dooby" doing what he has been, and that's to be consistent in his game while growing each year as a player.
For being a top-line left-winger, he is a very underrated player, he's not out-of-place there whatsoever, and should provide sixty points on a yearly basis. Huberdeau is a key cog of the Panthers young core at just 23 years old, as evidenced by his new six-year $35.4 million contract, which could end up as a steal. He has great chemistry out on the ice with Barkov, and it's awesome to watch that top line go to work, they have a Sedin-like knowledge for where each other will be at any given moment.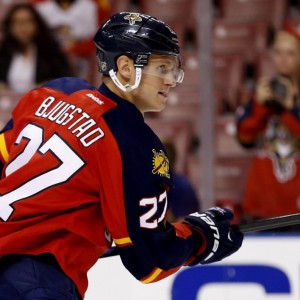 Nick Bjugstad
Now fully healthy, the big Nick Bjugstad should see continued success on the second line with Jussi Jokinen and Reilly Smith. He seemed to take a bit of a step back last year so we'll be hoping for a bounce-back of sorts from Bjugstad. He has the potential to be a 50 point power forward in todays NHL, but that injury bug needs to go for that to come to fruition.
Florida will be counting on Bjugstad to start becoming a more consistent player, if he does, the Panthers could have a very strong forward group, especially down the middle. Not only is he skilled with the puck, he's a massive body that is very difficult to control out on the ice. When everything comes together for this kid, it'll be fantastic to watch game in, game out.
Bjugstad is yet another reason Florida is becoming a much better team and enjoying recent success.
Defense:
Projected Pairings:
Yandle – Ekblad
Petrovic/Matheson – Demers
Kindl – Matheson/Petrovic/Pysyk/Kampfer
There will no doubt be some intriguing battles going on as we speak on that back-end. Specifically where do Mark Pysyk, Steven Kampfer, and Jakub Kindl fit into the equation? Does Michael Matheson make the team right out of camp(I say yes), and will they stick with seven or eight defenseman on their NHL roster?
Aaron Ekblad
Ekblad is arguably the best young defenseman in todays NHL, and he was rewarded for that with a huge eight-year, $60 million contract. When he got injured during the World Cup for Team North America, everyone held their breath. Luckily it isn't too serious, but still concerning due to his past concussions.
Ekblad is so highly thought of, he is a heavy favorite to become the next captain of the team. He was named an alternate captain for Team North America and wore it extremely well by all accounts. If Florida wants to go young with their choice of captain, Ekblad is the obvious decision.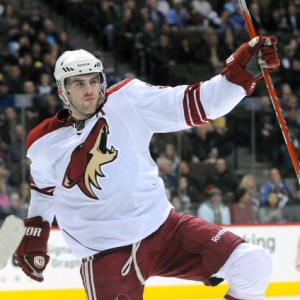 Whether he gets the captaincy or not doesn't matter, what matters is that he stays healthy and just keeps playing. The kid oozes talent all over the ice and should become an absolute monster on the Cats defense for many years to come.
Keith Yandle
Signed to a long-term deal worth $44.5 million, Keith Yandle was snatched up by the Cats, taking one of the premiere defenseman off the market. Known mostly for his offensive prowess, Yandle is a solid top 4 defender who will help quarterback the Panthers power play.
Yandle consistently puts up big numbers from the back-end, and fits what Florida was after in becoming a faster team overall. Yandle has been notching close to fifty points per season(surpassing it twice) and there's no reason that number should drop off.
Jason Demers
The biggest unknown to most Panthers fans would be the newly acquired Jason Demers. Since he's played all of his NHL career out west with the San Jose Sharks and Dallas Stars respectively, fans in South Florida were not too familiar with the name, perhaps until last season's Stanley Cup playoffs.
Demers should prove to be a wonderful signing for the Panthers. As is the case with Yandle, Demers provides the Panthers with much more mobility to transition the play quicker and cleaner. He is also capable of logging big minutes against opponents' top lines.
Goaltending:
Roberto Luongo
James Reimer
It's been a busy (and fun!) offseason.

Here's a behind-the-scenes look at how it went down! ? https://t.co/npGAQWVqRz

— Florida Panthers (@FlaPanthers) August 31, 2016
Breakout Player:
Michael Matheson
Matheson was drafted twenty-third overall in the 2012 draft, and is coming off his first professional hockey season, playing mostly in the AHL for the Portland Pirates, and several games for the Panthers as well. Prior to that, he spent 3 years at Boston College, and captained the team in 2014-15.
No doubt about it, Matheson will impress many this year. He already gained some valuable playoff experience last season and was not at all out-of-place. He will be a big time gamer for the Panthers, and perhaps a perfect player to slot next to Ekblad or Demers as soon as this season.
Player with Most to Prove:
Vincent Trocheck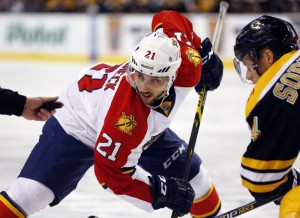 Coming off a successful year in which Trocheck played his first full NHL season, he was among the group of youngsters the Panthers signed long-term this off-season. He was signed to a six-year, $28.5 million contract.
Does a fifty point player in todays NHL deserve that much money? Absolutely, especially when you factor in his great penalty killing on top of all the intangibles. Though some may say it was too much too soon for Trocheck who only has one nice season under his belt. Obviously the idea behind locking him up this offseason is that you expect him to improve, and turn the contract from a decent deal now, into a future bargain.
Trocheck recently received valuable experience at the World Cup in Toronto, playing mostly on the 4th line, however playing a major role on Team North America's penalty killing unit. He has so much passion out there, he'll be eagerly waiting for opening night to start showing he is worth the money, and then some.
First Players in the 'Call-Up' Line:
Jayce Hawryluk
Selected in the second round, 32nd overall in 2014, Hawryluk has risen to the top of the Panthers prospect pool. He spent last season in the WHL with the Brandon Wheat Kings, exploding for 79 points in just 49 games, helping them capture the Ed Chynoweth Cup. In three seasons with the Wheat Kings, Hawryluk posted 251 points in 233 games.
During the offseason he signed his first entry-level contract, and if it weren't for his broken hand suffered during a pre-season exhibition game, he'd probably still be trying to make the big boy squad. Hawryluk can play center or wing, which raises his chances of a call-up even more so.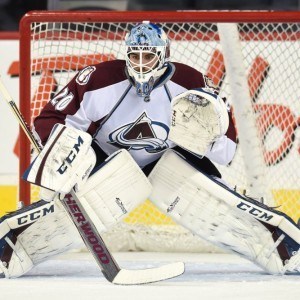 For someone his size, he's extremely pesky and physical and that's not going to go away. He combines that with his offensive gifts into one enticing package. He'll have to be patient and hone his game in the AHL for a bit, if he does well, expect to see him in the new Panthers uniform sooner than later.
Reto Berra
Berra was acquired in a trade that sent forward Rocco Grimaldi to the Colorado Avalanche in exchange for the Swiss net-minder. With Roberto Luongo just getting back to full fitness, and newly signed James Reimer backing him up, Berra will most certainly start with the AHL's Springfield Thunderbirds.
Though if there is ever any unfortunate injury during the course of the new season to either Luongo or Reimer, Berra will be right there waiting for his chance to play in the NHL again. He's a great guy to have, knows his role, and on his day, can completely take control of the crease.
Season Outlook:
Florida made some bold moves along with a couple big money signings, and right now it's looking quite nice for them. This is a huge year for the entire team, but even more so for the young core under the age of twenty-five who signed those big contracts. The Panthers believe in them and so do the fans, time to put in some hard work.
It's going to be extremely difficult to maintain that Atlantic Division title as everyone will be gunning for them, but it's absolutely a goal the players should still have. They set out to become a faster team, it looks like that has been accomplished, now let's see if it translates to on-ice success in Sunrise, I certainly believe it will.
Look out for the Cats, as well as the rats!
http://gty.im/508072240
Team 2016-17 Record Prediction:  45-30-7 (2nd in the Atlantic Division)
What do you think Cats fans? Make sure to comment below, you can also find us on the THW Twitter feed or Facebook page!