The Florida Panthers have fulfilled their top organizational priority, extending captain Aleksander Barkov for eight years and $80 million.
Getting the 26-year-old No. 1 center signed long-term was a must for the Panthers, who could have lost the second overall pick in the 2013 NHL Draft to unrestricted free agency after the 2021-22 season.
Barkov has developed into a franchise player over the past four seasons, totaling 294 points in 277 games. He posted career bests of 35 goals, 61 assists and 82 games in 2018-19, and he put up 58 points in 50 games during the shortened 2020-21 season. He has 465 points in 529 career NHL contests.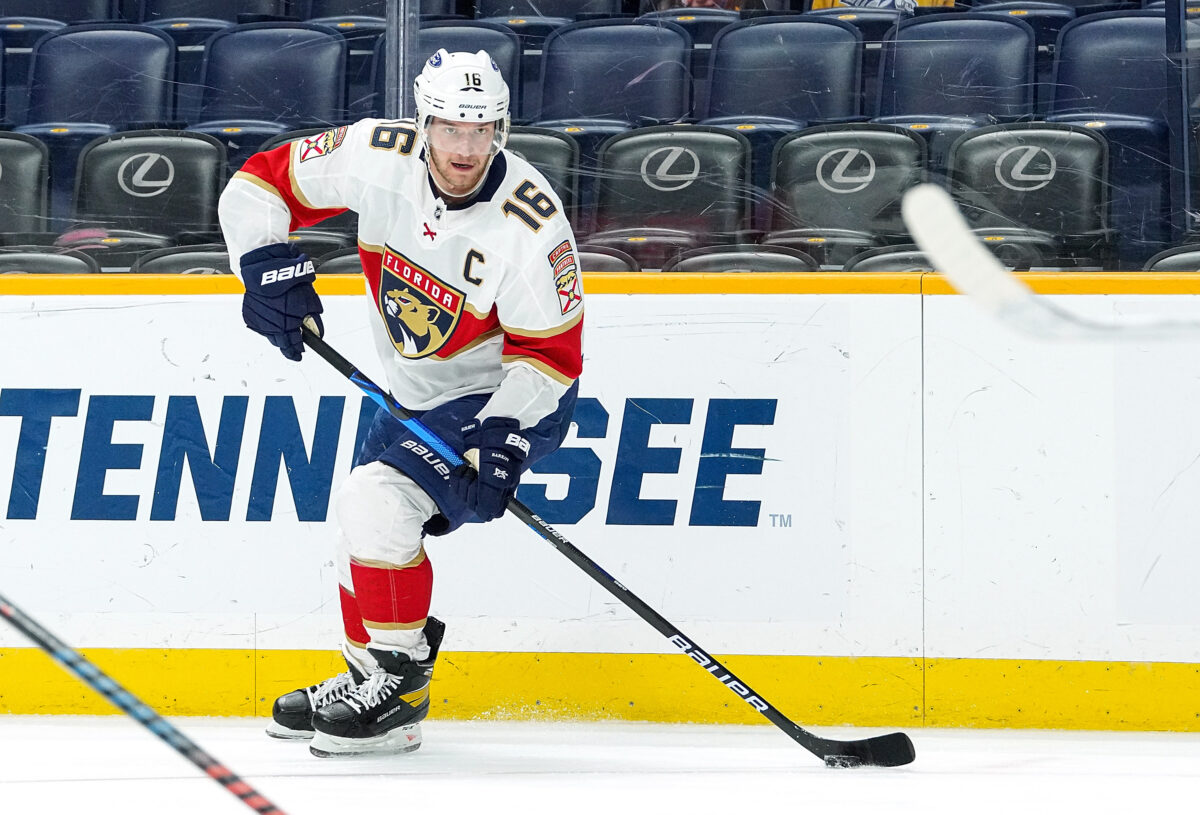 Florida has made the playoffs the past two seasons and gave the eventual Stanley Cup champion Tampa Bay Lightning a battle in the opening round last season before falling in six games. The 6-foot-3, 215-pound Barkov recorded a goal and six assists in the series.
Related: Panthers 2020-21 Report Card: Aleksander Barkov
Named captain in 2018, Barkov is the face of the team, and allowing him to leave would have sent a devastating message to Panthers fans about the club's desire to compete. Now, Florida has Barkov locked up long-term, joining fellow young star forwards Jonathan Huberdeau (signed through 2022-23) and Sam Reinhart (through '23-'24) along with defenseman Aaron Ekblad ('24-'25) as it looks to make strides in the highly competitive Atlantic Division and deep playoff runs.
"I'm really happy to stay here for a long time," Barkov said. "Now the work starts again."
Goaltender Sergei Bobrovsky, who like Barkov carries a $10 million salary-cap hit, is signed through 2025-26, and the Panthers are led by three-time Stanley Cup-winning coach Joel Quenneville.
Panthers Forced to Ante Up to Keep Barkov In the Fold
Barkov, who will complete a $35.4 million, six-year contract this season, gets the 12th NHL contract worth at least $80 million. The average annual value of the new deal represents a slight discount for team and player, both of whom wanted to continue the relationship. Barkov's AAV is only tied for 11th in the NHL, a figure that he certainly would have exceeded on the open market, though the Panthers were allowed to offer him the maximum eight-year term. He could have only signed for seven with another team.
"Over his past eight years in South Florida, Sasha has demonstrated his leadership, character and elite playmaking ability, cementing himself as one of the best all-around players in hockey," Panthers general manager Bill Zito said. "He has earned the respect of the hockey community through work ethic and a team-first attitude. Most importantly, he is a tremendous person, athlete and friend and we are thrilled to secure Sasha as our leader on and off the ice for the next eight years."
The Panthers are left with less than $500,000 in cap space this season after the Barkov extension and only about $3.6 million for 2022-23, but the team is projected to have around $28 million the following season. That will be critical if they want to re-sign Huberdeau, who could command an AAV similar to Barkov's at that point, along with several other up-and-coming young players.
Barkov, who won his first Selke Trophy as the league's top defensive forward in 2020-21, generated a 58.9 Corsi for percentage last season and a 60.9 expected goals for, the Panthers generating 373 scoring chances to 247 for opponents when he was on the ice. Florida also posted a whopping 151-94 edge in high-danger chances with Barkov on.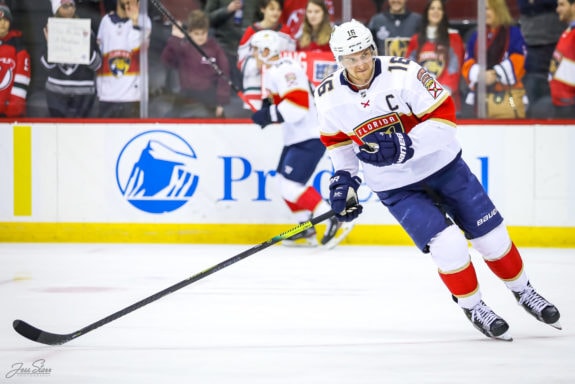 The native of Tampere, Finland is also a dominant presence in the faceoff circle, posting a 54.9 percent win rate – the fourth consecutive season in which he improved that number – and plays key minutes on the Panthers' penalty kill.
---
Latest News & Highlights
---