Sean Bergenheim is considered a top-six forward in the Florida Panthers' system and has been sidelined with multiple injuries for approximately 18 months.
Bergenheim has not seen NHL action for quite some time, and after signing a four –year $11 million contract after during the 2011 summer, he has some serious ground to make up.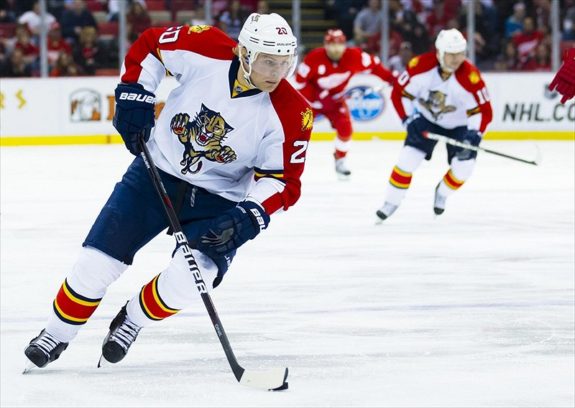 Bergenheim's time off did not go without team quarrels. Following the lockout in January, the Panthers suspended Bergenheim without pay, believing that his injuries were sustained while playing elsewhere.
He was initially injured during the Panthers' playoff run prior to the lockout and by proving this, Bergenheim won two injury grievances, earning him his total salary for the year.
On Monday, Bergenheim was able to practice but did not last very long. In any case, this is a good sign for the Panthers, who could really use the helping hand.
Bergenheim has scored 132 points (71 goals, 61 assists) in 388 career NHL games.  He is also a career minus-20, but playing for the New York Islanders, Tampa Bay Lightning and Florida Panthers, this total is actually not that bad. On top of that, he also has 17 points (12 goals, 5 assists) in 23 career playoff games, proving he can play on the big stage.
Moving forward, Bergenheim will be a solid boost for the Panthers when he returns. However, there will always be injury questions surrounding him, especially when he has only surpassed the 70-game mark twice.
Head coach Kevin Dineen has been very open about Bergenheim's injuries and extended time away from the NHL. Here is what Dineen said to the Florida-based news outlet the Sun-Sentinel.
                "I'm worried about his career. I worry about him as a player. It's been an extremely long time off. I understand it's an extremely hard game we play. He's not a good player unless he's physically involved in the game and he's active. He can't feel his way into the NHL. That just can't happen. He's got to come back, feeling good about himself, understanding, you know what, there are guys in here that have bumps and bruises, and are playing hurt every night. You're not going to feel 100 percent playing." – Dineen
Clearly, coach Dineen wants Bergenheim to get tougher and play through some injuries. Furthermore, Dineen also seems concerned with how good Bergenheim will be after so much time away from the ice. These are both very relevant concerns and will surely play a part in Bergenheim's role moving forward.
Away from the injuries, Bergenheim has been a good player for the Panthers, helping the team break a long-standing playoff drought two seasons ago. He was also the leading scorer against the New Jersey Devils in the first round, who later went on to represent the Eastern Conference in the Stanley Cup finals.
If Bergenheim sustains another injury after his return, it will be interesting to see how Dineen reacts. It would not be far-fetched to think he may lose complete patience and faith in the Finnish forward. With the Olympics around the corner, Bergenheim will want to come out as healthy as possible and ready to produce.
If he fails to do so, Bergenheim may have to kiss his top-six role with the Panthers and his chance at the Olympics goodbye.
The NHL regular season schedule was released on Friday. Check out our partners at TiqIQ for the best deals on Florida Panthers tickets for all 2013-14 games.