Big surprise here: a bold and highly contentious acquisition made by the Philadelphia Flyers appears to be biting them, again.
The culprit this time? 35-year-old defenseman Mark Streit. The sample size of just his first eight games makes this "overpaid" idea perhaps a jump to conclusions, but the early indications of on-ice play are not rosy for Streit.
The Flyers acquired the Swiss-born defenseman in June and promptly signed him to a four-year, $21 million contract. At first glance, the idea of four years for a 35-year-old player made many Flyers fans and Philadelphia media members bat a confused eye, especially with the glaring $5.25 million cap hit he brings.
Mark Streit gets four years, $21 million from Flyers. Seems a lot to me for a) an older player, on b) a team with salary cap issues.

— Glen Macnow (@RealGlenMacnow) June 17, 2013
Streit Further Complicated Flyers' Cap Woes
In true Philadelphia fashion, the onus was put on retooling, never rebuilding, and to general manager Paul Holmgren, Streit was the puck-moving, offensive minded defenseman the Flyers lacked.
While the prior statement is not completely false (the Flyers' best puck mover, Kimmo Timonen, has begun to tail off in the later years of his career), it does not exactly serve the future well to have a 35-year-old on the books for four years. Worse yet, with the buyouts of both Danny Briere and Ilya Bryzgalov, the Flyers are stuck with Streit regardless of performance for at least two seasons.
With the exception of youthful Luke Schenn (who is still a $3.6 million hit), the entire Flyers' blue line is a train wreck of ridiculous contracts to older players. The suddenly often-injured Nicklas Grossmann is slated to have a cap hit of $3.5 million the next three seasons including this one, while Braydon Coburn registers a $4.5 million blow those same three years. Perhaps most absurdly, Timonen, at age 38, is docking the Flyers $6 million in cap hit funds in what could very well be his final NHL season.
If you include recent healthy scratch Andrej Meszaros, who is on the last year of his contract with a $4 million hit, the top six defense contributors combine for just shy of $27 million against the available $64.3 million.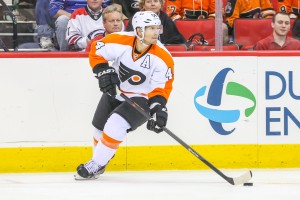 While you get your brain back on track after all the number crunching, it is fair to say the Flyers have badly hemmed themselves in against the cap from the back end.
The already troubled blue line situation in terms of both cap hits and production on the ice was only worsened by Streit's contract.
The Steady Streit Slump
Streit gained attention around the league following a sensational campaign in 2007-2008 where he tallied 62 points while helping to quarterback one of the most potent power play in the NHL with Montreal.
The Islanders rewarded him with a healthy five-year, $20.5 million deal in the summer of 2008 (note the average annual value was way lower at this stage in his career).
While the Swiss man's first two seasons on the Island were well worth the contract (56 & 49 points respectively), his career took a turn for the worse in 2010. He missed the entire 2010-2011 season with shoulder issues.
Upon his return in the fall of 2011, his offensive game remained relatively unchanged as he tallied 47 points in playing all 82 games. However, his once steady plus/minus numbers dipped into the depths of the NHL. It did not help that he played on a young New York blue line going through its own growing pains, but a combined -41 the last two seasons does not exactly scream "defensive dynamo."
How much of that is to blame on his prior shoulder issues is hard to examine, but as his career reached the twilight stages, Streit clearly is a one-way defenseman, and on a Flyers team that badly needs offense, his measly two points through eight games and -4 rating simply has to change.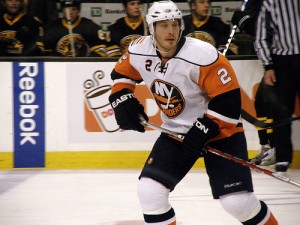 However, the Flyers may have been forced into the decision seeing as how a few of their most NHL-ready defense prospects, Erik Gustafsson and Oliver Lauridsen, among others, are  still nowhere near the level of younger defensive prospects elsewhere in the league.
Streit One of Many Flyers Suffering from Offensive Inabilities
By no means is Streit the sole reason the Flyers are, to put it frankly, awful in the offensive third of the ice. Having yet to score three goals in a game this season, the Flyers and new head coach Craig Berube desperately need to do something to bring about a spark that will light the offense up. Philadelphia fans do not (and should not) buy into this being a poor offensive team, especially with names like Giroux, Voracek, Simmonds, Schenn, and Read on board.
While the offense does need to bear down in the attacking zone, the defense should not go without receiving blame, despite the welcome surprise season for Steve Mason (2.37 GAA, .924 save percentage).
If not for Mason, the Flyers very easily could have lost all eight of their games by three goals or more. They are a soft, slow and inept transition team. Take their loss in Detroit for example:
On Detroit's opening goal, Niklas Kronwall goes into the boards against Grossmann, who some say is the Flyers' most physical defenseman. Grossmann rides him into the wall, but in the meantime, Coburn has rotated the same direction to pick up an incoming Red Wing forward. Two Flyers' D-men are now within three feet of one another, and Todd Bertuzzi finds the soft spot for a gift goal on the wraparound.
Late in the third, (at 2:28 of the video) it is Streit who finds himself at the epicenter of a Flyers' faux-pas. On a slow developing rush, Pavel Datsyuk works the puck out of his skates. Admittedly, it is unrealistic to tell a defenseman to pressure and attempt to check arguably the best puck handler in the world. However, what Streit does so terribly on this play is back in almost beyond the faceoff dots and leave the centering pass to Henrik Zetterberg wide open.
Certainly, Claude Giroux should be doing a better job defending Zetterberg as well, but both players' soft plays led to the icing-on-the-cake marker in a Detroit victory.
Sadly, those are just two of the countless examples of a Flyers defense that finds itself hemmed in and playing from behind on a nightly basis.
If Streit and the Flyers' defense plays the game in its own territory as much as it has through the first eight games, it might be a long remainder of the season for the Philadelphia faithful, a crowd that is known to have a very short fuse.
Ryan Smith is a proud graduate of Penn State University, having attained a degree in broadcast journalism. His experience in hockey is extensive, having covered PSU Men's ice hockey for USCHO.com as an Arena Reporter for its first NCAA season in 2012-2013 while also serving as Penn State Athletics' voice of women's ice hockey home games. He was also the sports director for Penn State's ComRadio, a student based radio station endorsed by the College of Communications. In that position, he broadcasted Penn State hockey since for four years. He can be followed on Twitter @RyanSmithHockey.