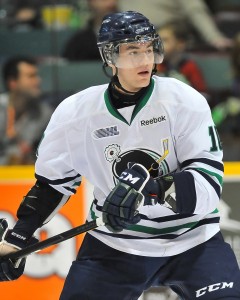 The Washington Capitals have elected to keep 19-year-old rookie right wing Tom Wilson past the 10-game mark, meaning this season will count against his entry-level contract. In doing so, General Manager George McPhee and Head Coach Adam Oates have chosen to develop the rugged and skilled Toronto-born forward on the big club instead of having him play at the junior level in the Ontario Hockey League for the Plymouth, Michigan Whalers.
The Caps made the right move keeping the 6-foot-4, 210-pound Wilson, who was drafted 16th overall in 2012.
While Wilson is only averaging fewer than seven minutes of ice time through the first seven games of the season, there is simply nowhere else for Wilson to go. I saw him play twice at the Caps practice facility this offseason at development camp and in a rookie game against the Flyers and Wilson is a man among boys. He shows an awareness and confidence well beyond his years. He has a lot to learn in the NHL and he is ready for the challenge. Even with the limited ice time, Wilson is gaining invaluable knowledge just being around Caps players and the coaching staff.
"I like to think I'm learning every day I come in here," Wilson told Washington Post Caps beat writer Katie Carrera. "I've learned how to play at the junior level, I've spent three years there. I know where the goalies are, how long it takes for them to come across and stuff like that. Now I'm learning those details at this level."
There is no doubt Wilson will jump at the opportunity to get top line minutes should an injury necessitate a move. More importantly, Wilson will spend the season bonding with his teammates and whenever the time comes for Wilson to get big time minutes, it will be exciting for Caps fans to see what Wilson is capable of.