Another week has passed, and yet again the best and worst of the National Hockey League have been put on display. A goaltender's goal, a star player, and some sweet revenge round out the top moments of the week, while an odd tally and some scary hits were the lower points of the past seven days. Here's the "Hot and Not" for October 13th-19th:
HOT:
1. Goaltender's Goal
The nature of hockey makes it that it is very easy for different opinions to be formed. Some people like fighting, shootouts, or defensive-minded hockey, while others might hate all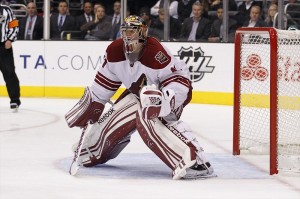 of or any of that three. From philosophies to different players to different teams, hockey fans argue almost everything. However, there is one thing that cannot be argued, which is that every single person loves a goal scored by a goaltender. It's awesome. Often meaningless and either lucky or easy, the image of a netminder launching the puck 200 feet into a gaping net seems so improbable that it's incredible. It has only been a three weeks, but on Saturday we saw a goalie light the lamp.
With 0.1 seconds remaining on the clock, Mike Smith scored a goal to give the Phoenix Coyotes a 5-2 win over the Detroit Red Wings.  It wasn't as pretty as Josh Leivo's, or as important as Olli Maata's, but Smith's first career goal will likely be the most memorable. With the puck rolling over the line with basically no time remaining and the Coyotes' faithful going crazy, Mike Smith's crazy goal is definitely the craziest thing in hockey this week.
2. Sidiculous Playing
It only took until the third week of the NHL season for everyone to be reminded who the league's best player is. Amidst a hot start from Joffrey Lupul, Tomas Hertl, Matt Duchene, or Pavel Datsyuk, Sidney Crosby has once again emerged at the top of his class. In three games this week, Crosby got 8 points, bringing him up to 17 points in 8 games on the season
Every time he's stepped onto the ice this year, Crosby has been a difference maker. Whenever he touches the puck, something seems great seems to happen. Averaging over two points a game, he (unlike many hot starts) is not an aberration. His previous high in points was 120, which was done in his second season. In his past three seasons, he's averaged 1.6, 1.7, and 1.6 points per game, respectively. If he stays healthy, a 130 point season would certainly not be out of the question. It would make Crosby the 41st 130-point season in NHL history, and the first since 1995-96. Sidney Crosby reminded everyone in the past seven days that what he does is special, and more 8 point weeks aren't out of the question.
3. Leafing a Kostly Mark
There are only three things that are certain in life: death, taxes, and former Maple Leafs will come back to haunt their former team. It's inevitable. Regardless of whether they played one game, one season, or five years for the Buds, it is a guarantee that they will make the Leafs regret getting rid of them. Mats Sundin scored the shootout winner in his return. Matt Stajan performed well in a return to Toronto. Even Tyler Seguin, who was never apart of the Toronto organization manages to haunt the Leafs in games. This year, fans were waiting for Grabovski, MacArthur, and Frattin to increase their stats, one former Leaf made his mark on Saturday against the team that released him.
That man was Mike Kostka. After paying his dues in the AHL and playing 35 games with the Maple Leafs, he was signed by the Chicago Blackhawks. In only his second game for the club, he made a massive impact, scoring the eventual game-winner against his former team, propelling the Hawks to a 3-1 victory. What made the play even more special was that it was his first career goal. He might not score many at the pro level, but Kostka's snipe against Toronto will be one of, if not the most satisfying goal of his career.
NOT: 
1&2. Boarding School x2
It was a busy week for the NHL's Department of Player Safety. Most notably, two similar plays generated lots of talk and controversy. The first occurred on Tuesday the 15th, when Max Lapierre hit Dan Boyle from behind into the boards, forcing a stretcher to come onto the ice and cart Boyle off. A similar hit was thrown Thursday, when Cody McLeod crunched Nik Kronwall into the boards, with the same result. Lapierre was suspended 5 games for his hit, while McLeod was given the same amount for his boarding call.
There are few things worse for the NHL's public image than hits like these. Fans love seeing big body checks and players like throwing them, but these outcomes are horrific. In one play, a beloved offensive-defenseman who has a reputation for being tough as nails gets hit. In the other, the man whose hits have become a verb was leveled. Seeing these guys laying motionless on the ice and having a stretcher take them off was frightening. Regardless of whether they may have turned or the makeup of the boards was to blame, seeing the aftermath of those hits was scary, and certainly the worst moments of this week.
3. Bern Notice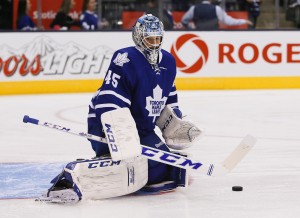 Remember when Jonathan Quick let a gliding puck slide in between his pads from 200 feet away? Or when Roberto Luongo got scored on by his own teammate? These only happened one week ago, and everyone was ready to name them the weirdest goals of the year. But on Thursday against the Carolina Hurricanes, another man put his hat into the ring for worst goal of the season.
That man was golden-boy Jonathan Bernier. The man who was traded to the Maple Leafs in the offseason and proceeded to have a very hot start, let in an incredibly odd goal from behind his own net, when he let the puck slide in between himself and the post,  giving Ron Hainsey the eventual game winner in a 3-2 victory. Very unlucky and somewhat lazy, Bernier's costly mistake won't ultimately overshadow his stellar body of work over the first weeks of the season. Nonetheless, it is certainly one of the lower points of the week, and a forgettable moment for the new Maple Leaf netminder.