Before the season had started the Boston Bruins made a big move in trading the much maligned Tyler Seguin to the Dallas Stars. The biggest name the Bruins received from the Stars was Loui Eriksson, a defensive minded forward. One name people forget that also came over from Dallas could in fact be the biggest surprise for the Bruins this season.
Reilly Smith's name was buried underneath Eriksson's and former Pittsburgh first rounder Joe Morrow, but Chiarelli knew exactly what he was getting. It is akin to a trade he made with the Florida Panthers a few seasons back. The Bruins dealt Dennis Wideman for Nathan Horton and Florida decided to throw in Gregory Campbell. Since Campbell arrived in Boston, he has been a very physical player and one of the toughest players in the league.
In only five games with Boston, Smith has scored five points (one goal, four assists) compared to his seven points in total last season in 37 games in Dallas. He started the season on the third line with Chris Kelly and Jordan Caron, but after a four game point streak and a struggling Brad Marchand, Smith was promoted to the second line with Patrice Bergeron and his former Stars teammate Eriksson.
Head coach Claude Julien said of the Smith and the second line,
"They know each other well, and you can see that even on those two-on-ones when they go together. They can read off each other pretty well so it's obvious that they've been together before, that they know each other a little bit better than we know them."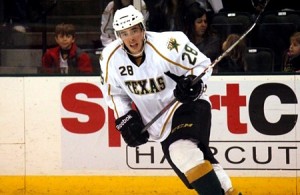 Much to Julien's credit, the new look second line with Smith has worked. The line scored a pivotal third period goal in the third period against the Columbus Blue Jackets and Smith scored the game winner against the Panthers with under a minute to go, Smith's first goal as a Bruin.
Smith's surprising start gives the Bruins much more depth in it's lineup. The Bruins can afford Marchand struggling… for now. Smith has shown that he can handle playing on the second line with Bergeron and Eriksson and it better suits him to stay on that second line.
With more and more playing time, Smith will only get better and become the diamond in the rough for the Boston Bruins. Smith has shown in the past that he can be a goal scorer as well. In his final two seasons with the Miami (OH) Redhawks, Smith scored 58 goals and 14 goals last season with the Texas Stars. However, Smith isn't selfish enough with the puck, an odd thing to say but true. The Bruins coaching staff has said that Smith can be selfish with the puck. Smith has just one game this season with more than one shot on goal, something that he needs to work on.
Many have said that the Bruins gave up on Seguin far too early and now it looks as if the Stars have given up on Reilly Smith too early as well.
What do you think of the early season success of Reilly Smith? Comment below or send me a Tweet, @MarkWGraham
The NHL regular season schedule was released on Friday. Check out our partners at TiqIQ for the best deals on Boston Bruins tickets for all 2013-14 games.
Mark Wallace Graham has been a writer for TheHockeyWriters.com since March 2013. Growing up in New England, Boston Bruins hockey was in my blood. Follow me on Twitter, @MarkWGraham