The Montreal Canadiens are off to a very respectable 5-3 start but now the team is being put to the test because of injuries to a few core players.
I can almost hear GM Marc Bergevin's hair greying. Hey could be worse… at least it's not receding!!
Injuries are a part of hockey that all teams have to deal with at some point during a regular season. That's what happens when you play a physical sport. It's par for the course for hockey players to grit it out and play with an injury… or two.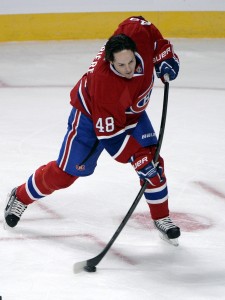 The Canadiens though have had their fair share right from the get-go this year.
Luck and conditioning play major factors – as well as perseverance. We know how tough and resilient Max Pacioretty has been over the last few seasons since he was pushed into the turnbuckle by Zdeno Chara. And now this season, a new personal challenge: a strained hamstring.
The Habs are seven bodies short when you add Pacioretty to the already wounded Emelin, Drewiske, Murray, Parros, Brière, and now Prust.
Makes for a busy time in Montreal's health clinic.
The loss of Brière could be a blessing in disguise for the Habs if someone can come in and make things happen offensively. Because Brière certainly was not. From where I sit, ol' Danny boy looks slow and hasn't brought much thrust to the team so far.
Yes, he tends to be a slow starter. Yes, he's known to be a playoff performer. But if the team doesn't get to the playoffs, he'll never get the chance to show us what he can do in the second season.
I'm quickly reminded about what Vincent Lecavellier said about his own game this year — his first with the Flyers after being bought out by the Lightning. He's no longer a player who can make things happen off the rush. He's lost a step. His game is now a cycle game — one where he can use his great passing and shooting skills but only once the offensive zone is gained.
Danny Brière looks to be very much in the same situation. He just doesn't look like he can keep up with the pace of the game anymore. Maybe he's nursing another mystery ailment?

With Loss Comes Opportunity
Of course with loss comes opportunity and so now the healthy, active players get to practice their "time to step up" routines.
And it's an opportunity for us to see how deep the Canadiens are. For now, Montreal's management are content to look to what Hamilton Bulldogs call-ups Michael Blunden and Patrick Holland can do for the team. Blunden has had his chances over the last few seasons but has to yet to stick with the big club. But he does bring an added level of grit to the squad – something lost in spades with Prust out of the lineup.
Louis Leblanc looks to be playing his way out of the organization – another first round pick gone south (figuratively, but quite possibly literally sometime soon). Granted, last year's high ankle sprain was a huge setback and a difficult injury to recover from. But this year in training camp and the preseason, he just didn't bring enough to the table to make the Canadiens take a chance on him to open the season.
Patrick Holland on the other hand gets his first real chance at proving he belongs in the NHL. Acquired in the Mike Cammalleri deal along with Rene Bourque, Holland had a strong training camp and if he can follow the lead of young upstart Michael Bournival, he'll do just fine.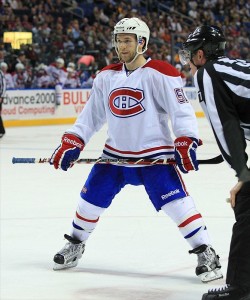 That's good for him. But the real question is, will the Canadiens be fine?
Bournival has proven himself worthy of his roster spot, using his excellent skating skills to his advantage by staying on the puck and making things happen whenever he's on the ice. The Canadiens are most effective when they are able to employ a hard forecheck and Bournival appears ready and willing to contribute. Used on the fourth line up to now with Ryan White and Travis Moen, he's actually made those two look better while serving somewhat as a kickstart to their games.
Both Moen and White were severely criticized last year for not bringing energy or for being physical enough. And both seem to have gotten the message and are performing admirably so far this year.
But how will they do now? With all the holes in the Canadiens lineup, Bournival is getting the chance to join the top-nine forwards.
Habs Need More Scoring Throughout Lineup
So far this year the badly named EGG line of Eller-Galchenyuk-Gallagher have contributed the lion's share of Montreal's offense. The team needs more scoring throughout their lineup and maybe Bournival is just what the doctor ordered. Oh hello David Desharnais, how are you? Good good. Get going now, will you?
Habs fans may like to pile on Desharnais but truth be told, the others need to "step it up" too and start scoring more consistently.
Holland might have a future in the bigs, but he's definitely not the answer. He surely isn't going to be the spark for the powerplay that was dismal against the Predators.
This week will go a long way in evaluating the Canadiens' needs moving forward. Don't expect GM Marc Bergevin to sit on his hands — if he can swing a deal to make his team better, he'll go for it. We know he's capable of pulling the trigger when nobody expects it. That Michael Ryder for Erik Cole deal last year took pretty much everyone by surprise.
Let's see what surprises Bergevin has in store for us this year.
Ari Grief is full of surprises too. Catch him on Facebook and twitter: @HabsFanLeafLand
I'm a goalie — apparently that says a lot. Writer, producer and bon vivant I'm from Montreal but live in Toronto and write from that perspective on HabsFanInLeafLand.com. Young enough to be hip; old enough to remember where I was when Guy Lafleur scored against the Bruins in the infamous "too many men" game in the '79 playoffs. Can you say that?
You can contact Ari Grief on Facebook or on twitter @habsfanleafland