Ten games into the 2013-14 season, the Vancouver Canucks are treading water with a mark of 5 wins and 5 losses, with one of the losses coming in a shootout.  Although things could be worse, it is important to note that the five teams the Canucks have beaten have won a total of nine games this year, with four of them courtesy of the Calgary Flames.  The 11 points accumulated by Vancouver so far places them fifth in the highly competitive Pacific Division and 10th in the Western Conference, out of the playoffs.
So what has gone right and wrong for the Canucks in the first eighth of the season?  As one might guess, the list of wrongs outnumbers the description of the rights.
Santorelli is the Biggest Surprise
It is a little difficult to decide how to characterize the following fact, but here it is:  Mike Santorelli leads the Canucks in goals.  Now there is no denying that Santorelli's performance has been a pleasant surprise for the Canucks, and his two overtime tallies have been especially important in helping keep Vancouver afloat.  But the fact that he has as many goals as Daniel and Henrik Sedin combined and is ahead of others like Ryan Kesler, David Booth, Chris Higgins, Jannik Hansen and the injured Alex Burrows is not a good sign for the Canucks.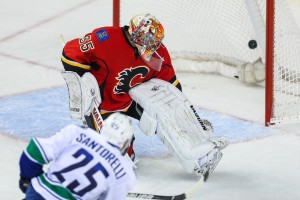 Santorelli was brought in on a two-way contract with the expectation that he might win a place on the team or could serve as insurance on the Canucks' American Hockey League affiliate in Utica.  The fact that he has instead spent significant time on the Canucks' top two lines is a credit to his effort and perseverance, as well as the lack of performance from the other Vancouver forwards.
Richardson also an Important Piece
Tied for second in goals on the team right now is Brad Richardson, a player not exactly known for his scoring prowess.  Richardson has performed well as an anchor for the team's bottom six, pulling in some extra penalty kill time in Burrows' absence and winning faceoffs at a 65 percent clip.  Like Santoerlli, Richardson was brought in to be a minor piece of the puzzle, but has outperformed many of his higher paid teammates.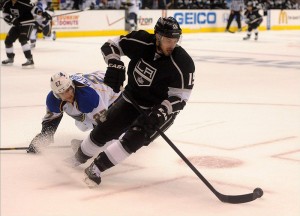 The penalty kill overall has been a high point for Vancouver, with the team currently ranked first in the league with a kill percentage of 91.4 percent.  The hustle and willingness to block shots that is so valued by Coach John Tortorella has been present on the PK, and the results reflect the team's effort.
The Rest of the Forwards
Henrik has actually performed fairly well, with 10 assists and 12 points, but Daniel has not been finishing, with only two goals to go with six assists.  Kelser has been inconsistent, with a couple good games mixed in with a bunch where he has been invisible.  He spent some time playing with the Sedins to try to get him going, and it will be interesting to see the line combinations tried by Tortorella going forward.  He does have three goals, but only one assist.
Higgins and Hansen have been adequate, but not really what you want from your second line forwards.    The bottom six, on the other hand, has been a complete wasteland.  David Booth and Zack Kassian have contributed very little.  Jordan Schroeder has been hurt twice now and has only played three games.  Dale Weise and Tom Sestito barely play most nights, averaging around 5 minutes of ice time.  Zac Dalpe has already been dispatched to Utica, replaced by Jeremy Welsh.
The team is right in the middle of the pack with 2.7 goals per game, a figure influenced by the teams horrible power play, which currently ranks 27th.  Vancouver has managed only three power play goals in 27 chances so far, a number that will have to rise if the team is going to improve its offensive output.
Lots of power-play work for #Canucks at this morning's skate.

— Brad Ziemer (@BradZiemer) October 22, 2013
Defense also Underwhelming
Vancouver has not been stifling the opposition either, allowing 2.8 goals per game, placing them 20th in the league in this category.  Roberto Luongo has not been horrible, but he hasn't really stolen any games for the team, either.  His 91 percent save percentage places him tied for 26th in the league, and his 2.47 goals against average lands him at 19th. (And for those of you who must know, Cory Schneider is currently 13th in save percentage and 8th in GAA.)  Eddie Lack has been solid in relief in limited appearances.
Jason Garrison has been unleashed on offense by Tortorella, and he has responded well with 2 goals and 7 assists, placing him just behind Henrik in team scoring.  Alex Edler was banned for three games for a head shot on the Sharks' Tomas Hertl, and has a team low -5 plus/minus figure.  Edler also has a terrible Corsi on-ice number, which measures the shots that have been taken by his team while a player has been on the ice versus the number of opposing team's shots.  This reflects the puck possession of the team while a player is on the ice, and Edler has the lowest of all Canucks full time defensemen.  Kevin Bieksa has been inconsistent, and Dan Hamhuis has looked like a different player so far this season, with many more mistakes than usual for the steady blueliner.  Interestingly, though, Bieksa and Hamhuis both have positive Corsi numbers, meaning they have generally helped the team maintain possession, even if they occasionally commit glaring mistakes.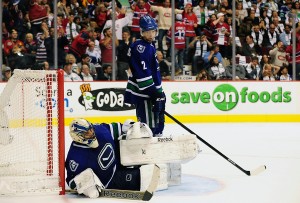 The team's third paring has performed fairly adequately, with Chris Tanev his usual steady self and Ryan Stanton has been a nice addition, resulting in the relegation of Andrew Alberts and Yannick Weber to the press box (except when Weber is playing forward).
What to Expect Next
The team continues on its long road trip tonight with a game against the New York Islanders and back to back games against Schneider and the New Jersey Devils and the St. Louis Blues.  They then have a three game homestand to look forward to, although they have some tough opponents in Washington, Detroit and Toronto.
The Canucks then head back out on the road for another long trip, this time along the West Coast against tough division rivals Phoenix, San Jose (and the reminders of the long losing streak), Los Angeles and Anaheim.  If Vancouver can return from that trip around .500, they move into a more favorable part of the schedule, with six straight at home at Rogers Arena.  This next stretch of games will tell us a lot about this team and whether they can truly be contenders this season.  A long losing streak could put the team behind the eight ball in such a strong division.
The scorers need to score, and an improved power play would help.  The return of Alex Burrows will help, and that day may be coming in another two weeks.
https://twitter.com/News1130Sports/status/392687825683890176
Combined with a little tightening on defense, the team will give itself a chance to be competitive, but if the team continues to struggle against quality opponents, it could find itself outside the playoffs in the spring.
Glenn covers the Canucks for The Hockey Writers. Follow me on twitter @glennkuper for opinions about hockey, the Canucks, and Seattle sports.